We've run through the first five entries in our countdown of the Top 15 A-League players, with Daniel McBreen, Matt McKay, Emile Heskey, Adama Traore and Michael McGlinchey getting the nod from 15 to 11 respectively.
As the build-up to the 2013-14 season heats up, we'll be telling you who we think the best players in the competition are, with the winner - as voted for by Goal Australia and Sportal.com.au journalists - to be announced on October 10, a day before Sydney FC and Newcastle Jets get things underway at Allianz Stadium.
But for now let's take a look at who missed out altogether, with some major talents unable to secure a spot in our rundown.
Richard Garcia
Returning to Australia from a long spell in England, chiefly with Hull City, the 32-year-old Socceroo was among Melbourne Heart's best players last season, but they were unable or unwilling to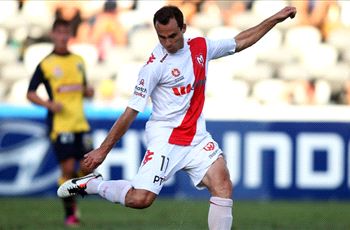 offer him a suitable contract extension, and the attacking midfielder has taken his talents to Sydney FC, where he may prove our judges wrong to overlook him by starring alongside the likes of Alessandro Del Piero and Nicky Carle.
Marcos Flores
The Argentine's struggles at Melbourne Victory last season appear to have counted heavily against his inclusion in our Top 15, after he earned the Johnny Warren Medal during a stellar season with Adelaide United in 2010-11. Having left Victory for the Central Coast Mariners, the 27-year-old playmaker has been in good form in pre-season and could be set to restore his reputation at the reigning champions.
Liam Miller
One of Perth Glory's most consistent performers during his two years at nib Stadium, the former Manchester United and Celtic man's good form last term was a major reason Alistair Edwards' side were able to force their way into the finals despite the disruption of Ian Ferguson's mid-season departure. Although he missed out in our Top 15, Brisbane Roar have undoubtedly pulled off a major coup in luring the 32-year-old midfielder to Suncorp Stadium for the 2013-14 campaign.
Marcelo Carrusca/Jeronimo Neumann
The Argentine duo may have been their own worst enemies when trying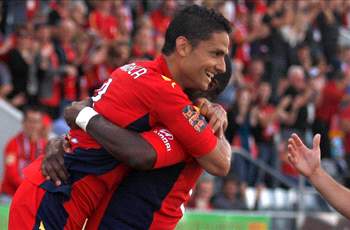 to secure a spot in our Top 15, taking points off one another after both impressed greatly in their first season at Adelaide United last term. They took the departure of John Kosmina in their stride to continue to perform under caretaker Michael Valkanis and will be primed to excel under new coach Josep Gombau, whose Catalan education and proposed possession-based game is likely to suit the two Latin front men.
Harry Kewell/Mate Dugandzic
Only one team has no representatives in our top 15 - Melbourne Heart. Having moved from cross-city rivals Melbourne Victory in 2011, Dugandzic was flying early in 2012-13 before succumbing to a severe foot injury in December, and his long-term absence from competitive action is sure to have cost him in our voting process. Kewell meanwhile remains a firm fans' favourite among Australian football supporters, but his one hit-and-miss campaign in a Victory shirt was not enough to gain a spot in our elite countdown, although the ex-Liverpool and Leeds man could be set to prove us wrong in red and white.