Goal Australia brings you expert analysis of each club's situation as they prepare for the new campaign, including player movement, expectations and worst-case scenarios
Club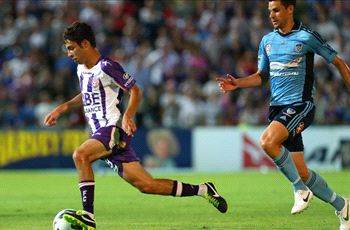 Perth Glory
Last season
Finished sixth, lost in the elimination finals to Melbourne Victory, 2-1 in extra-time
Players in
Jamie Maclaren [Blackburn Rovers], Ryan Edwards [Reading - on loan], Cameron Edwards [Melbourne Heart], Isaka Cernak [Wellington Phoenix], Jack Duncan [Newcastle Jets], Ljubo Milicevic [Melbourne Knights], Sidnei Sciola [Alki Larnaca], Matthew Davies [Perth Glory NYL], Riley Woodcock [Perth Glory NYL], Daniel De Silva [Perth Glory NYL]
Players out
Liam Miller [Brisbane Roar], Dean Heffernan [Western Sydney Wanderers], Storm Roux [Central Coast Mariners], Lewis Italiano [Wellington Phoenix], Evan Berger [Marconi Stallions], Neil Young [retired], Nick Ward, Matias Cordoba [both released]
Coach
Alistair Edwards
Captain
Jacob Burns
Expectations
Perth Glory owner Tony Sage is not usually one who accepts second best, with the 53-year-old businessman having sacked two coaches since he became sole owner of the club in 2008. Sage has also clashed with Football Federation Australia over a myriad of issues but heading into the 2013-14 season he is showing some uncharacteristic patience.
With eight players having left Glory since last season, Perth's head coach Alistair Edwards has brought in a bunch of talented youngsters to mould into a top side. Sage has already put it on record that while he hopes for finals in 2013-14, it is the 2014-15 campaign which will be the main focus for Glory.
Edwards, who took over from Ian Ferguson in February, is former head coach of the Young Socceroos. The 45-year-old ex-Socceroos striker brought through precocious 16-year-old midfield Daniel De Silva last season and Edwards will be expected to build a formidable team with the likes of his two sons, Ryan and Cameron, plus Jamie Maclaren, Chris Harold and Josh Risdon. Edwards' plan will be heavily reliant on how his experienced spine, comprising the likes of Shane Smeltz, Jacob Burns and Michael Thwaite, holds together.
What has to go right
Perth Glory scored the least goals of any team in the 2012-13 A-League campaign and with Shane Smeltz set to miss the opening few games due to hip surgery in pre-season, Edwards desperately needs the likes of Ryo Nagai, Maclaren, Harold and Brazilian winger Sidnei Sciola to hit the back of the net regularly if they are to push for the finals.
Worst-case scenario
Edwards' youth brigade gets bullied on the pitch and a chunk of them end the season with serious injuries, setting Glory back ahead of the 2014-15 season. Smeltz, who at 31 is steadily getting more injury prone, struggles with his hip until the new year and Perth remain toothless in attack.
Nightmare Headline
"Milicevic party passion infecting Glory's young brigade"
We think
There is a sense of boom or bust for Perth this season. With so much young talent, if Edwards can get them to click early in the season, they could ride a wave of momentum all the way to the finals. But the worry for Glory fans will be that a full season of senior football might be too much for the likes of De Silva, Maclaren and Harold. Sage may need to be more patient than he planned and believe in the process as Perth remain around the bottom of the table.
Prediction
Ninth [writer's prediction]