OPINION
By DEJAN KALINIC


Melbourne Heart set out to hit Brisbane Roar on the break on Sunday, but their inability to keep the ball remains a huge problem for coach John Aloisi.
Heart recorded back-to-back wins for the first time since February 2012 with the 3-2 victory at AAMI Park.
But they were second best for the most part, forced deep inside their own half by the reigning champions.
At times, Heart looked willing to give up possession, clearing to waiting Roar players on half-way and almost wanting to be attacked.
With last season's golden-boot winner Besart Berisha on the left, the visitors looked capable of success, with Shane Stefanutto prominent early.
But Berisha became isolated and Mitch Nichols tended to drift to the right to support Ben Halloran, before the Albanian was moved back central late in the first half.
Roar coach Mike Mulvey admitted post-game the system change failed, but he was quick enough to recognise it and revert.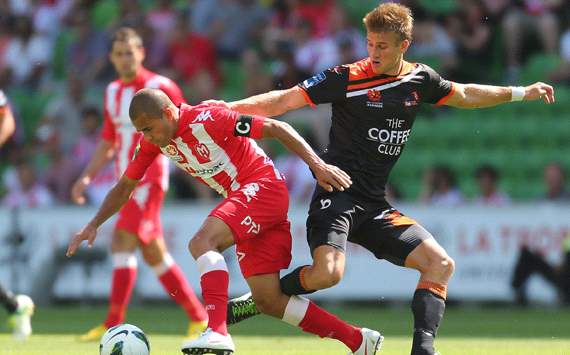 While Heart finished with a win against Brisbane, there were worrying signs for Aloisi
Whether it was Heart's inability to get started or Roar's pressure, Mulvey's side had most of the ball.
Aloisi's men are best suited to playing against teams who attack; their recent record against the likes of Roar and Melbourne Victory suggests as much.
"We have played a lot better in the past. Brisbane are a good side and they make it difficult for you," Aloisi said after the win.
"We knew that Brisbane would have a lot of the ball but we stopped them from creating good, clear chances in the first half.
"We knew we'd catch them out because we know how to catch teams out on the break and especially a team like Brisbane that because they go forward with so many numbers you'll be able to hurt them.
"I think that's what we did and that's what our plan was to do.
"Yes, we'd like to keep the ball a little bit more but because you're chasing a lot with Brisbane, then it's hard to keep the ball.
"That's what they've done so well the last two seasons."
Asked whether giving up the ball was part of their game plan, Aloisi said his side wanted to maintain possession better for long periods.



"We don't want to give the ball up."






- Heart coach John Aloisi

Perhaps Vince Grella will eventually make a difference, given Matt Thompson looked out of touch alongside the improving Jonatan Germano against Roar.
"We don't want to give the ball up," Aloisi said.
"That's something that we'd like to do a little bit better is keep the ball for longer periods because then you can actually open up the opposition, but they made it difficult for us to keep it for long periods."
How Heart go against less attacking teams in their next three matches - when they meet Sydney FC, Adelaide United and Western Sydney - will shape their season.
They will be allowed more of the ball, but whether they are a better team dominating possession or hitting on the counter-attack remains to be seen.