By

KIERAN JONES


Alastair Bray and Andrew Mullett are both thinking big.
The two Melbourne Heart players are both making an impression this season in the National Youth League, and have the desire to go further.
Inspired by the success of former Heart players Brendan Hamill, Curtis Good and Eli Babalj, who have gone on to play abroad, youth internationals Mullet and Bray know their club has a commitment to the development of young stars.
"Obviously you start here and hopefully make it to the A-League, and then look to go overseas after that," Mullett told Goal.
Goalkeeper Bray harbours similar ambitions.
"I would definitely look in the future overseas at a move to a bigger club if that opportunity presents itself one day," Bray said.
Both Bray, 19, and Mullet, 18, have very level-headed approaches to their blossoming careers, and it is easy to see their drive to succeed.
Bray was recruited from Victorian State League 1 side Bulleen after a solid 2011 season and has already made an impression at Heart, training regularly with the senior squad.
The goalkeeper, who spent two years with cross-town rivals Melbourne Victory, said Heart's focus on fostering their young talents made the club a perfect fit.
"John [Aloisi] has got really good patience with the younger guys. He's always got time to have a word with us and give us some tips," Bray said.
"We have some good younger players coming through the youth system at the moment and a good example of that would be Sam Mitchinson, who has already played one game this season for the first team so I think that's definitely the policy."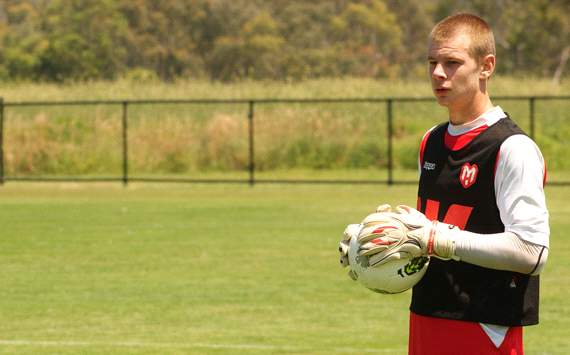 Promising goalkeeper Bray in training with Melbourne Heart.
It is hard to believe the duo have already played so much football at such a young age.
Central defender Mullett also came through both the Victory, while he spent the 2011 campaign in the Victorian Premier League with Dandenong Thunder after departing Heart's local rivals.
Mullett was the Thunder's first-choice left-back before agonisingly missing the grand final through a suspension, having been handed a controversial red card after he was adjudged to have been the last man in a tackle during the semi-final win over Green Gully.
Mullett's burgeoning career also includes a tour of Europe with the Victorian Institute of Sport, while in November 2010 he rejected a trial at English Premier League club Manchester City in order to play for the Australia Under-15 side.
Bray and Mullett both hold British passports, and the latter said playing in Europe helped his development.
"The British passport definitely helps with overseas trials and everything. A few of my friends have said they wanted to go over there but they didn't have a British passport so it's a lot more difficult for them," Mullet said.
"I was playing against some world-class players over there so being able to match it with them gave me a lot of confidence in my own ability.
"My priority at the moment is just the Melbourne Heart and hopefully keep working hard and get an opportunity in the senior team."
Both players are delighted to be part of the environment Heart, inspired by those who have departed for bigger stages and nurtured by those at the club who can offer direction.
"The two senior goalkeepers Andrew Redmayne and Clint Bolton are really good to me and have taken me under their wing and they give me tips whenever they can," Bray said.
"It really helps to train with guys who are at such a high level, and I'm trying to aspire to be as good as them so to train with them every day and learn off them is great.
"Obviously overseas there are plenty of places that you can go but for me right now probably being in Australia is best and staying at home is a good opportunity."
Mullett, who just completed his Year 12 exams at Caulfield Grammar, knows he is also part of a good football curriculum.
"They [Heart] are probably the No.1 [club] in the a league for giving the young kids a go, which you've seen with [now-Newcastle Jets winger Craig] Goodwin and [Seongnam Ilhwa defender Brendan] Hamill, and it gives you a lot of confidence," Mullett said.
"You're getting looked at even though you're in the youth team and if you perform there's a chance you can get pushed up to the seniors."