By

PADDY HIGGS


Adelaide United assistant Michael Valkanis believes Australian coaches should take football-related overseas jaunts at least every two years to keep up with their development, and has described his first time on the touchline as a "rollercoaster".
The former Reds defender - now juggling No.2 duties under John Kosmina and his role as United's National Youth League coach - was the 2012 recipient of Football Federation Australia's elite coach development program.
The scholarship took him to Europe in July and August to visit Eredivisie clubs FC Twente and Ajax and La Liga duo Barcelona and Espanyol, and its affect remains as Valkanis develops his own coaching philosophy.
"When I went to Ajax, I was there for a day and a half, I just wanted to check out the academy stuff, and I spoke to one of the academy managers there," he told Goal.com.
"The first thing he said was, 'We're a factory of making players'. They believe it, and they say it arrogantly; 'We make players here, and we make very good players'
"He said more than 70 percent of their senior players are from the academy. They've got a belief. They know how to do things, they do it in a certain way.
"Most of the clubs over there - whether it be Espanyol or Barcelona or Ajax or FC Twente - 70 percent of the first team is from their academy program… that's what they want."
While Valkanis' coaching career is still in its infancy, he said a focus on youth development has always featured highly in his approach.
His time in Europe only served to validate his beliefs.
"I've gone away from that trip thinking, as a coach, that minimum of every two years you've got to travel and learn and speak to people there," he said.
"You look at things in a certain way, and going there it confirmed a lot of my ideas and what I'd like to do, but it also confirmed moving forward and what people like Han Berger are trying to do in this country.
"We talk in the A-League about how hard it is in terms of budget and losing money, but if we're not going to develop, we're always going to be losing money. We need to develop really good players, and maybe now - from a business point of view - we've got to spend a little bit to put some things in place.
"But in the long run, I think the clubs will reap the reward of developing their own players."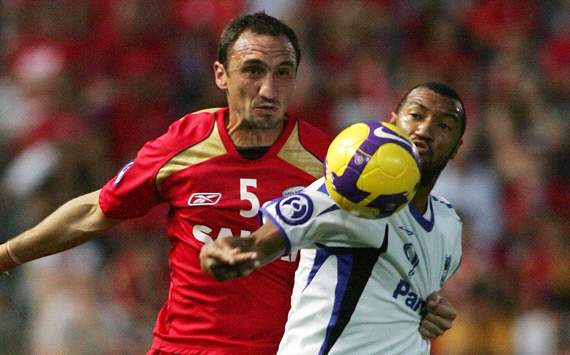 Valkanis battles Gamba Osaka forward Lucas as a Reds player in the 2008 AFC Champions League.

Valkanis, who retired from playing in 2009 and has now been in Adelaide almost 10 years, has aspirations to rise to a top job one day but is happy to be patient.
Likely to complete his Pro Licence in 2013, he is one of several former players adapting to life as assistant coaches on the touchlines of A-League clubs.
Ante Milicic at Western Sydney Wanderers, Kevin Muscat at Melbourne Victory and Hayden Foxe at Heart all cut enthusiastic figures alongside their respective head coaches, perhaps as a result of not yet being out of the game more than a few seasons.
Valkanis has had an early taste of what life is like in the hotseat, taking the helm of United for their AFC Champions League quarter-final tie against Bunyodkor as Kosmina goes through the process of obtaining his A licence.
His debut in the first leg in September saw the Reds take a 2-0 lead, only for a red card late in the second half to change the game and allow the Uzbek side to level the match 2-2.
"
[Kosmina] seems to think that I'm the more angry one now, and it probably balances out a bit."

- Valkanis on the Reds' head coach having "mellowed out" over the seasons.
"I said that to Kossie after the game. I said, 'There was everything in that game from a manager and from a younger coach actually learning'," Valkanis said of his first match.
"The different challenges we had, and to try and reshuffle the side to try and get the result… so we don't lose the game, is just a real good experience.
"I tell you what, I learned quite a few things just in one game."
Kosmina was never far away throughout the two matches, and Valkanis is delighted to be learning from the experienced coach - even if his mentor's approach has changed somewhat over the years.
Indeed, it is hard to reconcile the image of the United coach tangling with then-Victory player Muscat in 2006 with the Kosmina slouched nonchalantly these days on the touchline at Reds matches, coffee in hand.
"I've played under Kossie when he was a little bit more aggressive on the bench in those days, and now he's absolutely mellowed out," said Valkanis with a laugh, with the Reds to face Victory on Friday.
"… Maybe he's put something in [those coffees] to calm him down.
"He seems to think that I'm the more angry one now, and it probably balances out a bit. I think as you go on as a manager, you tend to calm down a bit. He's got enough experience and he deals with things in a calm way at the moment.
"He was always a good players' coach and a good manager, so you tend to learn quite a bit from Kossie.
"I enjoyed playing under him as long as he was at Adelaide United, and now I enjoy working with him."