By

DEJAN KALINIC


Training with one of the world's biggest clubs as a teenager continues to act as motivation for Ben Kantarovski.
The talented Newcastle Jets midfielder - also capable of playing in defence - spent five days training with Bundesliga giants Bayern Munich in 2009.
No contract was offered, but the stint with the four-time European Cup winners has made Kantarovski hungry to raise his game to the highest standard.
"It was an experience in itself. I think I was still 16 or 17. It was a bit daunting for me," the 20-year-old told Goal.com.
"Going to such a big club just showed how much I wanted it and how much I still want to get to that level.
"It's a matter of making sure I get my body right and play some solid games.
"I think just that experience of going there makes me want it try harder and play even harder."
While still at school, Kantarovski was on a traineeship at the Jets and signed a four-year deal with the club in January 2008.
He quickly became one of Australia's best prospects, mainly thanks to his excellence in the centre of midfield.
A knee reconstruction in December 2010 slowed the highly rated Kantarovski's development, but he recovered well enough to captain his country at the 2011 Fifa Under-20 World Cup in Colombia.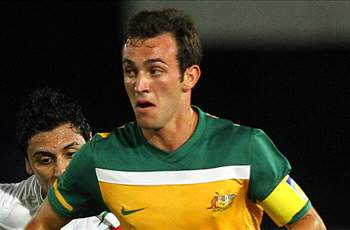 "Going to such a big club just showed how much I wanted it and how much I still want to get to that level."
- Kantarovski on training with German giants Bayern Munich as a teenager.
He still craves a move abroad but believes it must come soon - and a bit of luck is needed.
"I still have the ambition so it's just a matter of making sure I tick the boxes to get there," Kantarovski said.
"Hopefully impress the right people I guess. Make sure my game is at its peak. That's pretty much all I can do and just hope from there.
"I think in the next couple of years because after that I'll start getting on in age. It's a matter of making sure that I do it as soon as possible."
Kantarovski will be hoping to rediscover the form that saw him win player of the season at the Jets in 2008-09.
Despite preferring to be deployed in the number six role, Kantarovski is aiming to add goals to his repertoire this season.
"The new thing for midfielders is that every midfielder's got that ability to score a goal as well as being able to defend," he said.
"I want to improve on that aspect."
The signing of former England international Emile Heskey has provided the Jets with plenty of excitement ahead of the 2012-13 campaign.
Kantarovski, who praised the club's handling of the Heskey signing, is confident Gary van Egmond's youthful team can be successful.
"We're such a young side that everyone wants to win and pretty much got nothing to lose," he said.
"It's a matter of going out there and giving our best week in, week out. If we do that, we can do anything."