By

GOAL.COM


Western Sydney Wanderers have announced that defender Michael Beauchamp will be the club's inaugural captain, but club officials have shed little light on a possible move for Michael Ballack.
Beauchamp - born in Wakeley, in Sydney's south-west - joined the club from cross-town rivals Sydney FC after making 28 A-League appearances last season.
Beauchamp is an experienced A-League player, having had stints at Sydney FC, Melbourne Heart and Central Coast Mariners during his time in the competition before signing at Western Sydney.
Whether he could be joined in Wanderers colours by former Germany captain and Chelsea and Bayern Munich star Ballack remains to be seen.
The 35-year-old midfielder has been without a club since leaving Bundesliga outfit Bayer Leverkusen at the end of the 2011-12 season.
"We're flattered," Wanderers executive chairman Lyall Gorman told reporters of the speculation linking Ballack to the A-League's newest club.
"We're interested in exploring all the opportunities. You'll never learn less by listening to people and what they might put on the table.
"We look at the possibility of guest players, we look at the possibility of further domestic player.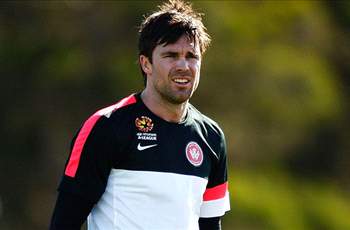 "We haven't dismissed anything at the moment."
Beauchamp [pictured right], meanwhile, who has made 23 appearances for Australia, was delighted at receiving the captain's armband.
"It's a huge honour to be handed the armband to wear at any club but it is certainly that little bit more special to receive it for a club in its foundation year that represents everything about my boyhood days and dreams," the 31-year-old said.
"I am a local boy and it goes to show that no matter what background you come from, the sacrifices you make as a youngster do pay off. I'm proud to have grown up in this community and to now represent it is something that I take great pride in."
Wanderers coach Tony Popovic has been impressed with Beauchamp in pre-season and said it was an easy decision to make.
"Michael is a leader, he is an experienced player who has played in many parts of the world and will lead our young squad with plenty of passion," Popovic said.
"Playing at the back of the field, Michael will control things from there and is a great organiser on the field."
The Wanderers open their 2012-13 A-League campaign with a home fixture against Central Coast at Parramatta Stadium on October 6.