By

PADDY HIGGS


There is something different to Theo Markelis' assortment of football shirts.
It is not the collection your average fan may possess; instead, it tracks a career that - while still in its infancy - has already included three-and-a-half seasons in the youth team of La Liga heavyweights Valencia, a stint at historic Italian outfit Vicenza and Australia youth representation.
The 20-year-old now finds himself in the navy blue of hometown club Melbourne Victory after returning from Europe to sign a two-year deal.
It is more than a shirt Markelis hopes to earn in his first stint in the A-League, however.
First-team football proved elusive in his five years in Europe, but it is something Markelis is likely to find under Ange Postecoglou at Victory.
"That's one of the main reasons," he told Goal.com.
"I wanted to settle in a first-team football environment, and coming back to Australia, I think Melbourne Victory is the one of the best options to be at."
Markelis - from Melbourne's western suburbs and a former Green Gully Cavaliers junior - was somewhat of a surprise signing for Victory in July, penning a deal within a week of joining the club on a trial set up when his management contacted Postecoglou.
He had been on the cusp of first-team football Vicenza at the end of the 2011-12 Serie B season after recovering from a serious knee injury, and had planned to return to Europe after spending his off-season holidays back in Australia.
But with Vicenza "not going through a good stage", he took up the chance to trial at Victory.
He gave little thought to the struggles the club had last campaign, first under Mehmet Durakovic and then caretaker coach Jim Magilton.
Postecoglou's presence alone was enough.
"To be honest… Ange's philosophy of football is like [in] Europe," he said.
"The way he trains us, it's like being in Europe - but I'm here in Australia. It was just good timing [in joining Victory].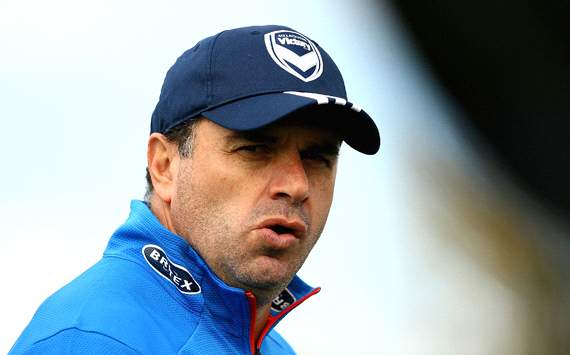 Markelis says Postecoglou is a "very serious man", who has a similar philosophy as the coaches the 20-year-old had in Europe.
"The thing about Ange is he likes young players. Other coaches like experienced ones. Ange is a very serious man and so were my coaches overseas. There's not much difference.
"… Coming here and knowing they want to build a new environment and a new everything, Ange being there… With the people we have in the team, I think we'll be great."
Markelis has been used in a wide role up front in Postecoglou's customary 4-3-3, but has acknowledged the challenge he has to earn a spot among attacking talent Marcos Flores, Archie Thompson, Danny Allsopp and fellow youngsters Julius Davies and Marco Rojas.
Given the fierce competition, it is unsurprising he describes training as "intense".
But he has settled in well at his new home, cutting a skilful, all-action figure always looking to attack when taking to the pitch.



"Coming here and knowing they want to build a new environment and a new everything, Ange being there… I think we'll be great."




- Theo Markelis

And he maintains hope of seeing time in Victory's opener against city rivals Melbourne Heart - a club Markelis trained with in 2010 during the European off-season - on October 5.
"[I haven't played] in front of 50,000. I've played in front of 10,000, 15,000, so that would be a highlight for me," he said.
"My family haven't really seen that much of me playing in front of them. That would be an honour."
Markelis holds ambitions to take his career back overseas again one day, but is now looking no further than finding a place at Victory.
If he does that, he hopes it may once again open the door to represent his country. While with Valencia, he fielded interest from the Greek Football Federation, but was called up to be part of Australia's AFF Under-19 Championship squad in Vietnam in 2011.
He injured his knee shortly after, but is now eyeing another chance: "I'd love to play for my country [again]," he said.