By

DEJAN KALINIC


As Patrick Gerhardt steps outside, he avoids the market and the city as the pressure of the local derby overwhelms him.
The excitement surrounds the capital city derby of Bosnia and Herzegovina between the now-Melbourne Heart defender's Zeljeznicar and rivals Sarajevo.
Gerhardt played in the derby three times for one win and two draws as Zeljeznicar clinched the domestic league-cup double last season.
The Swiss-born Liberia international has taken little time to notice the difference between the Sarajevo and Melbourne's A-League derbies, with the latter likely to mark his Heart debut.
"Here, you talk, 'OK we have the derby', but you don't really feel it because the city is so big," Gerhardt told Goal.com.
"But in Bosnia, when it's two weeks before the derby, you feel it. You cannot go to the market or in the city because you feel already the pressure of the derby and what it means to all those people in Bosnia.
"It's not like here, you're still relaxed. There it's different.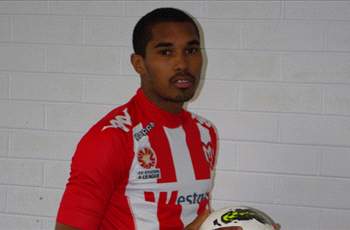 "
You cannot go to the market or in the city because you feel already the pressure of the derby and what it means to all those people in Bosnia."

- Gerhardt on the pressures of the city derby in Bosnia.
"As soon as you make a step out of your house, you feel the derby pressure and the people are getting nervous and getting excited and getting ready for the derby.
"It's different to the derby here in Melbourne."
It has been a long way to Melbourne for 27-year-old Gerhardt, who came through the youth ranks at Swiss Super League club BSC Young Boys.
He was loaned out to second division Swiss sides after battling to break into the first team in Bern.
Offers from the top flight followed but he opted to go chasing his dream of playing abroad, moving to Romanian side Otopeni.
The desire to follow in the footsteps of friend Johan Vonlanthen, who enjoyed a solid career overseas, was another reason for his decision.
Vonlanthen, who has since retired due to injury, became the youngest-ever scorer at a European Championship when - aged 18 - he netted for Switzerland against France at Euro 2004.
"I had an offer to go out of the country and I'm 22 - maybe too early but maybe not - and I go to Romania," Gerhardt said.
"One of my best friends… goes out at 17 and I see his lifestyle and I wanted that too because the dream is you want to play in another country and I couldn't wait to make that step so I did it with the first option I had."
Financial problems at Otopeni made Gerhardt's stay short-lived, but he has no regrets about his decision.
"It had good things and it had bad things. I learned a lot of things," he said.
"I came with the Swiss mentality, didn't know how it is out there. It makes my mind very strong.
"Because before, to everything I said, 'Yes', but there I started to learn to say, 'No', and to say what I think.
"For me, personally, it was a good decision, it makes me as a person and as a character stronger than I was."
A bad back injury delayed his next move before he ended up in Canada at Brantford Galaxy after a three-week training stint with Major League Soccer outfit Toronto.
Gerhardt, the son of a Liberian mother and Swiss father, helped the Galaxy to the Canadian Soccer League championship in their inaugural season before moving to Bosnia.
Gerhardt became one of John Aloisi's first signings as Heart coach.

One of the most famous names in Australian football - John Aloisi - did not ring familiar with Gerhardt until the Heart signing was reminded of his new coach's record abroad.
He knew of former Basel star Scott Chipperfield and former Young Boys club-mate Ljubo Milicevic, the latter of who Gerhardt described as an "animal", but a good player.
The versatile Gerhardt, who said he was signed as a defensive midfielder but will be used as a central defender to replace the departed Brendan Hamill, believes the physical game in Australia will suit him.
"It's a fast game here. It's a lot of power, a lot of running, a lot of two-fights. Fast, fast game. I think it will be a tough league," he said.
"When you compare it to Europe, you can compare like the Premier League, a lot of running, a lot of tackles, a lot of two-fights. Maybe not like Spain, but it's a fast game and physical."
And his first taste comes in another derby - this time in Melbourne.