The cultured attacking midfielder's move to Reading in 2011 was thwarted by red tape, with Rogic maintaining an ambition to one day take his career abroad
| | | | |
| --- | --- | --- | --- |
| | | By DEJAN KALINIC | |
As Danny Guthrie gives Reading a shock lead against Chelsea at Stamford Bridge, Tom Rogic watches on and thinks what could have been.
He can be excused for doing so.
Only red tape stopped the Central Coast Mariners attacker from joining the newly promoted English Premier League side on a two-and-a-half year deal late last year.
Failure to obtain a work permit for his move to the then-Championship club denied Rogic the chance to fulfill one of his dreams.
So the 19-year-old is left to watch on television as Gary Cahill equalises before Fernando Torres and Branislav Ivanovic wrap up a 4-2 win for Chelsea.
"I watched their first couple of games. It's quite cool because I was training with those players for the best part of six or seven weeks," Rogic told Goal.com.
"To see them playing in the Premier League against teams like Chelsea makes it feel a little bit surreal, but it's cool."
Fresh from a six-month stint at the prestigious Nike Academy after winning 'The Chance', Rogic signed with the Mariners in January and took the A-League by storm.
He has no regrets.
Asked whether missing out on a move to Reading was 'devastating', Rogic said: "Yes and no.
"Obviously it would've been great to have been a part of that - a club that's in the Premier League.
"But there are no guarantees in football. I could've sat on the bench or not even made the bench and not played a minute over there.
"I've come here and played. Since my debut I think I've been a part of almost every game.
"I've been lucky in that aspect and being able to show a bit of what I can do and been lucky enough to play.
"There's good and bad and then you think about what could have been."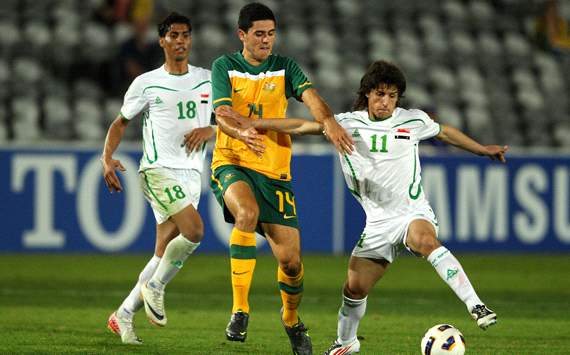 Rogic's performances for the Mariners soon after joining the A-League club led to Olyroos selection
The former Futsalroos star went from the ACT Premier League to Olyroos selection seemingly in the blink of an eye.
Other A-League clubs came knocking after his impressive start with the Mariners, but he opted to remain with the Gosford side.
Ambitions to play abroad remain for the polite left-footer, but leaving his mark on the A-League is his first goal.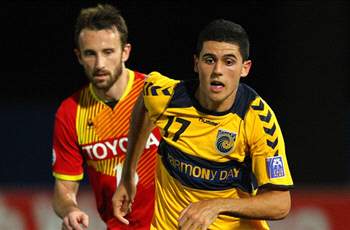 "... There are no guarantees in football. I could've sat on the bench or not even made the bench and not played a minute over there."
- Rogic on his failure to move to Reading

"Hopefully when I'm ready the opportunity will come to go overseas, but where that may be or when that might be I guess we'll just wait and see," Rogic said.
"I'm not in a rush, I'm not in a hurry to get out of here."
With a laugh, he adds: "But then again - in saying that - hopefully it's sooner rather than later."
A regeneration of the Socceroos has been called for as the old guard struggle, and Rogic may be the one of the answers.
Socceroos coach Holger Osieck has met Rogic "a couple of times", the Canberra product says.
"He said he was keeping an eye on me," Rogic said with a laugh.
"Obviously it's a dream of mine to play for my country and represent Australia if that was to ever happen.
"We'll wait and see. It's a goal of mine and something I'm striving for."
Just a week after seeing Reading lose to Chelsea, Rogic watched on as a fellow 'The Chance' winner featured in the Champions League.
Ghanaian winger David Accam came on as a 62nd-minute substitute as Swedish league champions Helsingborg go down 2-0 at Celtic Park in their Champions League play-off.
A similar fate overseas surely awaits Rogic, and it is only a matter of time before he is involved instead of being left to watch on TV.