EXCLUSIVE
By Paddy Higgs | Chief editor
There is an air of inevitability to a Melbourne Victory defensive pairing of Adrian Leijer and Mark Milligan this A-League season.
For the duo, the many roads of football seem intent on reunion.
They grew close during their days with Australia's Under-20 side, while Milligan still has fond memories of "dossing" in Leijer's living room in London in 2008 while the former was looking to win a deal in Europe and the latter was at Fulham.
The pair shared a pitch again when Milligan joined Melbourne Victory for the latter half of the 2011-12 A-League season, playing 10 matches while on-loan from J-League Division 2 club JEF United.
And it was the familiarity of elements like Leijer that made coming back to Victory an easy decision for Milligan, whose second coming to the club - this time on a permanent deal - was confirmed on July 11.
More pertinent for Milligan, however, was putting his family first.
His young family is expecting another addition in January, and wanted to avoid the "difficult experience" - complete with translator between doctor and mother - of the birth of his first-born in Japan.
"For me personally, if I was to come home, it was going to be to something familiar," he told Goal.com.
"So when Melbourne showed interest and spoke to my agents… Once that sort of happened, it was really a no-brainer for us.
"We were so happy here at the beginning of the year. On the field, obviously, we weren't as successful as we [would have liked], but still off the field everyone was so good, so helpful."
The return to Victory of Milligan - equally at home in central defence and midfield - comes just weeks out from his 27th birthday, making it seven years since his debut for home-town A-League club Sydney FC.
Considering everything that has come between, it perhaps feels like much longer.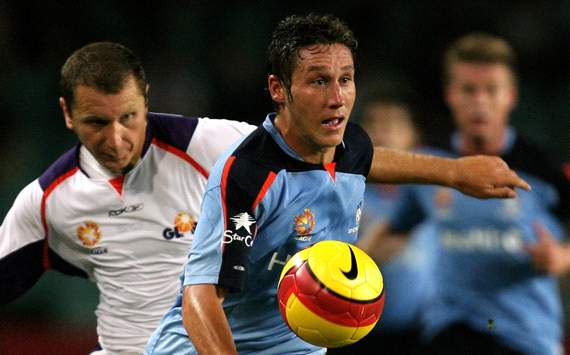 Milligan with Sydney FC during the 2006-07 A-League season.
It seems not so long ago that, after two seasons with the Sky Blues, reports emerged in 2007 that the then-21-year-old Milligan had gone to France to trial with clubs without the Sky Blues' permission.
He firmly dismisses that version of events, firmly stating the club's hierarchy knew of his whereabouts. Besides, as he points out, he was "very happy" at Sydney at the time.
"My agency at the time pushed it through, but I didn't really enjoy it. I wasn't ready to go overseas," Milligan said.
A season later, he was back in Europe, having left Sydney at the expiry of his contract. This time, he believed he was ready.
But despite impressing then-manager Sven-Goran Eriksson at Manchester City shortly before the Swede's sacking and then at the likes of Bundesliga outfit Werder Bremen on trial, immigration red tape seemed to thwart Milligan at every turn.
Knowing he needed to "play some games", Milligan returned to Australia to sign for the Newcastle Jets.
He had not always been painted kindly in his absence, with some considering - despite him going close to contracts at several major clubs during his time in Europe - his talents had been somewhat over-estimated.
His time at the Jets, however, served to remind the critics of his value, and it took just eight matches for Chinese Super League heavyweights Shanghai Shenhua to swoop in January 2009.
He played 30 matches in the 2009 campaign as Shanghai finished fourth, with his performances persuading newly relegated JEF to part with a considerable transfer fee for his capture for the 2010 season.
The move raised eyebrows back home, but the approval of then-Socceroos coach Pim Verbeek meant more than that.
"I spoke to Pim closely on this, obviously with his experience in Japan [with Kyoto Purple Sanga in 2003] and whatnot," Milligan said.
"There was a lot of people I spoke to, before I made the decision to move to JEF. I copped a lot of criticism for it, but I still think for me, personally, it was a good move."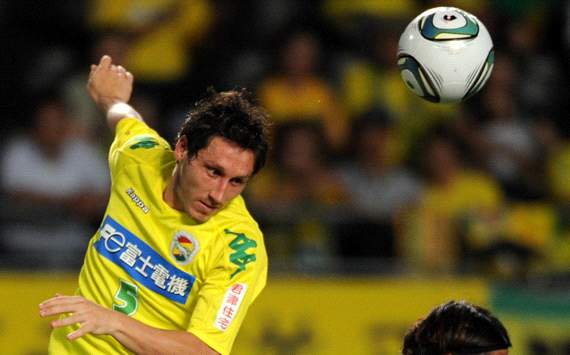 Milligan believes his move to JEF was a "good one" despite criticism from some quarters.
Almost three seasons later, and Milligan is back on Australian shores - this time, with a three-year deal at Victory, for the foreseeable future.
Milligan has not "shut the door on anything" if overseas beckons once again down the track, but family has come first.
The move could also extend what has been a promising run for Milligan in the Socceroos set-up.
He is yet to speak to Australia coach Holger Osieck as the German is on holidays, and will do so "as soon as I can". But having won a place back in the Socceroos squad during his loan stint at Victory, including a start in midfield in the World Cup qualifier against Saudi Arabia in February, he anticipates returning to the A-League will not prove detrimental.
"[Holger's] shown that if players are performing in the A-League, then you're going to get the chance," Milligan said.
"It's a chance for me to stay seen. It's a lot easier for people to watch me here than it is in J2."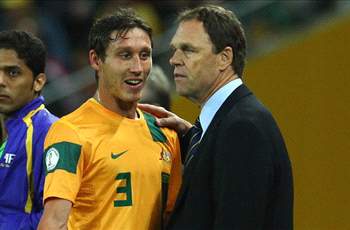 "
I've found if you start looking too far ahead, that's when things start to get difficult"

- Milligan on making the 2014 World Cup for Australia
Capped 12 times for his country since his debut in 2006, Milligan has been included in two World Cup squads but has yet to take the field. He is reluctant to talk about his chances for the 2014 tournament in Brazil: "Again, it's still a long time before the next World Cup. A lot can happen in the football world," he said.
"Yeah, absolutely [I want to play at a World Cup]. I think any player, when asked that question, would reply [that way].
"As I say, there is a long time between now and then, and I just want to get through this season and be successful and stay injury free."
Indeed, Milligan is not looking any further than Victory's forthcoming campaign. While he was used mainly in midfield during his loan stint at the club, it is perhaps in defence - alongside Leijer - where coach Ange Postecoglou will employ him.
He minds little, as long as it helps bring the side success, which he predicts more of this campaign.
"With the changes that have come in since I've left, coaching staff and players as well, the future looks bright," Milligan said.
"Now, settling back in, it's a very good feel. There is a lot of energy around, and I think that goes right through - I've noticed in the staff and the office as well."
The arrival of dual title-winning Postecoglou from Brisbane Roar has been key: "I don't think it's just because of what he's achieved. That's the type of character he is," Milligan said of the upturn in mood at the club.
"You just get that feeling from him. You get that calm sense, and they say players react to coaches' feelings or emotions as much as anything, and I think he really does have that calming influence.
"I think the results that he's had up there [Brisbane] are a testament to that."