EXCLUSIVE
By Paddy Higgs | Chief editor
He made his name as a player during a decorated 13-year stint abroad. Now, Craig Moore is considering returning overseas to continue his career in the game.
One of Australia's greatest-ever defenders, Moore had spells with Newcastle United and Crystal Palace in England, Greek Super League club Kavala, Bundesliga outfit Borussia Monchengladbach and most prominently in the Scottish Premier League with Rangers.
During his time in Glasgow, he made over 200 appearances, helping the club win 12 domestic trophies.
A former Socceroos captain, Moore made 52 appearances for his country, before retiring as a player immediately after the 2010 World Cup.
The Australian Hall of Fame member has dabbled with coaching since then, co-founding the Viva Soccer program for children up to the age of 16.
But coaching is not where Moore, now 36, sees himself full-time.
"My future… I'd like to, if I was to start an involvement with a club in Australia, it'd be more in a football director sort of role," he told Goal.com.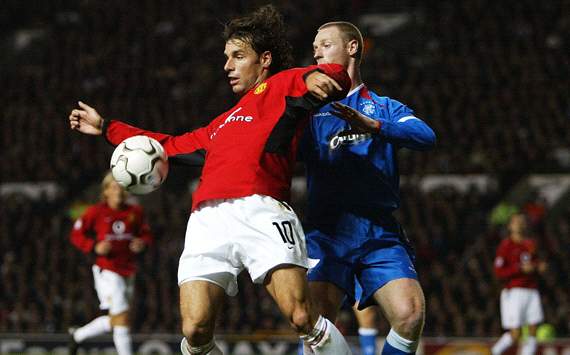 Moore's playing career was a sparkling one, but he is now seeking his next move off the pitch.
"That is something that is quite appealing. You have a good relationship with the manager, [and you'd] be in a position where you're contacting and chasing up the leads that the manager's given you, in terms of players coming in and going out of the club.
"I think, especially when you start looking at European markets and all that sort of stuff, I think with the reputation I have over there, it's good to have that presence.
"A phone call coming from someone like myself can maybe be the deciding factor in getting a player to a club or not. That's something that's appealing to me."
But Moore, who played with the Brisbane Roar from 2007 to 2009 and has been back in Australia since ending his professional playing career, knows those sort of roles are rare at A-League clubs.
Paul Trimboli - linked with a move to home-town Melbourne after Ange Postecoglou's appointment at Victory - has held a general manager of football role at Brisbane Roar for one season, while John Didulica's work as Melbourne Heart's football operations manager has proved invaluable in the club's first two seasons.
Gary Cole had the same title during his six-season tenure at Melbourne Victory, contributing to two titles before his sacking. He is now director of football at league rivals Sydney FC, but there are few similar roles available around the competition.
| | |
| --- | --- |
| | "... Unfortunately it's very difficult to try and find a role at the moment and it's not going to get any easier, either." |
And with money at A-League clubs scarce and the sort of jobs he is after even scarcer, Moore is considering back overseas.
"Because I don't want to coach, it doesn't leave too many roles," Moore said.
"The reason why overseas has been mentioned is because it is very hard to get into the game here, whereas there are far more opportunities in the UK.
"I still have a reputation over there and I still have a lot of friends, whether they be British or based elsewhere in the European community, that are heavily involved in football at the moment.
"If you're not looking at coaching there's scouting roles… there are many things you can get involved in where you're at least involved in the game.
"… I miss the involvement. It's something that has been a big part of my life and something that still excites me, but unfortunately it's very difficult to try and find a role at the moment and it's not going to get any easier, either.
"It's just one of those ones at the moment. You just never close any doors. If, for example, an opportunity did come up overseas, then I'd be silly not to look at it."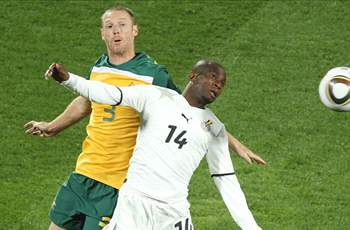 Moore [pictured right in his final match for Australia, against Ghana] revealed he had had discussions with Football Federation Australia on a liaison-type role with overseas-based Australian players, aimed at helping to build rapport between players, federation and clubs.
"I think that's important, because as a player there were stages throughout my career when seeing a familiar face or someone that represents your national body, that's important. You feel that you're a part of things and you're being thought of," he said.
"But also the relationship with the clubs, I think, is a very important one [area]. If we had those sort of relationships, then someone like Tommy Oar, who wasn't playing regularly at Utrecht could have been playing in our Olympic qualifiers.
"It's just about building relations. Not always will you get them over the line, but I believe that that is something that we could do and would certainly be appreciated over there.
"It just gives you a better opportunity to possibly get the players you need for the national team, which is very important."