EXCLUSIVE
By James Willoughby
Former Melbourne Heart defender Adrian Madaschi says he will return to the A-League before he finishes his career, while he has tipped a bright future for former team-mate Eli Babalj.
The 29-year-old left-sided defender - on the books of K-League outfit Jeju United - starred in his 10-week stint for the Heart, playing nine matches, of which the club won seven.
His organisation and composure at the back was vital for the Heart, who sorely missed the five-time Australia international when he departed for South Korea in January.
It is unlikely to be Madaschi's only stint in the A-League, with the former Atalanta trainee keen on returning to Australia at some stage of his career.
"Yes. For sure," Madaschi told Goal.com exclusively when quizzed if he would play in the A-League again.
"I had a really good taste of the A-League. I can definitely say it is a good competition. It's fast and physical. There is quality in the league and it is getting better. It was good to be a part of.
"When I do head back to Australia, I want to be able to contribute again and get back in and around the A-League."
Madaschi uses his strength against Sydney FC opponent Rhyan Grant in December.

Madaschi spent five seasons at Portogruaro in Italy's lower leagues before joining the Heart , and had only praise to offer the Melbourne club.
"It was fantastic at the Heart. The club is a great example of how a well-run club can achieve really important things in a short space of time. The club ticks over on a daily basis in a real flowing fashion," he said.
"The people running the club, from Scott Munn, to Peter Sidwell, to John Didulica, to the coaches... everyone knows their role and works in the same direction to achieve. They treated me really well and I had a great relationship with everyone.
"Obviously with football, results count. Fortunately for the team, it was a great run and it put them in good shape to get into the finals. They are one of the clubs in the A-League that is looking only forward and they are in great shape."
Having spent plenty of time with the club's younger players, success will be just around the corner for Melbourne Heart, according to Madaschi.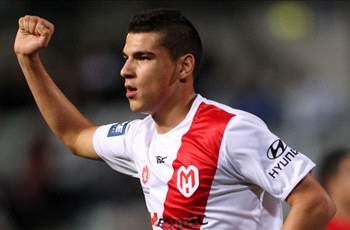 "Eli is a perfect example of just one of the talents the Melbourne Heart have got."
- Madaschi on Babalj and Heart's promising youth.
And he singled out Babalj - a product of the same Perth Soccer Club that produced Madaschi - as a star of the future.
"They have some great young players coming through. Eli is a perfect example of just one of the talents the Melbourne Heart have got at the moment and I think the club will be smart to nurture these guys and build their team around them," he said.
"I speak to him [Eli] on a regular basis and the only thing I tell him is to keep focused and keep banging in the goals. He's been doing that consistently.
"He is a hard worker and he listens to what people have got to offer but he doesn't get caught up in things behind the scenes. He has got a good head on his shoulders and understands where he can go.
"I have known Eli since he was 11 or 12 as I used to coach him when I headed back to the Perth Soccer Club when I was younger.
"It was great to get back on terms with him at Melbourne Heart, although he had grown taller than me. The last time I saw him he was about 14 years old and definitely wasn't that tall," Madaschi laughed.