Bailey Wright, Massimo Luongo and Ben Halloran are not true bolters yet, while Mark Bresciano, Tom Rogic and Curtis Good's inclusion will leave Lucas Neill fuming
1. Picking Bailey Wright is not a gamble, but taking him would be.
It makes perfect sense for Ange Postecoglou to include the 21-year-old in his 30-man squad. The promising young defender has had a strong season at the back in a winning Preston North End team, and now the coach will have an opportunity to study him close up in the training camp. Whether or not the youngster has what it takes to make the plane remains to be seen.
2. When is a bolter not a bolter?
Staying on Wright, he really will become a surprise inclusion if he makes the final cut of 23 players, and the same goes for the likes of Massimo Luongo. Ben Halloran has also been described as one of the 'bolters', that phrase beloved of the Australian sporting lexicon.
But their involvement in the wider training group should not come as any surprise, with Luongo debuting against Ecuador and Halloran selected for that squad before withdrawing due to injury. Postecoglou was also on record saying Wright just missed out in March.
3. Mark Bresciano, Tom Rogic & Curtis Good received preferential treatment.
To paraphrase George Orwell, all football players are created equal, but some are more equal than others.
Mark Bresciano has started four games for Al Gharafa in 2014. Curtis Good started four games for Dundee United in 2014, and hasn't played a minute since injuring himself while making his Socceroos debut on March 6. Tom Rogic has started seven games for Melbourne Victory in 2014, lasting 90 minutes in just one of them and coming off six times. He has not played since April 5. Lucas Neill has started four games for Doncaster Rovers in 2014, most recently on May 3.
Bresciano, Good and Rogic are in the 30-man World Cup squad, Neill is not.
We're not for suggesting Neill should be going to Brazil. Bresciano still has something to offer, while Good and Rogic could be mainstays of the future. But if you were the deposed former skipper watching Ange's press conference on Wednesday, you'd have every reason to feel aggrieved.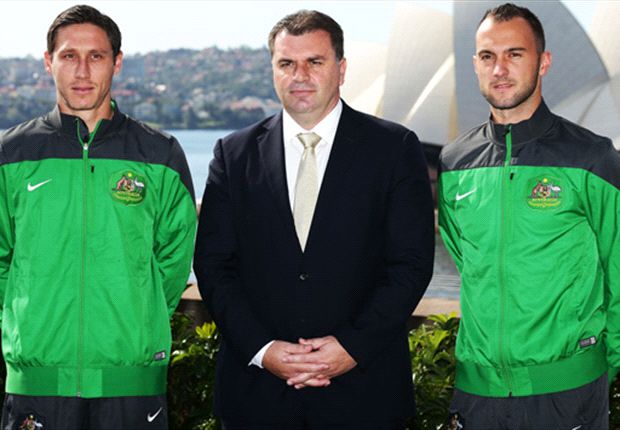 4. Don't ask Ange about retired players
Peter Wilkins of ABC was the man to incur Postecoglou's glower-heavy brand of quiet wrath on Wednesday by pushing hard to know why Mark Schwarzer hadn't been 'recalled' following his impressive late-season cameo at Chelsea.
"He's retired," was the emphatic response, delivered with an ironic smirk which descended into an impatient dismissal as the question came back a second time. Wilkins' crime was to misphrase his enquiry, which should have been about sounding out Schwarzer over a possible reversal of his decision, a perfectly valid query which deserved a full response.
5. Evangelical zeal alive and well ... for now
"If at the end of this World Cup people are looking at their calendar and circling the next time this team plays because they want to watch, then that means we've made an impact at this World Cup, and that's our goal."
On a mission to restore pride to the green and gold's round-ball representatives, Postecoglou has spoken eloquently and passionately about the duty of responsibility incumbent on the national team to entertain its fans and he did so again on Wednesday.
That may be difficult to achieve while defending with 11 men behind the ball against Spain, the Netherlands and Chile. The alternative, to go out and directly attack those deadly opponents, could end in a disaster. A middle ground between caution and adventure must be sought.
But if things go badly in South America next month, will Ange's bullet-proof belief in the players at his disposal remain undimmed?