The same old questions about the same old players are starting to bore Ange Postecoglou, and we're with him. Let's join Australia's coach in focusing on the bigger picture
Analysis
By Iain Strachan
Strip away the same tired agenda about Lucas Neill, the captain's armband and whether or not Harry Kewell will make plane to
Brazil
(he won't) and the most important conclusion we take from Wednesday's press conference and squad announcement is that Postecoglou is planning for the long-term.
His predecessors Holger Osieck and Pim Verbeek rarely looked further ahead than the current qualifying campaign, tournament or even the next match.
Postecoglou thinks and speaks in terms of years. He's been left a mess to sort out in time for the World Cup, and it may not be properly fixed by the Asian Cup in January.
When will this project be finished? If
Australia
qualify convincingly for the 2018 World Cup and give a good account of themselves in Russia, Postecoglou will consider it a job well done. That's how far ahead he's looking, and so should we.
Let the man himself explain it:
Looking beyond the World Cup
"This squad reflects the decision I've made in my head about which way we should to go. Both in the short term and the long term.
"From my perspective, the common goal will be to be competitive and as successful as we possibly can, but certainly to come out of this 12-month cycle with a team that will hopefully go on to emulate the feats of our great teams in the past."
Overlooking Brett Holman and others
"The one thing that's pretty clear to me is that the majority of the squad that goes to this World Cup must have the capability of backing up for the next one.
"That limits the spots we give to players who potentially, this could be their last World Cup, who fall into that age bracket. I've got make some hard decisions on some of our more experienced players."
Picking promising youngster Massimo Luongo:
"He's one of the type of players we want to start incorporating into our national team."
Who will captain in place of Lucas Neill?
"I don't know what the fascination is with the national captain. If I say it's Michael Clarke will everyone be happy? I'm not interested in who the national captain will be. What I'm interested in is building a team that will face some massive challenges at the World Cup and beyond."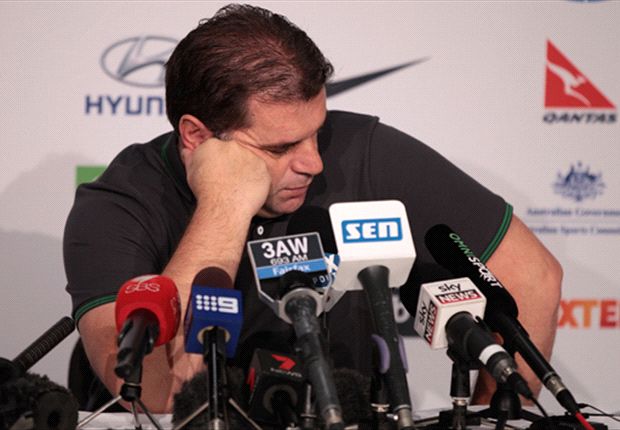 Ask me another one guys | Ange doesn't care who the skipper will be

Long-term planning
"Speaking to the board and senior management of the organisation, the time has come for us to look to this World Cup and the next World Cup and try and build a new golden generation of footballers. The make-up of this squad is what it will look like moving forward. We need to make some hard decisions. When you look at our experienced players, there aren't many of them who are playing at the highest level, if any. It makes sense to me to start looking at building a new core in the team."
How good can the new-look Socceroos be?
"Opportunity is the only thing we can offer them. If you don't give them an opportunity we'll never know. Hopefully if we expose them at international level it will help them and which in turn will help our national team."
Tim Cahill's future
"Tim fits the bracket of one of the experienced players who - and he could defy me, if he's around in 2018 it'd be fantastic - but at this point in time you'd have to say this is his World Cup."
So there you have it. Yes, Postecoglou wants the Socceroos to do as well as they can in Brazil, and on home soil in January next year. If the veterans are playing and performing at club level, they may feature. But there will be no favours granted, and no dead wood in the squad moving forward.
Now it's up to the new generation to repay their coach's faith, starting against Ecuador at The Den on Wednesday night.