By

TAKU TANEKA


Since making her W-League debut in 2010, Caitlin Foord has grown up fast.
Along the way, while juggling her high school education, she has continued to build on her already impressive football reputation.
With statistics of three goals in nine starts this season, Sydney FC's right-sided utility has shown why she has been touted - and lived up to - her tag as one of Australia's best footballers.
Yet few are aware of the third-party intervention that was initially required for her story to get off the ground.
If it was not for the persuasion of her sibling, Foord would likely have never taken up football.
Raised on a sporting diet of athletics, touch football and surf club, it was Foord's sister Jamie who, after seeing Caitlin excel during lunchtime matches at Lake Illawarra Public School, sold their mother a life-changing pitch.
"I started playing football in primary school where I used to play with all the boys," Foord, now 18, told Goal.com.
"I really enjoyed it and one of my friends played for the local team, so I came home and asked mum if I could join. She didn't want me to. But my sister kept telling her I was really good, so she eventually let me play."
Her change in heart put Foord on the path to stardom, where she now comfortably resides.



"I stay motivated because I want to do well. I don't want to back off now and lose my reputation."




- Caitlin Foord

While still a teenager, Foord boasts the experience of a veteran.
Having first signed to Central Coast Mariners as a 15-year-old, Foord left Gosford ahead of the 2010-2011 W-League season after the club folded.
Her short stint at the club was a harsh introduction to the world of professional sport.
"The Mariners signed me and gave me false hope that I could play as soon as I turned 16," Foord said.
"I was training with them all year, then I turned 16 and they told me I wasn't allowed to do that."
When the unhappy marriage ended, the youngster happily moved to the New South Wales capital.
"I always wanted to play for Sydney FC from the start," she confided.
With the change in scenery rejuvenating her, Foord became a key member of the 2010-2011 premiership-winning side.
Her assured showings, either heavily involved in attack or toiling hard in defence, caught the eye of then-Matildas coach Tom Sermanni.
Adding a sub-plot to Foord's storyline, Sermanni plucked Foord from international obscurity to debut against New Zealand in May 2011.
Foord later retained her position for the 2011 Fifa Women's World Cup in Germany, where she played three of the four games before Australia was bundled out by Sweden in the last eight.
"Before the World Cup I thought I was in camp for experience, I didn't think I'd go. I was surprised to get called up," she said.
The disappointment of the quarter-finals exit was somewhat quelled, personally at least, by being receiving the tournament's Best Young Footballer award.
"I was on holidays in Rome when I found out. Everyone was congratulating me on Facebook but I had no idea why," she laughed.
Soon after, she also scooped the AFC Young Player of the Year honour.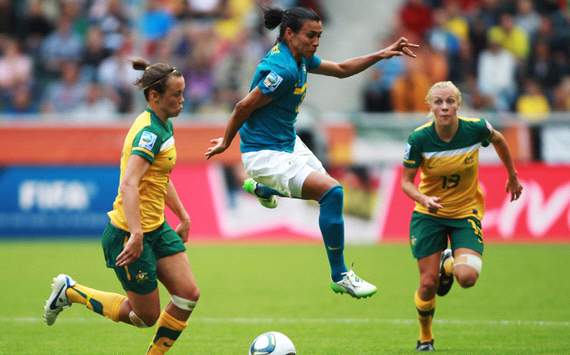 Foord [right] comes up against legendary Brazil striker Marta during the 2011 Fifa Women's World Cup in Germany.

The accolades filled Foord with confidence, an assuredness she utilised to help propel Sydney FC to go within one game of playing their third-straight W-League grand final in the 2011-2012 season.
Knocked out by Brisbane Roar in a penalty shoot-out, the two teams meet again in the semi-finals of this campaign on Saturday.
Rather than cite revenge as the reasoning behind her desperation for success, Foord's maturity shines when detailing what keeps her hungry: "I stay motivated because I want to do well," she said, emphasising the 'I'. "I don't want to back off now and lose my reputation."
Like domestic teammates Kyah Simon and Emma Kete, who have both played abroad in the United States and England respectively, the end of this W-League tournament may not mean holidays for Foord.
At the rate her trajectory is skyrocketing, it is inevitable a foreign contract will arise in future.
"Playing overseas is something I want to do," said Foord, who completed high school in 2012. "I've had a few offers this year after getting [some] after the World Cup but it depends on timing."
Quite literally, the world is at Foord's feet.
As the interview wound down, she makes it clear who she has to thank for her career to date.
"The biggest influence on my career is my mum. We lived in Wollongong and I'd have training four times a week in Sydney," Foord said.
"She put all her dedication into running me around. It was a lot of effort for her."