With sometime-Socceroos team-mate Matthew Spiranovic's future at Al Arabi in doubt, Archie Thompson would gladly take the defender at Melbourne Victory
Archie Thompson has welcomed any potential move by Melbourne Victory to sign fringe Australia international Matthew Spiranovic, who is training with the club.
Speaking at the club's pre-season training fresh from qualifying for Brazil 2014, the buoyant 34-year-old revealed the club situation of Spiranovic [pictured below] were still in "limbo".
After making just 12 appearances in the first season of a two-year deal with Qatar Stars League club Al Arabi, Spiranovic's link up with Victory is thought to be for fitness purposes, although he was conspicuous in his absence on Tuesday.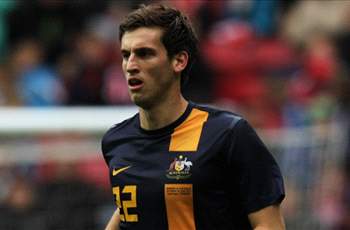 "He didn't turn up today, he must have had enough of us," Thompson joked.
"It's just good to see him. I don't know where he's at with his club situation in limbo.
"Hopefully he gets [a club] soon because he's a quality player and he'll be looking at going on to Brazil with us [Socceroos] as well.
With the 2013 East Asian Cup kicking off on July 21 and Victory's clash with Liverpool on three days later, Thompson admitted there had been little time to pause for breath after celebrating Australia's third-straight World Cup qualification.
"We're in camp next week with the [East] Asian Cup coming up so I don't really see any point having time off," the veteran striker said.
"We enjoyed that moment, for me the celebrations in the change rooms straight after the game and on the bus were the best moments, but we have to knuckle down because I want some more special moments.
At 34, Thompson knows the precarious nature of his position in the team, but the charismatic striker knows only hard work will secure his spot on the plane to Brazil.
"I was just delighted for the boys, it'd be the icing on the cake for me [to play in Brazil]," he said.
"I'm going to work hard, we've got 12 months but as I said there's only 23 seats to go to Brazil and there's a lot of good players out there.
"Basically all Australian players have got to put their head down it's a World Cup year. It's back to business."
Socceroos and Victory team-mate Mark Milligan mirrored Thompson's sentiments.
"Every game and every tournament for the national team between now and next June is a chance for individuals to show themself to the boss and a chance for the team to gel a bit more," Milligan said.
"They've pushed the [2012-13 A-League] season back a little bit to finish closer to the World Cup to give A-League players a chance of being in that side. It works well at the moment."
Milligan said he had not heard any news of a mooted move away from Victory for marquee man Marco Flores after an indifferent 2012-13 campaign.
Milligan has also been linked with moves to England and the Middle East, but refuted reports he may too look elsewhere.
"Yeah, absolutely [I'm set to stay at Victory]. I haven't heard anything different [from my manager]. That's the way it is," he said.
Goal Australia now has its own

and

account, so for all the latest news and features on Australian football follow us by clicking on the above links