COMMENT
By Peter Staunton
Robert Lewandowski is taking a lot of criticism for the timing of his announcement on Tuesday night that a move to Bayern Munich next summer would be officially ratified in January. He was asked the question after Dortmund's DFB-Pokal defeat of 1860 Munich in the wake of Polish media reports which leaked details of his contract with the German champions.
He was forthright in his response. Will you be announcing your deal with Bayern in January? "Yes," he said. "Because then I can officially sign the contract."
These comments come in the wake of an interview with
Rzeczpospolita
late in the summer in which he was heavily critical of Dortmund's decision to deny him a move in the transfer window just passed. The club promised to sell him to Bayern, he said. They lied.
Therefore, it was not so much an open secret as an overt fact that the Poland striker would be signing for Pep Guardiola's team next summer and doing so amid acrimony. Coming in the immediate aftermath of Mario Gotze's move, as it does, there has been, unjustly, some villainy detected in Lewandowski's decision to jump ship. But it's not his problem that Gotze moved before he did.
Nor is it his problem that he was low-balled by Dortmund when they opened talks about a new contract at the end of a brilliant 2011-12 season for him. He owes them nothing.
He only ever signed one contract with Dortmund, the one which was handed to him upon completion of his move from Lech Poznan in 2010. It was worth about €1.5 million per annum for a duration of four seasons, a sum that was fair for a young striker who had not yet proven himself in one of Europe's better leagues.
After 18 months of that deal, Dortmund realised they had more than a bargain on their hands and tried to tie him to longer terms as goal followed goal. "We are disappointed with the offer. I've said this to the president," his agent Cesary Kucharski told
Revier Sport
at the time. "A player of this class should be among the highest-paid footballers at Dortmund." There was a willingness, initially, to negotiate, to stay. Dortmund missed their chance.
The club paid only €5m for Lewandowski and he established himself in the line-up, becoming one of the most feared forwards in the world. He was worth many times more than that in the summer when Bayern were battering down Hans-Joachim Watzke's door to do a deal.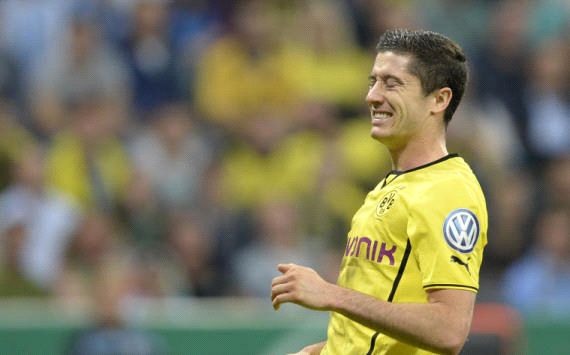 Missed opportunity | Dortmund could have extended Lewandowski stay
It was seen as admirable at the time that Dortmund withstood Bayern's attempts to prise away their No.1 forward. But in truth Dortmund chased folly with folly all throughout Lewandowski's time at the Westfalenstadion; it was a lesson in how not to treat a player: undervaluing him in contract negotiations, failing to cash in at a time when his price was high, being left with a dissatisfied player in the ranks.
Player power has never held more of a grip than it does currently. It is a huge risk for teams to not only fail to meet salary expectations on the part of key performers but also to be so negligent as to allow contracts to run towards expiry. Moreover, it is wrong to lie to them.
In the case of Lewandowski it was always the intention of the player and his agents to achieve a move to Bayern. Kucharsky and the player's other representative, Maik Barthel, have always made it known in the press that their client's over-arching ambition, and by extension their own, was Bayern.
Dortmund's intransigence played right into their hands. So while, this summer, Lewandowski looked destined to move, it needn't have been as such. This is a mess entirely of Dortmund's making. They failed to make a key asset an offer he could not refuse. Instead, they insulted him and put in motion a sequence of events that rendered the move to Bayern unavoidable.
Now they are left in a situation whereby they have had to offer him a 500 per cent pay rise for the last season of his deal just to motivate him enough to take the field. He has not played like a hotshot so far this season despite Dortmund's strong start. He has looked tetchy, temperamental and a little out of sorts.
Betrayal on the part of Lewandowski? Not a chance. There is nothing amiss with his timing. He was asked a question and answered it honestly. He has held his part of the deal. He's playing, scoring goals, turning up for training and seeing out his contract. And, more than that, he's telling the truth. Dortmund may fancy themselves as one of Europe's elite teams but they have not behaved like one here. Big clubs know how to keep their players happy.