SPECIAL REPORT
By Liam Twomey
The fact Wayne Rooney won over the most sceptical Manchester United fans inside Old Trafford during the course of 90 drab minutes against the club he wanted to join sums up the often strange nature of this summer's longest-running transfer saga.
THE ROONEY TRANSFER SAGA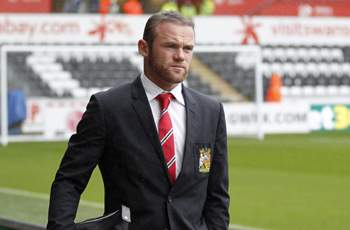 SIR ALEX: ROONEY WANTS OUT
MAY 2013
The striker missed out on the home win over Swansea last season, with the then United boss insisting the player had asked to leave.
ROONEY STAYING, SAYS MOYES
JULY 5, 2013
The new manager at Old Trafford gives his first press conference after replacing Sir Alex and insists the wantaway striker will not be sold.
MAN UTD REJECT CHELSEA OFFER
JULY 13, 2013
The Blues are knocked back with their first bid for the striker but deny Juan Mata or David Luiz formed part of the offer.
ROONEY TO DEMAND MAN UTD EXIT
JULY 30, 2013
The forward planned to tell David Moyes in showdown talks at Carrington that he wants to leave the club in order to join Chelsea.
MAN UTD REJECT FRESH CHELSEA BID
AUGUST 5, 2013
An improved offer of £30 million, including add-ons, was dismissed immediately as United maintained Rooney was not for sale.
ROONEY TRAINS WITH RESERVES
AUGUST 8, 2013
The striker was ordered to train away from the United first-team as he continued to attempt to force through a transfer to Chelsea.
MAN UTD WANT MATA FOR ROONEY
AUGUST 21, 2013
Old Trafford officials hold informal discussions with Chelsea, with talks centring on the availability of the Spaniard.
MOU: CHELSEA PURSUIT FINISHED
AUGUST 30, 2013
The Stamford Bridge boss admits his side's long-running attempts to lure the Manchester United striker to London are over.
The striker, desperate to join up with the Chelsea players he lined up against that night, was cheered by both the home and away fans throughout the evening. As the match wore on, the hard-working and occasionally inspired Rooney won over more and more of the United fans who had understandably remained on the fence.
As Jose Mourinho appeared to call off the chase, reports that Rooney would not force through a move in the final days of the transfer window came as close to a public announcement of loyalty as fans were likely to get following an often clandestine summer of claim and counter-claim.
Though his immediate future is resolved, there is a sense that the past few months were merely Act I.
Samuel Eto'o, the man Mourinho turned to after giving up on his No.1 target, only signed a one-year contract which will expire just as Rooney enters the final year of his own deal.
Rooney's decision to thank the United fans, via Facebook, for their support during the Chelsea game was one step closer to the coveted public admission of his intentions. Of course, Rooney would never go public about something that was wilfully conducted so privately, but it was a start.
Yet there is no rush inside Old Trafford to tie their striker down for the long-term. Ed Woodward, much maligned for his role in United's failure to bring in reinforcements, remains convinced there is no urgent need for talks with Rooney's agent Paul Stretford - "not the most popular man
"
at United, according to Sir Alex Ferguson.
Woodward's conviction has only been strengthened by another off-the-field victory as fellow contract rebel Nani signed on for another five years at £90,000-a-week. The winger's representatives spent most of the summer angling for a new deal worth a whopping £135,000-a-week, but United refused to acquiesce and no other club rode to the rescue, forcing them to relent.
There is no greater desire within Old Trafford to offer Rooney an improvement on his current £250,000-a-week deal when the time comes.
It is easy to see, then, why this season is crucial for Rooney. There is of course the World Cup which – assuming England qualify – offers the chance to make a significant impact at a major international tournament for the first time since Euro 2004, but that will of course bring immense pressure.
With the Rooney likely to feature in the Three Lions' final two qualifiers in October, and any potential opponents drawn out of the hat in December, he could conceivably be under more scrutiny than ever as the 2013-14 season wears on.
Ferguson grew increasingly worried about his striker's fitness and ability to recover from injury as his Old Trafford reign came to a close, and with three set-backs already this season the 27-year-old could be playing catch-up as his team-mates begin to bed in to the David Moyes era.
Throw in the hectic Christmas period, the potential for contract talks, a title chase, Champions League knock-out stages, plus any number of other controversies, club v country rows, niggles, knocks, and speculation and you could forgive English football's enigma for being "angry and confused" again. And that's not to mention any revelations included in Sir Alex Ferguson's forthcoming autobiography.
Though Rooney's head was recently split open by a stray Phil Jones boot, we are no closer to knowing what goes on inside it.
Another prolific season at Old Trafford would see him close the 52-goal gap to Sir Bobby Charlton in United's all-time scoring charts. But does Old Trafford folklore matter to a man who cited United's failure to attract top-class talent as the reason for wanting to leave in 2010, only to sign a massive new contract and go on to complain about playing second fiddle to the top-class Robin van Persie?
Rooney was clearly attracted by the prospect of hooking up with Jose Mourinho at Stamford Bridge, and was only stopped by United's steadfast desire to keep hold of him and make things work. The loveless marriage will go on for now, but do not expect the coming months to run smooth.
Follow Liam Twomey on