COMMENT
By Kris Voakes
Barcelona continue to make huge signings. Following the purchases of the likes of David Villa, Javier Mascherano, Cesc Fabregas and Alexis Sanchez in years past, in has come Neymar this summer to add to the Blaugrana's magnificent stock of talent. But while their midfield and attack is liberally scattered with increasing numbers of superstars each season, one notable weakness remains due to their inability to acquire a centre-back of significant quality.
The pursuit of Chelsea's David Luiz has been something of a stop-start affair so far, but it represents their biggest chance yet to really lay a marker down and eliminate the nightmares of years past defensively.
Mascherano has been used extensively as a makeshift centre-half since arriving from Liverpool, but the Spanish champions have been left for a number of seasons now with Gerard Pique and Carles Puyol as their only central defenders of any note. Pique himself has spoken out about the club's lack of quality in his position in the past few days, putting the issue under the spotlight like never before.
'THEY LACK PACE, STRENGTH & POSITIONING'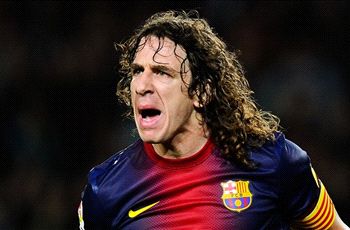 THE SPANISH VIEW ON BARCA'S BACK FOUR

One of Barcelona's main priorities in last summer's transfer window was the signing of a central defender, but no such player arrived as the Catalans brought in Alex Song to cover two positions.
Song was one of a number of players to fill in at the back as Carles Puyol predictably missed large chunks of the campaign due to injury, but the Cameroonian is not a natural defender. Javier Mascherano has adapted brilliantly to a defensive role but still looks uncomfortable against the top teams, while Adriano lacks height, Marc Bartra is too fragile and was not given enough opportunities and Gerard Pique often looked lost all on his own in there.
In La Liga, Barca were never going to have too many problems but the Catalans' makeshift back line was shown up against Madrid in both league games (a draw and a loss), while the Blaugrana were edged out by Jose Mourinho's men over two legs in the Spanish Supercopa and struggled against Milan and Paris Saint-Germain prior to humiliation in the 7-0 semi-final reverse to Bayern Munich in the Champions League.
Lacking pace, strength, height, positional sense and suitable experience, Barca simply must sign a specialist this summer to play alongside Pique - or continue to disappoint when the biggest tests arrive.
Ben Hayward, Goal's Spanish Football Writer

And so it should be. The Barcelona hierarchy will have been mindful for some time of the need to find a replacement for club captain Puyol, yet not since the flop signing of Dmytro Chygrynskiy from Shakhtar Donetsk in 2009 have they brought in a natural centre-back. Yes, they signed Mascherano and utilised him as a defender. Yes, they took Alex Song from Arsenal under the premise that he could play at the back. But the truth is that neither are long-term options.
Now, with Puyol having undergone a particularly damaging few years on the injury front, there is a serious need for reinforcements. The former Barca youth product has chalked up 28 games or more in all competitions only once in the past three campaigns, and, at 35 years of age, the outlook does not look promising in terms of an upturn in those statistics.
The reasons for such difficulties in recruitment are manifold. For starters, there is the aforementioned signing of Chygrynskiy. The young Ukrainian was such a spectacular failure at Camp Nou that the Blaugrana have clearly become overly cautious about making such a monumental error again. There were plenty of indications that a €25 million layout for a 22-year-old with little big-game experience might not live up to the price tag, but when the near-inevitable happened it had a lasting effect in the minds of Barca's transfer movers and shakers.
The truth of the matter was that Chygrynskiy was simply the wrong fit with no real attributes to fit in with Barcelona's style of play, and therein lies another reason for Barcelona's uncertain approach to centre-backs. Given the insistence on playing a very particular type of football, with each of their players needing to be comfortable with the ball at their feet (something David Luiz certainly is), the pool of potential targets is massively reduced.
That would be the case in any era of football, but is particularly true of the present day game. While the 21st century can boast some of the most outstanding attackers football has ever known, the same cannot be said of their defensive counterparts. There is simply a huge dearth in high quality central defenders, while even full-backs are becoming better known for their exciting play on the ball than their abilities off it. Stick into the pot Barca's desire for their defenders to be ball players, and that shortlist of top centre-halves is reduced to something approaching zero.
It was partly for that reason that Pep Guardiola very nearly turned his Barcelona side into a team full of midfielders. With little chance of finding the ideal centre-back, he decided that the best alternative was to adapt ball winners into deep-lying playmakers who just happened to line up as part of the defensive line. Again, it was not a long-term option and only brought a moderate level of success. The truth of the matter was that they needed Pique and Puyol fit to be at full steam.
Now Pique wants to see some strengthening of the defensive resources but understands the trouble Barca are having in nailing down the perfect signing. "It's hard to find the right profile of player because our style of play is unique," he said this week, but their style is not so unique that they can do without defenders.
For that reason, the pursuit of David Luiz needs to continue apace - even if many would argue that the Brazilian is better known for his ball-playing than his actual defending. Because as much as Barcelona rule the roost when it comes to attacking football, they have found to their cost in recent seasons that winning football continues to rely on a solid defensive base.