COMMENT
By Enis Koylu
Just 12 months ago, Arjen Robben had the chance to make himself a Bayern Munich hero. The team's talisman, he stepped up to take a penalty in a key league clash against Borussia Dortmund which would have kept his side in the title race. Ever-reliable from the spot, it seemed certain that he would score, but Roman Weidenfeller saved his effort.
A few weeks later, he had the chance to redeem himself from the spot against Chelsea in the Champions League final, having netted vital penalties against BVB in the DFB-Pokal final and their European semi-final meeting with Real Madrid.
Again, though, he missed, and Bayern would have to wait to get their hands on Europe's biggest prize for a fifth time. Days later, when he represented Netherlands at the Allianz Arena, he was booed by the Bavarians' fans.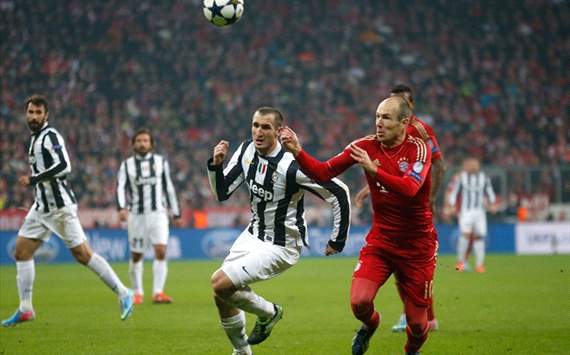 Mia San Meister | Robben has traditionally enjoyed playing against Italians
Robben's fall from grace since then has been spectacular. One of those blamed for
Oranje's
horrendous Euro 2012 campaign, he lost his place in the Bayern team thanks to injuries, the form of others and a marked dip in his own performance levels.
From being a hero for club and country, he was public enemy number one.
Netherlands full-back Gregory van der Wiel was quick to bemoan Robben's unwillingness to "sacrifice himself for the wing-back" or "track back to help me out".
More worryingly, an anonymous international team-mate remarked that everyone in the Dutch camp was happy he had fluffed his lines against Chelsea
. "Imagine how he would have arrived if he had scored. He would have been even more arrogant and never passed the ball to team-mates," the whistleblower revealed after their group-stage exit.
It seemed as though his time at the Allianz Arena would soon be up. A player of his pedigree and stature would have no interest in warming the bench, particularly with Pep Guardiola, who was very reluctant to use old-fashioned wingers during his time at Barcelona, set to arrive in the summer.
Amid his loss of form and first-team place, the thought that Robben could become an unlikely hero in Bayern's treble pursuit this season seems a strange one, yet that is the prospect we are now facing.
While he had been showing some spark in his sporadic Bundesliga appearances in recent weeks, there didn't appear any realistic chance of him displacing Thomas Muller, Franck Ribery or Toni Kroos without a stroke of fortune, but the latter's injury has handed him the opportunity to prove himself in a key part of the season.
"Imagine how he would have arrived if he had scored against Chelsea. He would have been even more arrogant"





- An anonymous Netherlands player

In some ways, the 23-year-old's knock against Juventus helped the Bavarians. Despite David Alaba's early goal, the
Bianconeri
had come back into the game, and with Bayern sloppy in possession, his arrival announced a change in tactics which ultimately benefited his side.
As Juve pushed for an equaliser, he was able to run at their defenders and pen them back into their own territory, which ultimately aided Bayern in their pressing game, with Mario Mandzukic in particular defending from the top.
And the truth is, it wasn't even a vintage Robben performance. While he created several chances, his side could have scored far more than their two goals were it not for his own wasteful finishing.
YEAR OF MISERY
Robben's 2012 turmoil


Apr 11




Missed penalty vs Dortmund

May 12

Bayern lose 5-2 in Pokal final

May 19



Missed penalty vs Chelsea


Sep-Oct




Misses five games with injury

Nov-Dec




Misses nine games with injury
By his own admission, though, he relished the fight against Serie A's finest. "I like to play against Italian teams because they are not used to wingers and they do not like it," he said during his time with Real Madrid.
Having made the difference in the Pokal quarter-final against Dortmund, with a spectacular long-range effort which helped his side to a 1-0 win, Robben can lead treble-chasers Bayern to another key triumph in the return Champions League trip to Turin on Wednesday.
Kroos' injury will ensure his place in the first-choice
Roten
XI until the end of the season, and
Robben remains as eager as ever to prove his critics wrong
. "Without being arrogant, I think I add something to Bayern," he said after the 3-1 win over Arsenal in February.
With Guardiola arriving in the summer, doubts remain over his long-term future. He will not be content to play second fiddle much longer and may well consider his options as Galatasaray and Inter continue to monitor his situation.
For the time-being, though, Robben is back in the Bayern first team and could yet have another chance to redeem himself for those two penalty misses.
Love him or loathe him, the fact is, Robben makes things happen.
Follow
Enis Koylu on