COMMENT

By Julian

Bennetts
There was an audible gasp when Uefa president Michel

Platini

made his big announcement on Thursday.

Having witnessed one of the finest continental tournaments ever in the summer, which was full of drama and tension, the Frenchman revealed proposals which would change the European Championship as fans, players and the media know it.

He smiled: "I thought that would get your attention."
It had, but even then no-one really took him seriously. After all, the

Uefa

president had just told the assembled media at a press conference in the Olympic Stadium in Kiev that he was considering hosting Euro 2020 in a number of cities across Europe.
After all, Poland and Ukraine had just proven that they could hold a wonderful tournament despite the most dire of warnings. It had been superb, a triumph for

Platini

.
So why change everything?
Ultimately, there are two very simple reasons. The first is

Uefa

's ridiculous decision to expand the competition to 24 teams from 2016, which not only ensures a dilution in quality and less of the drama that characterised the group stages this year, but also makes it increasingly difficult for countries to host the tournament.
Eight stadia hosted games in Euro 2012. France, where Euro 2016 will be staged, will have 10 venues. It is thought 12 may be needed in the future.
How many countries around Europe could commit to the expense of upgrading existing

stadia

to such a level?
Some – England, Germany, perhaps Spain and Italy or a joint Lowlands bid – could do so. But the likes of Greece and Croatia-Hungary, both of whom bid for Euro 2012, would have no chance.
Turkey were the only offer on the table for Euro 2020. Istanbul are also looking to host the Olympics that very summer, and

Uefa

want their tournament to be given priority. Turkey refused, which has led to the governing body taking Thursday's decision to spread the tournament around Europe.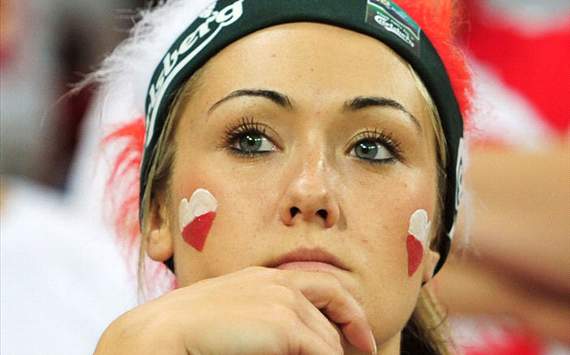 Frozen out | Fans will get the raw deal with Euro 2020 spread across Europe
The second reason is that

Platini

is a cunning politician. His position relies on continued support from across European football, and he has made a point of courting the non-traditional powerhouses.

What more could endear

Platini

to Romania's

Uefa

delegates, for example, than telling them that Germany's Euro 2020 quarter-final against Holland will be played in Bucharest?
Want Belarus' vote on any future issues or elections? How about France v Turkey in Minsk.
Denmark? Portugal v England in Copenhagen.
It's rather simple really, but it does forget one important group of people – the fans.
Platini

was asked, in that press conference on the eve of the final of Euro 2020, how he thought an England supporter could afford to go from London to Munich, up to Copenhagen and then on to Lisbon.
"As you know, there are budget airlines," shrugged the Frenchman.
There speaks a man who has never used

Ryanair

in his life, and wouldn't recognise an

EasyJet

in-flight meal if he controlled it on his instep.
The airlines will inflate prices, the punters will pay, and the fans will have lost out – again. The supporters are the best thing about any major tournament.
This writer was based in Kiev for Euro 2012, a wonderful city in which Sweden played all three of their games in. They brought 17,000 fans with them, and one now keeps an eye out for their results after finding them a superb group to enjoy a tournament alongside. That will not happen under this new plan.
Instead, a hardy few hundred will go to every game, and in many cases supporters will turn up without tickets and desperately try to get into the grounds. The logistics are horrendous.
| | |
| --- | --- |
| The airlines will inflate prices, the punters will pay and the fans will have lost out - again | |
And another issue

Platini

was so proud of has also been forgotten. During Euro 2012 the former France midfielder was understandably making a big play of how the tournament had impacted on the infrastructure in Poland and Ukraine, with both countries upgrading their road, rail and airport links, as well as their

stadia

.
He also highlighted the off-field work

Uefa

was doing, such as when a group of children still affected by the Chernobyl disaster of 1986 were invited as his guests to the France v Sweden match in Kiev. It was a touching gesture, but they will be forgotten under this new plan.
In fact, it all adds up to the first step towards an international league. The idea of a two-tier league of 12 teams each is no more ludicrous than hosting Belgium v Portugal in Istanbul. Is that what

Platini

wants, or will even he realise that supporters love the short, sharp shock of a tournament with the knowledge that there will be another one in two years' time? It isn't clear, not yet at least.
But what we do know is that Platini is more or less making it up as he goes along, and ignoring both convention and common-sense. It works for him as a politician, but it will leave supporters across Europe feeling cold.