ANALYSIS
By Chris Myson
The
1-0
defeat to a weakened
Borussia Dortmund
side on Tuesday night was a tame end to another disastrous campaign for
Manchester City
in Europe.
Like last year, they have failed to make it through to the knockout stages of the Champions League but this time there is not even the consolation of a Europa League place after they finished rock bottom of Group D on just three points.
Goal.com
analyses where it went wrong in each of the six games as City fans reflect on another season when they have failed to make their mark at the highest level.
Matchday One: REAL MADRID 3-2 MAN CITY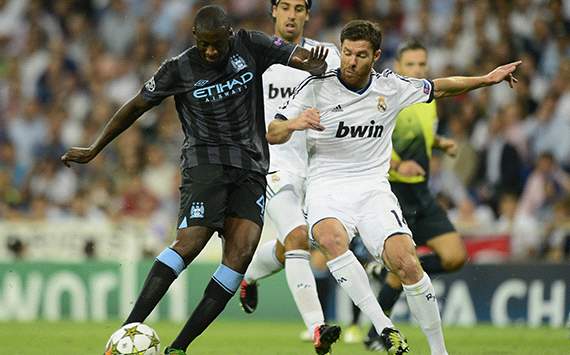 Manchester City's Champions League campaign could have been so much different had they been able to hold on to a lead in the opening matchday against Real Madrid.

Leading 2-1 in the Bernabeu with less than five minutes remaining, Roberto Mancini's men somehow managed to grab defeat from the jaws of victory. First they allowed Karim Benzema too much time to turn and strike an equaliser, before Cristiano Ronaldo beat two men before cutting inside and driving a shot past Joe Hart.

What would have been a morale-boosting victory was all of a sudden a dramatic last-gasp defeat and City's confidence looked dented in their remaining Group D games.

The first signs of both mental weakness and defensive frailty had been shown and, after a pointless first game, the pressure was on for their remaining fixtures in the competition, with ground to make up.



Matchday Two: MAN CITY 1-1 BORUSSIA DORTMUND

If it was a lack of mental toughness and a poor defensive display that had proved costly in the first game, matchday two was the first time when questions were really raised over whether this City squad were good enough to progress from such a tough group.
Playing at home to Dortmund, City were hopeful of kick-starting their campaign but ended up being dominated despite playing in front of their own fans.
Only a string of Joe Hart saves either side of Marco Reus' goal kept them in the match and a debatable Mario Balotelli penalty in stoppage-time would save them a point.
After being fortunate to pick up a point in a match Mancini had described as "must-win", key City players had underperformed and the squad were looking short on quality, particularly in comparison to Dortmund.
Matchday Three: AJAX 3-1 MANCHESTER CITY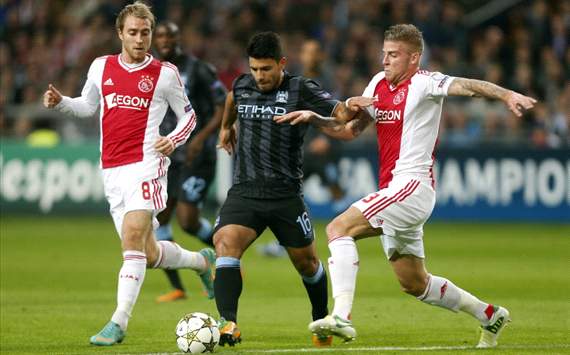 This disastrous defeat in Amsterdam pushed City one step closer to the Champions League exit door and saw Mancini's tactical competence called into question.
The Premier League champions had led through Samir Nasri but ended up being comprehensively defeated and looked like a side with no identity or clear tactical plan.
Mancini faced huge criticism for an unusual decision to switch to a three-man central defence with the game still in the balance - that included a confused-looking Gael Clichy playing as a centre-back - a move that backfired as Ajax scored a decisive third goal, prompting the manager to swiftly change back to his original system.
After the match, Micah Richards added salt in the Italian's wounds by telling the press that the players did not practice the tactical switches in training and that many were not sure of what they were doing in their new roles.
Matchday Four: MAN CITY 2-2 AJAX

Poor defending, a lack of mental toughness, a shortage of quality and dodgy formation changes were the numerous factors that had cost City in their first three games.
This time they fell 2-0 behind at home to Ajax and it was a dreadful deployment of zonal marking that proved to be costly.
Away captain Siem de Jong twice took advantage of awful static defending from set-pieces to find space and score in the early stages, giving City a mountain to climb in the second half.
While most of the problems were their own doing, City were also unfortunate not to be given a penalty in stoppage-time for a tug on Mario Balotelli's shirt and had a Sergio Aguero effort harshly ruled out for offside, prompting furious scenes where Mancini and a number of his players confronted the referee.
Matchday Five: MAN CITY 1-1 REAL MADRID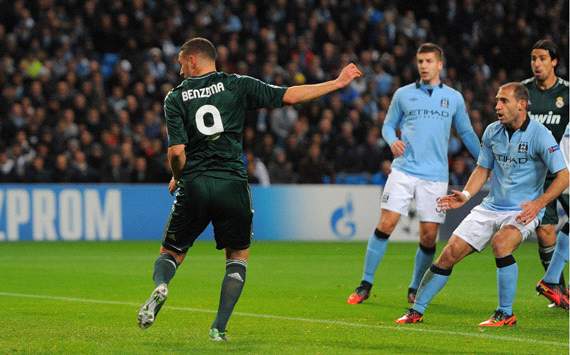 A slow start cost City for the second home game running ultimately cost them the chance to pick up the win that they needed to keep any faint hopes of qualification alive.
Mancini opted for his controversial three-man defence again but saw his side ripped to shreds, Benzema finding oceans of space to score and the Spanish champions wasting numerous opportunities to add to that list.
In an unbalanced selection filled with an uncertain defence and several attackers, only Yaya Toure was left to shield the backline and fill a large amount of space in the midfield, which saw the home side overrun by the likes of Xabi Alonso, Luka Modric and Sami Khedira.
Like the game against Ajax, City did rally and come close to overturning the deficit after some tactical changes, but the chopping and changing between three- and four-man defences and in the attacking personnel deployed all over the team was causing a lack of continuity and organisation throughout the side.
Matchday Six: BORUSSIA DORTMUND 1-0 MAN CITY

City were already out before Wednesday night's game but this was an opportunity to grab a place in the Europa League and restore some pride after a dire Champions League campaign.
Dortmund electing to rest a number of key players certainly gave them the opportunity to do that but it was a flat, uninspired display from the visitors, who fell to a narrow defeat.
With Yaya Toure and David Silva - two key players - missing from the side there looked to be a lack of creativity and quality along with a realisation that the squad depth at City is nowhere near what it is made out to be.
Javi Garcia and Scott Sinclair, both summer signings, had dreadful evenings and, as has been the case for much of the campaign, Joe Hart was left exposed and called upon far too often. To keep things consistent on his part, too, Mancini swapped formations mid-match again, from a back four to a back three, which had little effect.
A number of factors can ultimately be pointed to for City's abject performance in the group over the six games. Poor tactics, a lack of mental toughness, under-performing key players, sub-standard options from the deeper squad, a manager who is struggling to cope in Europe, bad luck with officials and the high-quality opposition they were up against were all factors to blame at some point along the way.
Ultimately it has been a disastrous campaign and there is plenty for Mancini, the players and the club hierarchy to reflect on over the long winter months if they are to avoid a third-straight horror show next season.
Follow Chris Myson on