ANALYSIS
By Michael Yokhin
If you have to name a national team captain and want to make the worst possible decision, there is only one man who will instantly solve the problem for you: Fabio Capello.
Well, maybe not instantly. Sometimes it takes him eight months. Appointed England manager in December 2007, the Italian embarked on a wild goose chase. Steven Gerrard captained the side in his first friendly against Switzerland, then Rio Ferdinand succeeded him versus France.
John Terry got the nod against the United States, and then came David Beckham. Finally, when Chelsea's 'Captain, Leader, Legend' was named the permanent skipper for the 2010 World Cup qualifying campaign, even the man himself admitted he was surprised.
"I would hope a captain would be an example, a role model" Capello said, claiming Terry's "big personality" was the deciding factor. Oh dear.
The role model, 2009 Dad of the Year, was stripped of the armband in February 2010 following the Wayne Bridge affair, which left England's dressing room in complete disarray during the World Cup in South Africa. Ferdinand got the armband back, but he was injured in June, meaning Gerrard filled in. During the tournament, there were reports of Chelsea's centre-back trying to turn Capello against the Liverpool midfielder.
Incredibly, in March 2011 Capello reinstated Terry, stressing that "a year's punishment is enough". He got his due less than 12 months later when his captain was involved in another ugly saga, allegedly racially abusing Anton Ferdinand, Rio's brother. When the FA stripped the violator of the armband once again, the Italian chose to resign. Whether his decision was justified in the circumstances is another matter. The bottom line is that Capello miserably failed in choosing the right captain.
If you thought he couldn't fare any worse in his new job as Russia national team coach, you would be wrong. Andrey Arshavin's reputation in Russia has been in tatters for some time now. His image is of a lazy superstar with a huge ego, who rarely gives his all when playing for his country.
A joke which sounds better in Russian sums this up well:
Arshavin comes home late, and his wife asks him where he was. "I was playing football," he says. "But your shirt is completely dry," screams the wife. "Well, I was playing for Russia," Arshavin replies.
Russia's disastrous Euro 2012 campaign only made matters worse. Much worse. Many players were accused of not trying hard enough and not caring. Indeed, after the defeat to Greece few bothered to greet the fans who travelled to Poland to support the team.
Arshavin's reaction was quite extraordinary. When faced with claims that the team didn't answer the fans' expectations, the captain replied: "How is it our problem? That's their problem." When chosen as Russia's new coach, Capello correctly noticed that the most important mission was to rebuild the trust between the team and its supporters. What did he do next? Right, he gave the armband back to Arshavin. The country was stunned.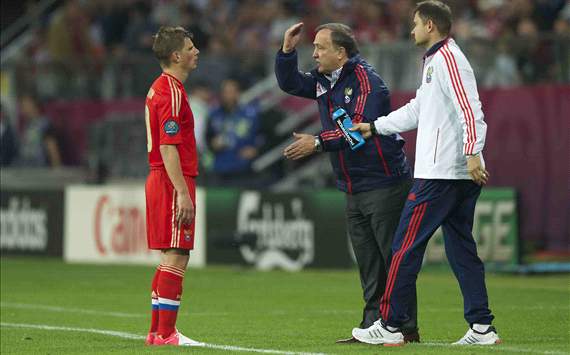 Not my problem | Arshavin's attitude has earned him a bad reputation in his homeland
Ironically enough, the Arsenal substitute didn't start in Capello's debut, a friendly against Ivory Coast in August. When he appeared in the second half, the Moscow crowd loudly booed him each time he touched the ball. Apparently, that was Capello's recipe to rebuilding trust. It is a huge mystery why the Italian made a public announcement on Arshavin's captaincy, as just a couple of weeks later he decided to drop him from the squad altogether.
So who took his place as captain? The man who was handed the armband against Ivory Coast and got the job permanently in September is none other than Igor Denisov. It is important to state that Denisov is a defensive midfielder of rare quality, and his leadership qualities on the pitch are not to be doubted. However, despite being one of the longest serving home-grown players at Zenit, he has never been considered for the club captaincy, and there is a reason for this. To put it bluntly, Denisov is not the most mentally stable person in the world.
CAPELLO'S CAPTAIN CATASTROPHES


PLAYER
PROBLEM

John Terry
Wayne Bridge affair
Rio Ferdinand
Second choice & injured
John Terry
Anton Ferdinand scandal
Andrey Arshavin
Disliked by the public
Igor Denisov
On strike at his club
The list of Denisov-related scandals is quite long, and here are a couple of examples. In August 2010 he got into a street fight with a driver, who received a broken nose. The midfielder injured his leg, which forced him to miss the crucial Champions League qualifier at Auxerre which Zenit lost.
Two months later, he kicked the ball in the direction of Spartak Moscow coach Valery Karpin after the final whistle, and came very close to a violent clash with him. Players managed to separate the rivals, but the incident still descended into chaos and ended in a mass brawl.
Add to this the fact that Denisov rarely speaks to the press and refused Guus Hiddink's convocation to Euro 2008 because he felt insulted the call wasn't made earlier, and you have a man who is even less suitable to the armband than Arshavin.
Capello thought differently, and again he received his just rewards. Just a few weeks after becoming national skipper,
Denisov went berserk and demanded that his club almost double his salary following the signings of Hulk and Axel Witsel.
Denisov refused to play, and Zenit threw him into the reserves, where he bizarrely injured himself during a youth team game. All that didn't prevent Capello from naming his protege in the squad to face Portugal, and the Italian has remained silent on whether the rebel will keep the armband. There are huge doubts though, both medical and professional, about the holding midfielder's participation in Friday's game. That means the coach will have to name a new captain, at least temporarily.
The list of bad options is getting shorter, but that shouldn't deter Capello from making another catastrophic decision.
Follow
Michael Yokhin on