Ryan Giggs
believes that
Team GB
's young stars have bright futures ahead of them despite suffering
Olympic
penalty shootout heartbreak at the hands of
South Korea
in Cardiff.
In a tight and tense quarter-final clash at the Millennium Stadium, the two sides were unable to be separated after 120 minutes, but Celtic's Ki Sung-Yeung sent the visitors into the last four after Daniel Sturridge saw his spot-kick saved.
It was a disappointing end to a campaign which promised much when Stuart Pearce's men qualified top of Group A, but after the match Giggs stressed that the overall experience was a very positive one.
"Of course, it's disappointing," he told reporters. "Ultimately we just weren't quite good enough.
TEAM GB 1-1 SOUTH KOREA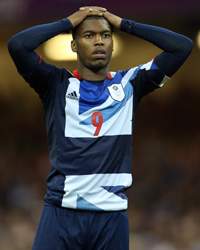 The unified host nation's Olympic dream came to a disappointing quarter-final end in Cardiff in a penalty shootout defeat as Daniel Sturridge was the only man to miss his spot-kick
"They were well-organised, and made it hard for us to play our football. Overall though, it's been a fantastic experience, one the players and the staff have enjoyed.
"It was a pleasure to play with so many talented young players. Some I knew, some I didn't, but there's a lot of talent in that dressing room.
"Hopefully they can take it back to their clubs now and have good seasons. They deserve it, because their attitudes have been brilliant.
"It's been a pleasure to play with them, to be around them, and to train with them."
Giggs then went on to single out countryman and Liverpool target Joe Allen for praise after a series of impressive displays by the Swansea City starlet at London 2012.
"I think they're all talented players, and they can all step it up even more," he added. "Hopefully this tournament can provide that stepping stone.
"Joe is someone I took a close interest in because he's Welsh. He's such a talented player, and the way Swansea played last season was great to see. He'll go on to have a good career."
The Manchester United veteran is also adamant that Team GB should field a football team in Rio de Janeiro 2016,
despite boss Stuart Pearce suggesting that the Olympic team is unlikely to have a future
.
"I would want young players to experience what I experienced here at this Olympic tournament, and to play against good, organised teams," Giggs insisted.
"It can only be good for players' development and their experience. I've never experienced it before, and I'll cherish every moment of it.
"It's going to be hard, because there are a lot of sceptics out there, but within, you'll get the same answer from all the players."