COMMENT
By Kris Voakes | Italian Football Editor
When Zlatan Ibrahimovic left Inter for Barcelona in the summer of 2009, it felt like that moment in a Hollywood blockbuster when the romance is cut short, the two parties go their separate ways, and the director tries to make you believe the fairytale ending won't happen. But this time it's real. The Swede's love affair with Serie A is over for good.
Ibrahimovic's move to Paris Saint-Germain not only leaves AC Milan with a monumental gap in their forward line, but it also sheds Italian football of one of its great characters, true icons, and – above all – most successful players ever. He departs without the ending he perhaps deserved, finishing a season without the Scudetto for the first time in his seven years in the peninsula, but that should not cloud what has been a truly magnificent stay in the bel paese.
PLAYER PROFILE: ZLATAN IBRAHIMOVIC PSG's new star signing

Having arrived with a big reputation built around spectacular moments for Ajax and Malmo, Zlatan became a more complete striker in his days in Italy. It mattered not to him whom he was alongside, he was the focal point all the same. In his first season at Juventus he was paired with Alessandro Del Piero, David Trezeguet and even Marcelo Zalayeta at various stages, but he delivered regardless.
After 16 goals in that first campaign, he added only 10 more in 2005-06, including three in the Champions League. Those stats didn't matter too much, though, as Juve racked up 91 points to win another Scudetto with Ibra once again a regular feature. But he was only getting started.
At Inter he became a true talisman. Three seasons brought three more Scudetti, and 57 goals were scored in the process. His return from injury on the final day of 2007-08 was his crowning moment; with the Nerazzurri struggling at Parma, and the title in Roma's hands, he came off the bench to grab a league-winning brace. He went on to revel in the no-nonsense approach garnered by Jose Mourinho in his final term in the blue and black, picking up his first capocannoniere title thanks to a superb backheel effort in round 38 against Atalanta, his 25th goal of the season.
It was far from his only spectacular effort though, as he became well known for sensational goals. He scored one by flicking the ball with the outside of his boot with his leg stretched beyond his marker to convert an Adriano cross against Bologna. Later, he would net for Milan away to Lecce with his back half-turned to goal, volleying over the keeper from over 40 yards with his weaker left foot.

These were not moments of fortune, they were examples of brilliance. A 1.95m, 95kg man mountain shouldn't be able to provide all those wonderfully deft touches expected from a nippy No.10, but Zlatan could. He hit the piledrivers too, with Fiorentina being on the wrong end of Ibra bullets more than once. He has proven over time that he has a bit of everything.
IBRAHIMOVIC'S ALL-TIME SERIE A STATS

MORE ON
ZLATAN IBRAHIMOVIC


| | | | | | |
| --- | --- | --- | --- | --- | --- |
| Season | Club | Games | Goals | Yellow/Red | Finish |
| 2004-05 | Juventus | 35 | 16 | 4/0 | 1st |
| 2005-06 | Juventus | 35 | 7 | 5/0 | 1st |
| 2006-07 | Inter | 27 | 15 | 6/2 | 1st |
| 2007-08 | Inter | 26 | 17 | 4/0 | 1st |
| 2008-09 | Inter | 35 | 25 | 8/0 | 1st |
| 2010-11 | Milan | 29 | 14 | 8/2 | 1st |
| 2011-12 | Milan | 32 | 28 | 3/1 | 2nd |
| | TOTAL | 219 | 122 | 38/5 | 6 Scudetti |
That backheel against Atalanta was to be his last act before moving to Barcelona in a €69.5 million transfer, and while it was seen by many as a fitting finale, he was clearly not done with
Calcio
. He returned a year later to become one of a select band to play for all three of Italian football's giant clubs. He would also go on to be that greatest of rarities ... somebody who succeeded at all three.
Milan had gone seven years without a Serie A title before Ibra rocked up and guided them to their 18th crown two seasons back. He dragged them to victories at key moments, scoring his 14 goals in 14 different games, with his strikes in draws and single-goal victories alone accounting for an 11-point swing in the Rossoneri's favour. That included an early winner from the penalty spot in front of the Curva Nord in his first Milan derby in red and black. It was always destined to be decided by Zlatan.
Last season his tally was twice as large, but his 28 goals came in a losing campaign. Massimiliano Allegri's patched-up side couldn't stave off Juve's strong finish, and Ibra's efforts were in vain. His double against Roma in March had temporarily sent Milan seven points clear, but while he would add six more in the last nine games, he was by then a one-man band. He would not clinch a ninth straight domestic title, and it would be six Scudetto wins, not seven, but it wasn't for the want of trying.
The Rossoneri's title hopes ended with a 4-2 defeat to Inter, with Ibrahimovic netting both of their goals. He remained a big-game player to the last. He may well be moving on due to his career-long thirst for Champions League glory having gone unquenched to this point, but that doesn't mean that he has never provided the telling blow when it has really mattered.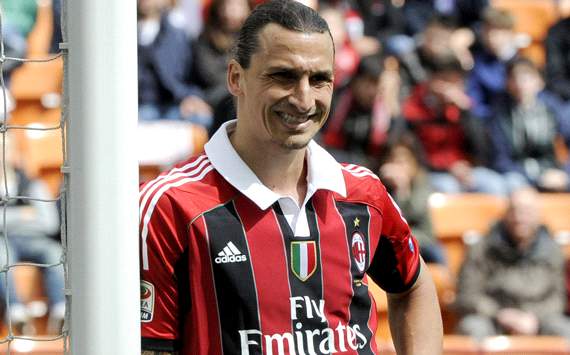 Ibra | His final Serie A game with the Scudetto on his chest, where it truly belonged
In a country where many still proclaim that winning the domestic title always comes first, Zlatan has done that with supreme regularity. Over seven seasons, he has been one man you could count on to have a big say in the Scudetto race, for so long the only constant in a changing world at the top of the Italian game. And that has made him a legend in Calcio terms.
Like Diego Maradona, he has had cameras follow him everywhere over his seven years in the peninsula, and, like 'El Diego', he has demanded their attention for every single second of that time. He may not have the same flawed genius as the great Argentine, he may not be as skilful, and he may not be as blessed, but he has been every bit as influential to a generation of Calcio fans. If you sat down to compile an all-time Serie A XI, he would come in for serious consideration at the very least.
While Maradona will never be replaced in the hearts of Neapolitans, it is in the minds of Milan, Inter and Juventus fans that Ibrahimovic will be remembered most. He made enemies everywhere, but he made goals and titles first and foremost. It was his drive to be a winner that saw him depart each, and it is that same motivation which has taken him away from Calcio for the final time.
So ciao e grazie, Zlatan. Whatever is said about you, and whoever says it, nobody can claim you haven't made your mark on Italian football.