EXCLUSIVE
By Rob Stewart
Former Liverpool midfielder Bolo Zenden has delivered a scathing assessment of the club's fall from grace, insisting Anfield has been in "turmoil" ever since Rafael Benitez left the manager's office.
Zenden helped Liverpool win a place in the 2007 Champions League final under the auspices of Benitez and he feels the managerless Premier League outfit have failed to regain stability since the Spaniard quit Anfield by mutual consent in June 2010.
The former Dutch international spoke out as the Spaniard emerged as a contender for the vacant manager's job following the sacking last week of Liverpool icon Kenny Dalglish by the American-based Fenway Sports Group, following their eighth-placed finish in the Premier League.
Benitez led Liverpool to second place in the Premier League in 2009 but could only take the club to seventh place the year after and his six-year reign was brought to an end during the watch of then owners Tom Hicks and George Gillett - a move that Zenden feels was a watershed.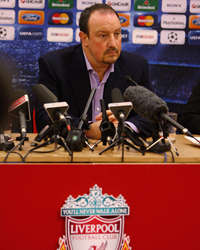 "There seems to have been turmoil there for the last few years ever since Benitez left," Zenden told Goal.com.
"The club has not seemed to know which way to go. It has been madness to see Roy Hodgson go after such a short time and then they gave it to Kenny who did alright by winning the League Cup and then getting them to the final of the FA Cup.
"Obviously the league position itself – eighth behind Everton – is something that hurts in Liverpool and there have been a few transfers that have cost a lot of money with players such as Charlie Adam, Jordan Henderson, Andy Carroll and Stewart Downing coming in.
"I would not say they were bad signings but they have paid more money than they should have and that haunted them and it eventually haunted the players as well. I don't know who made those decisions. Was it Kenny or was it someone else?
"Kenny has a heart for the club and he will always remain a legend and he showed what the club means to him by saying it was a dream to manage to club again after he was fired by the American owners. He will always be humble and always says that he asks for nothing from the club."
The 35-year-old ex-Barcelona and Chelsea player believes that Benitez could end up returning to take charge of the Merseyside club but feels the Liverpool hierachy are wasting their time in trying to lure Barcelona boss Pep Guardiola to Merseyside when he leaves the Camp Nou at the end of the season.
He added: "Anything is possible - Benitez has done well for the club in the past and okay he left on a bit of a sore note but there are different people in charge now and so it would be very different from Mourinho going back to Chelsea with the same people there - so maybe it is an option.
"There is plenty of talk about AVB [Andre Villas-Boas] and Pep Guardiola. Guardiola could have signed a blank cheque down in Barcelona and he didn't want to do that. Are Liverpool willing and ready to pay a big amount of money the way Chelsea and Manchester City can do? I don't think they can and I don't think they want to do that.
"I would not say that Guardiola is doing it for the money. Not at all. Otherwise he would have signed a deal.
"He just wants potential and when I say that I mean potential to win things and I am not sure that is what Liverpool can offer him at the moment with the players that are there or the players that they can bring in.
"Clubs like Manchester United, City, Chelsea and even the likes of Arsenal are the ones that are more likely to win the Premier League."