By George Ankers
1
– As the teams walk out onto the Allianz Arena pitch past the Champions League trophy, glinting majestically on its pedestal, Didier Drogba's arm brushes against one of its giant handles. The Chelsea striker immediately falls to the ground, writhing in pain and demanding that the trophy be sent off, with kick-off delayed by five minutes until he finally gets to his feet.
2 – Tottenham manager Harry Redknapp is spotted in the stands draped head-to-toe in Bayern Munich apparel, including replica shirt, branded hat and scarf, muttering: "Triffic, always liked 'im", as each home player's name is read out over the public address.
3 – By the time that the game kicks off, ITV commentator Clive Tyldesley has already mentioned Manchester United's famous 1999 final victory over Bayern 28 times.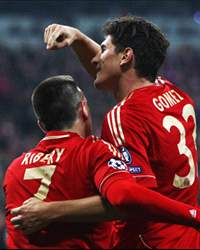 4 – John Terry begins the match sitting quietly to one side while Roberto Di Matteo occupies his usual role on the touchline overseeing the team. As the first half progresses, however, the two slowly swap positions until the Blues captain is barking orders gleefully and the Italian is unobtrusive and obsolete on the bench.
5 – A cursor is visible above the head of David Luiz as the Brazilian's positional error allows Mario Gomez through to make it 1-0 to Bayern. In the Sky studio, someone wrestles a video-game controller out of co-commentator Gary Neville's hand.
6 – When Luiz is forced off with a recurrence of his injury, Franck Ribery dons a stereotypical French beret and drags lazily on a cigarette as he strolls with insulting ease past Paulo Ferreira and Jose Bosingwa on the right-hand side of the Chelsea defence to score two goals.
7 – With the Blues 3-0 down at half-time, reports emerge that Roman Abramovich has offered Rafael Benitez £1 million to take over as manager for the second half. The Spaniard doesn't answer the call in time, however, as he is too busy leaving a message on the Chelsea owner's voicemail talking up his CV.
8 – With Bayern pressing relentlessly for more in front of a baying home crowd, Terry is caught by the fourth official warming up with his side's substitutes wearing a bushy false moustache and glasses. He is banished to the stands.
9 – Juan Mata kicks the ball harmlessly out of play for a throw-in on the halfway line when a German player goes down injured. Martin Atkinson, who was drafted in as a half-time replacement referee after Pedro Proenca is taken ill, awards a goal for Chelsea. Twitter crashes.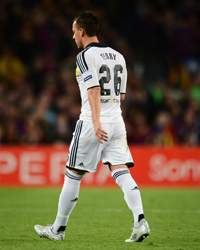 10 – Fernando Torres comes on as a substitute and immediately embarks on a thrilling run, dribbling past four defenders and rounding the keeper before shanking wide from three yards. One minute later, Drogba stops clutching his leg and wailing for an amputation just long enough to shove Jerome Boateng out of the way and blast home. In celebration, the Ivorian retrieves a multi-billion-dollar Shanghai Shenhua contract from his sock and signs it.
11 – The game moves into injury time, with Tyldesley now almost incomprehensible in his shrieking about "that night in Barcelona" and "what odds?".
12 – As the final whistle goes and Bayern win 3-2, Geoff Shreeves scampers towards Di Matteo to confirm that the Blues will definitely not be playing Champions League football next season, but is stopped in his tracks by Branislav Ivanovic, who knows Shreeves' intentions all too well and sends him flying with a slide tackle from behind.
13 – Chelsea walk up the steps to receive their runners-up medals. There is a slight delay as Michel Platini wearily explains to a confused Terry that he's not allowed to lift the trophy.
14 – Arjen Robben and Ribery's tetchy working relationship comes to a head as both wingers scramble to be the first to get their hands on the trophy. Before either gets a touch of it, a scuffle breaks out, leaving captain Philipp Lahm to ignore them and lift it himself.
15 – While the hosts celebrate, Di Matteo is caught on camera answering his phone, mouthing: "Yeah, I know," and walking off the pitch, staring at his shoes.
Follow George Ankers on