Dortmund won their second consecutive Bundesliga title, surprising many who believed that the pressure of a Champions League schedule as well as the loss of Nuri Sahin would see them crumble. In recent years, some teams have managed to overcome record champions Bayern Munich in pursuit of the title. But to do so twice in succession is a rarity: prior to Dortmund's recent accomplishment, it had been 16 years since any club managed such a feat.
Following his team's successful title defence, coach Jurgen Klopp is set to have a monument placed in Dortmund in his honour. Despite the loss of Sahin, and the long-term absence of Mario Gotze due to injuries, BVB recovered from a poor start to the term and steamrolled the competition.
Their ongoing 27-game undefeated streak is a Bundesliga record, and with one game to spare they have equalled Bayern Munich's single-season points tally. In addition to their success in the German top flight, Dortmund have also advanced to the DFB-Pokal final where they face Bayern in Berlin on May 12.
There was one blemish on an otherwise brilliant campaign: Dortmund's group-stage exit in the Champions League. The Ruhr side showed their naivety, and were mercilessly punished on the continental stage. After their disappointing exit, BVB focused their full attention on the Bundesliga and Pokal, which has resulted in outstanding success.
Below, in alphabetical order, are
Goal.com
's three nominees for
Dortmund
's Player of the Season, based on their club performances in all competitions. We then cast our vote at the bottom before leaving it up to you, the readers, to have your say.
| | |
| --- | --- |
| | SHINJI KAGAWA | Midfielder |
Competition
Games

Goals
Assists
Booked
Sent off

League
30
13
11
1
0
Cup
4
2
1
0
0
Europe
6
1
0
0
0
Total
40
16
12
1
0
A flash in the pan - that was the opinion of many experts after Dortmund won the Bundesliga title in 2010-2011. But BVB proved their critics wrong, thanks in part to the brilliance of Shinji Kagawa. The Japanese playmaker was one of his side's best players during the first half of last season before sustaining a foot injury. But in 2011-12, he proved that his excellent performance last year was no fluke. Kagawa was directly involved in 24 of his team's 76 goals in the Bundesliga, and his ability to break down defences often made the difference.
Utilised as Dortmund's central playmaker, Kagawa balanced his game between scoring and assisting, and in doing so became a more all-round threat than he had been in the previous campaign. He truly was the pulse of the BVB attack, and the stats prove that his team depend on him. In the first six games, Kagawa was involved in just one goal, and Dortmund found themselves in 11th place in the Bundesliga table. In the second half of the season, he either scored or assisted in 11 of the 16 matches, and the champions dropped points just twice.
| | |
| --- | --- |
| | ROBERT LEWANDOWSKI | Striker |
Competition
Games

Goals
Assists
Booked
Sent off
League
33
20
10
4
0
Cup
5
4
0
1
0
Europe
6
1
2
0
0
Total
44
25
12
5
0
Last season, Robert Lewandowski was deemed to be a flop, a relatively expensive transfer who never earned a starting role due to Kagawa's emergence and Lucas Barrios' established role as the lone striker in Klopp's line-up. The Pole's tally of eight goals and three assists spoke of a respectable but rather modest contribution.
This season, however, everything changed. With Barrios sidelined at the start of the term due to a hamstring injury, Lewandowski was given his chance, and he took it brilliantly. The 23-year-old stamped his mark and never gave his coach any reason to reinstate Barrios into the lone-striker role.
With 20 goals and 10 assists in domestic play, Lewandowski led the way for his side in the Bundesliga. His Man-of-the-Match display in a recent win against Bayern - a game in which he out-performed Mario Gomez throughout and scored the winner - was the crowning achievement in an unforgettable season.
| | |
| --- | --- |
| | LUKASZ PISZCZEK | Defender |
Competition
Games

Goals
Assists
Booked

Sent off
League
31
4
7
1
0
Cup
5
0
1
0
0
Europe
6
0
0
0
0
Total
42
4
8
1
0
It was on matchday seven that Lukasz Piszczek found the net in stoppage time as BVB earned a 2-1 win in Mainz. It would prove to be a hugely important goal for Dortmund as they began their rise from 11th place in the standings and thus commenced their 27-game unbeaten streak. It was the first Bundesliga goal for Piszczek in a black-and-yellow shirt, and it would not be the last.
The tireless defender was the catalyst for most of BVB's attacks out wide, and his quality going forward brought the best out of team-mates Jakub Blaszczykowski and Mario Gotze. In attack, the right-back was always willing to make a sprint to the byline. And just as quickly as he appeared in attack, he would turn back to defend. Piszczek is the perfect full-back for Klopp's energetic game plan, and he has now become an irreplaceable member of the team.
WINNER: ROBERT LEWANDOWSKI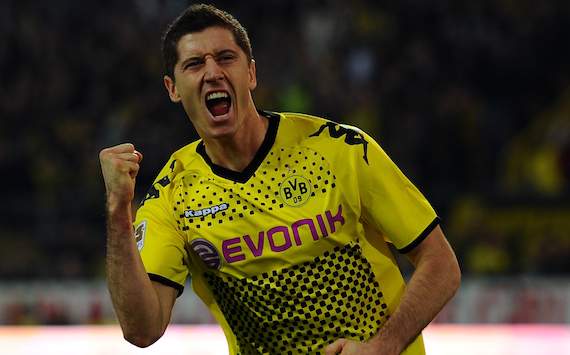 For all he failed to do last season, Lewandowski was a resounding success in the current campaign. As the lone striker in a 4-2-3-1 formation, the Poland international almost always took on two defenders. And yet, with his athleticism and immense work rate, he would almost always come out on top. If he did not score, he would lay off the ball for a team-mate. And even if he could neither find the net nor assist another attacker, he would hold up the ball and bend opposing defences out of shape, opening up channels for his team-mates. The man who was just a fringe player last season scored or assisted a combined 30 goals in 33 Bundesliga appearances. And for that, he takes top honours.