ANALYSIS
By Ben Hayward | Spanish Football Editor

This is not the end. Pep Guardiola said goodbye to Barcelona in an emotional press conference on Friday. But it's not Adeu, more Hasta La Vista: He'll be back.

The signs had been there for some time. Gone was the fresh-faced figure from 2008; promoted after just one impressive season with Barca B, then handed one of the toughest tasks in football management; replaced by a stressed and strained individual this term.

The decision to leave was taken in October, Guardiola revealed. But in truth, the Barca boss had been considering calling time on his ultra-successful soujourn at the Catalan club since the end of his second season.

Tellingly, he told Rai Sport last year that his time at Camp Nou may be drawing to an end. "I've already done three years," he explained. "One more will be four years, and in four years a big club needs a lot of courage to keep the same coach. Everyone should know when it's the right time to go, as I always heard when I was a player."

And he has stayed true to his word.

This is not a rash or rushed decision, but a pre-meditated, emotive and calculated choice from a man with Barcelona in his blood. He has given everything in these four years at Camp Nou and, as he said on Friday, he has nothing left in the tank.

The 41-year-old had appeared strangely subdued in the disappointing defeat at home to Real Madrid on Saturday and then again as Barca lost their Champions League crown with an unfortunate aggregate loss to Chelsea. Now we know what was up.
IN NUMBERS
Guardiola's staggering statistics

1
Pep was bestowed with the Catalan of the Year Award after his remarkable debut season with Barca in 2009
2
He claimed two Champions Leagues, two Club World Cups and two Super Cups during his tenure
3
Guardiola also led Barca to three successive La Liga titles between 2008 and 2011
6
His Blaugrana side lost just 6 of their 52 Champions League games during his tenure
14
If Barcelona claim next month's Copa del Rey, Guardiola will have amassed 14 titles in four seasons
Barca fans will be distraught at his departure: Pep is the most successful coach in the history of the Catalan club, having claimed 13 titles from three-and-a-half trophy-laden terms - with many more memorable moments along the way.

But they must understand. The reason Pep has achieved so much is because he has given them everything. Guardiola is a workaholic and for four years, he has eaten, drank and slept Barca, as well as dedicating time to his young family. No wonder he is tired.

As his 40th birthday approached last year, one Catalan newspaper asked many of his players what they would give Pep as a present. Many gave the same answer: a book - they said - so he can relax for a while and take his mind off the job.

Stress cannot be underestimated, either. Guardiola has been forced to endure the intense pressures of the Barca job, while suffering the personal pain of witnessing the illness of his second-in-command Tito Vilanova - who is now set to take over in the summer - as well as full-back Eric Abidal and the condition of his mother, who watched her son pick up his medal from the Catalan parliament in a wheelchair recently.

And then there's Mourinho. Since the Portuguese took over at Real Madrid in the summer of 2010, he has worked on grinding down Barca and Guardiola with a series of personal attacks on Pep and the Catalan club, where the two had worked together under Bobby Robson and Louis van Gaal.

Guardiola was moved to respond to Mourinho's mud-slinging after Barca's Copa del Rey defeat to Madrid last April, the second in a series of Clasico clashes between Spain's two top teams. And more of the same has followed this term, with Pep increasingly tired by the tactics of his former friend.


But what now? Pep, as a football fanatic, will surely not stay inactive for too long. Although he has admitted he needs to recharge, he is likely to find, as Mourinho did after his exit at Chelsea, and Kenny Dalglish discovered on leaving Liverpool in similar circumstances, that the desire to return to work will come back sooner rather than later.

Guardiola has been linked with a sabbatical ever since taking over at Barca, and it is thought he had a pact with his family that after calling an end to his Camp Nou career, in order to take a well-deserved break to spend some quality time with his loved ones.

And then what? Guardiola has been linked with every job available or otherwise, from Chelsea to Spain, Inter to Arsenal, Athletic Bilbao to Brescia and even England. But they will need to form a patient queue.

The 41-year-old has previously admitted an international job appeals at some stage of his career. That, however, is unlikely to be now. Watching him train with his players at Barca, he looks like one of the lads, lining up alongside his stars in the passing drills and laughing and joking with his charges during their special sessions. As a former footballer - and a very, very good one - himself, he loves that day-to-day involvement with his players. An international job would provide just sporadic stimulation and is unlikely to satisfy the Barca boss' brilliant mind at this early stage of his coaching career.

England never seemed to suit, in any case. Wherever he goes next, Pep will be keen to work with technical players who are able to adapt to his football philosophy of pressing, passing, possession and perfection. Training the Three Lions therefore seems an unlikely fit.
| | |
| --- | --- |
| "A return to Italy looks likely at some stage and Guardiola claimed last year he would coach Brescia for free, but he has also admitted in the past at being intrigued by Athletic Bilbao, although his ties to Barca could end such a scheme" | |
At a club side, Guardiola would have more freedom to adapt the style of play and bring in his type of players. There will be no Xavi, no Andres Iniesta and no Lionel Messi, of course, but Pep is massively motivated by the colossal challenge of starting from scratch and testing himself in an unfamiliar environment.

A club like Arsenal would seem an ideal match. Pep has spoken in glowing terms about how Arsene Wenger changed the philosophy of the north London outfit and the Frechman is thought to be keen to bring in Guardiola once he decides to move upstairs. Questioned about that possibility before the sides' Champions League semi-final second leg in 2010, Wenger smiled and said: "Now is not the time to talk about that." Now could be.

Across London, Chelsea have also been constantly linked with the Catalan coach, while Sir Alex Ferguson has spoken highly of the 41-year-old and Manchester United will eventually need to appoint a successor for the Scot.

Nevertheless, nobody should attempt to second guess Guardiola. The former Barca captain was tipped to join one of Europe's top sides as he left the Catalan club in equally emotional circumstances as a player in 2001. But he joined Brescia. And later in his career, he moved to Qatar, before ending his playing days in Mexico under his mentor, Juanma Lillo.

So much will depend on the project. A return to Italy looks likely at some stage and Pep claimed last year that he would coach Brescia for free. He has also admitted in the past at being intrigued by Athletic Bilbao, although his tremendous ties to Barca may end such a scheme.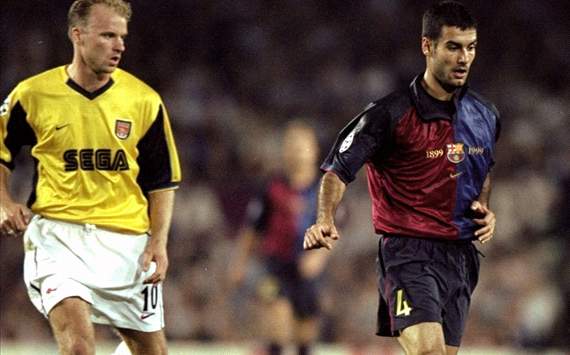 Perfect fit? | The club ethos at Arsenal appeals to Guardiola
As already alluded to, the Premier League is another definite destination. Pep came close to moving to England as a player but was ultimately unable to realise that particular dream. As a coach, he now seems certain to test his talents in the Premier League, although he is keen to improve his - already able - language skills before such a move can materialise.

For the moment, he leaves Barcelona in good hands with the decision to hand over the reins to Vilanova, a man who shares his view of the game and who will protect his legacy of attacking football combined with defensive discipline throughout the team.

But Barca fans can rest easy too - because Pep will return. Youth-team player, ball boy, captain, coach - he has done it all at Camp Nou. And asked what he would say to a young boy who shed his first tears for Barca after the defeat to Chelsea on Wednesday, Guardiola replied: "Welcome to the club." His club.

So while talk of Tito keeping the hotseat warm for a possible triumphant return in the near future appears wide of the mark, the perfect partnership is far from finished yet. Pep coaching Barca was a marriage made in heaven. Now a separation is necessary, but sooner or later, the love story will continue.


Follow Ben Hayward on