COMMENT
By Kris Voakes | Italian Football Editor
While Juventus prepare for one of the most straight-forward title run-ins on record, AC Milan have been left to stare down the barrel of the hard truth. They are about to lose their Serie A crown, and it is all their fault.
Three points behind and with the head-to-head against them, the Rossoneri need a miracle if they are to defend their Scudetto, yet four weeks ago everything had looked so rosy. It was around then that the wheels fell off, and now Massimiliano Allegri faces a huge struggle to right the ship and stake a claim for a third season in charge of the 18-time champions.
Many have put the recent slump down to the injury problems which have dogged the club, but citing the number of players in the treatment room as an excuse is too simplistic an exercise. Instead, it is important that everyone at Milanello takes responsibility for the horrific five-game run which has seen them lose their Champions League dream and concede a seven-point swing in the title race.
In all truth, the bad judgement started even before that run began, with the injured Thiago Silva thrown into battle against Roma just days before the first leg of their big European date with Barcelona at San Siro. The move backfired within 10 minutes, and they have been paying for it ever since. Further defensive injuries have left them struggling for numbers at the back, let alone quality, and the loss of the Brazilian for a month as a result of their haste has stung them badly.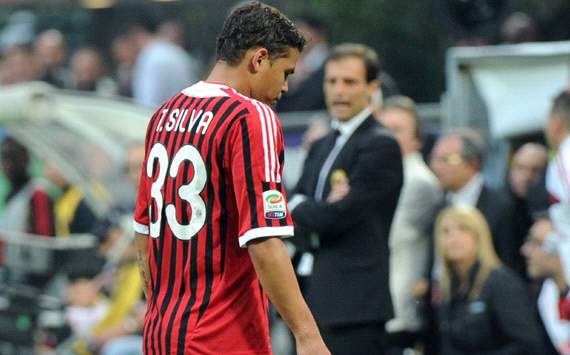 Thiago Silva | The impact of his loss cannot be overestimated
You reap what you sow in football, and that has never been more obvious than in the last few weeks. After Thiago Silva came the latest injury to Alexandre Pato, brought on during the second leg against Barca just days after returning from the USA where he was supposed to be undergoing treatment to correct his constant muscle issues. Even after that, the lesson was not learned, with Mark van Bommel turning in an abysmal display against Bologna on Sunday when clearly still unfit.
Desperate times certainly do call for desperate measures, but things have only got so bad because of the club's mismanagement in the first place. They may well have lost players for a total of 200 more games than the league-leading Juve, but there was still enough backup before they started playing Russian Roulette.
Beyond the injuries, they have also been shown up for another hasty decision, namely that of allowing Andrea Pirlo to leave on a free transfer last summer. While Milan needed increased authority in the middle last season, and the addition of Van Bommel was what won them the title, this term they have sorely lacked creativity. When they have needed somebody to change the pace of the game in the run-in, there has been nobody capable of doing so.
After struggling for much of the first half of last season, Clarence Seedorf turned in a fantastic final three months as the Rossoneri staved off a late surge by Inter to clinch the title. But this campaign has proven to be one year too many for the ageing Dutchman, and with Urby Emanuelson not fitting the bill as a game-changer, the missing power of Kevin-Prince Boateng and precision of Antonio Cassano in the final third has become more costly than it should have.
For this, there is a shared responsibility. While Allegri is without doubt the one to blame for the senseless selections of Thiago Silva, Pato and Van Bommel, he and CEO Adriano Galliani must both take the rap for deciding that the extra creativity of Pirlo would not be missed in 2011-12. It has proven to be a calamitous error.
HOW THE TABLES HAVE TURNED
By March 30

Since March 31

Pos



P

PTS

Pos



P

PTS


1

Milan

29

63

1

Juventus

4

12

2

Juventus

29

59

9

Milan

4

5
There is some talk around Lombardy that a deal to bring in Riccardo Montolivo from Fiorentina this summer was done months ago, and if that is true then it further proves that Milan took their eyes off the ball in terms of the current title race. While this writer is far from the Italy midfielder's biggest fan, surely they could have paid a few million euros to bring him in in January and bolster their options across the middle.
Instead, Pirlo's release has resulted in the Rossoneri being far too one-paced at a time of the season where many sides are comfortable enough sitting men behind the ball and waiting for the big sides to do their thing. That has proven to be enough for Juventus, a side full of energy and invention with the self same Pirlo at the hub, but it has left Milan looking limp and one-dimensional.
The over-reliance on Zlatan Ibrahimovic has truly shone through during his recent dip. Without his goals, they are in big trouble. Robinho has done his usual trick of backing up a good season with a bad one, and Pato's absences have left them looking to the likes of Antonio Nocerino for goals. Hike it to Zlatan only works when the Swede is at the top of his game, and even he cannot keep that up for the entire season. Throw in the resistance against a change of formation, and Milan have quickly become one of the easiest teams to stop with the employment of a sensible game plan.
The outcome has been a pathetic run of results. Yes, injuries have been an issue, but they have not been to blame. Having climbed to the top despite bumps and bruises in the first 29 rounds, they should have been able to see it to the finish line, but crucial decisions have seen them throw the title away instead.
When judging whether Allegri is worthy of a third term in office, the Milan hierarchy will rightly take his first-season triumph into account. But in his second campaign he has been one of the architects of his own downfall and now looks likely to fall on his sword, but the board themselves also need to buck up their act if they are to stay the course next time out.
Follow Kris Voakes on