ANALYSIS
By Ben Hayward | Spanish Football Editor
There was method behind the madness. Barcelona coach Pep Guardiola was roundly criticised for his team selection in Saturday night's Clasico defeat at home to arch rivals Real Madrid, which looks to have cost his side La Liga.
Pep's plan was to stretch the Madrid defence with the use of natural width. Hence, Dani Alves was given the freedom of the right flank to bomb forward as an unorthodox winger, while youngster Cristiano Tello was to attack down the opposite channel, get to the byline and pull players out of position. All to create space for Lionel Messi.
Depending on how you look at it, Barcelona's tactical template is actually extraordinarily complex, with a myriad of movements designed to drag defenders away from their usual positions. But the essence of it is devastatingly simple: open the gaps, and give it to Messi.
Essentially, Barcelona's midfielders and forwards are all charged with creating chances for the brilliant Argentine - and the ploy has paid dividends with an incredible 63 strikes for the Ballon d'Or winner in 2011-12. When it works, which is almost always, it is simply sensational. The problem is that often this term and certainly in the last two games, there has been no agreeable alternative. No Plan B.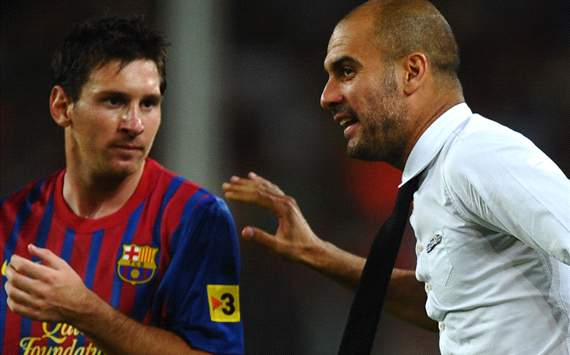 Pep's Messi masterplan | But Barca could do with an alternative as well


Against Chelsea, it was hoped that Cesc Fabregas and Alexis Sanchez could create space for Messi to do the damage, with clever link-up play and intelligent running, respectively. But in fact, it was they who found the gaps in the Blues' back line, only to miss three wonderful chances between them as Barca fell to Didier Drogba's first-half strike.
Messi, meanwhile, had failed to score against Chelsea for the seventh time in a row, although he did set up the chance for Cesc and could have claimed an assist later on as his free kick found Carles Puyol for a header which saw Petr Cech stretch to make a fantastic save.
The Argentine never looked like scoring himself, though, and was subdued once more as Barca lost the Clasico - and quite probably La Liga, too - on Saturday night. With Alexis unfit to start and Cesc bizarrely left out by Guardiola, Tello and Alves adopted key roles. But both disappointed and the youngster's selection backfired badly as he wasted two precious opportunities.
On the touchline, Guardiola was furiously instructing his players to stay wide and use the extent of the lush limits of the Camp Nou surface, which had been watered before kick-off and subsequently sprayed with showers during the match itself. But when they did get wide, the final ball was missing or the finish was poor.
In the middle, meanwhile, Messi put through Xavi for an early chance which the midfielder should have buried, but the Argentine was an otherwise frustrated figure, crowded out until the second-half introduction of Alexis, who briefly levelled the scores after a run from his fellow South American had caused havoc in the Madrid defence and Adriano played the ball back in after Tello's initial shot had been saved by Casillas.
| | |
| --- | --- |
| | WHEN MESSI HAS FAILED TO SCORE IN 2011-12 |
| | | | |
| --- | --- | --- | --- |
| RIVAL | COMPETITION | DATE | RESULT |
| Real Sociedad | La Liga | Sep 10 | 2-2 |
| AC Milan | Champions League | Sep 13 | 2-2 |
| Valencia | La Liga | Sep 21 | 2-2 |
| Sporting | La Liga | Oct 2 | 1-0 |
| Viktoria Plzen | Champions League | Oct 19 | 2-0 |
| Sevilla | La Liga | Oct 22 | 0-0 |
| Granada | La Liga | Oct 25 | 1-0 |
| Getafe | La Liga | Nov 26 | 0-1 |
| Real Madrid | La Liga | Dec 10 | 3-1 |
| Al Sadd | Club World Cup | Dec 15 | 4-0 |
| Espanyol | La Liga | Jan 8 | 1-1 |
| Osasuna | Copa del Rey | Jan 12 | 2-1 |
| Real Madrid | Copa del Rey | Jan 18 | 2-1 |
| Real Madrid | Copa del Rey | Jan 25 | 2-2 |
| Villarreal | La Liga | Jan 28 | 0-0 |
| Valencia | Copa del Rey | Feb 1 | 1-1 |
| Valencia | Copa del Rey | Feb 8 | 2-0 |
| Osasuna | La Liga | Feb 11 | 2-3 |
| AC Milan | Champions League | April 3 | 0-0 |
| Chelsea | Champions League | April 18 | 0-1 |
| Real Madrid | La Liga | April 21 | 1-2 |
But Madrid hit back straight away as Cristiano Ronaldo latched onto Mesut Ozil's pass from the right and Barca never really looked like scoring after that. It was the second time in the space of four days that Messi had come unstuck against one of Europe's elite and a worrying sign for the Catalans as they will likely now need to defeat both Chelsea and Madrid to reclaim the Champions League crown this term.
After Messi in the scoring charts for Barcelona come Cesc and Alexis, with 15 and 14 goals respectively for the Catalan club. But the Chilean, in particular, operates in a sacrificial role for Barca, dragging defenders wide and using his pace to stretch teams in order for Messi to prosper.
And that's fine, but it means Barca are placing all of their eggs into a Messi-shaped basket right now and when teams have shown they can crowd out the Argentine this season, Barca have invariably struggled.
Madrid, too, were seen to rely heavily on Cristiano last season, and Jose Mourinho's men have inevitably looked to the Portuguese for inspiration once more in 2011-12. His 54 goals are proof of that. But unlike with Messi at Barca, not everything goes through Ronaldo at Real, with another 54 strikes additionally provided by Karim Benzema (29) and Gonzalo Higuain (24) in the current campaign testament to a collective contribution.
| | |
| --- | --- |
| Messi himself has failed to score in 21 games so far in 2011-12, including all four of the Catalans' defeats. Of the remaining 17 matches, nine ended in draws and only eight were victories | |
Barca's only real centre-forward is David Villa, though, and the Spain striker has been sidelined since December with a broken leg. Although used sparingly earlier in the season, the former Valencia forward would be incredibly useful right now. Pedro, meanwhile, has been limited by injuries and a loss of form this term, while Bojan Krkic was sold to Roma in the summer and Thierry Henry has never been adequately replaced, either.
Messi himself has failed to score in 21 games for Barca so far in 2011-12, including all four of the Catalans' defeats. Of the remaining 17 matches, nine ended in draws and only eight were victories. It just shows that for all his brilliance, the Argentine cannot do it all on his own. And when he misfires, so to do Barca. So as the big prizes are decided and Guardiola's men seek two more trophies in another special season, perhaps it's time for a rethink.
Follow Ben Hayward on