ANALYSIS
By Joe Doyle
This weekend, football fans across Europe were treated to some fabulous games, with enthralling encounters in the Premier League, La Liga, Serie A and more.
With thrilling games in the Premier League and title winners throughout Europe and the English leagues (as well as the dreaded relegations), it is fair to say that this round of matches have spoiled us somewhat in the stakes of drama and entertainment.
PREMIER LEAGUE: UNITED DROP POINTS IN 4-4 THRILLER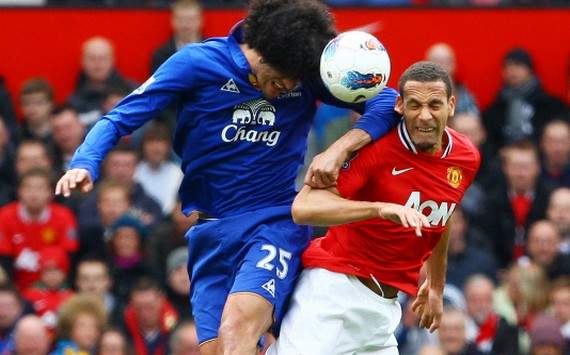 The main talking point in England's top league from this weekend was Manchester United's unbelievable 4-4 draw against Everton. The game started in a fairly cagey manner, but the Toffees took the lead with Nikica Jelavic nodding in a fine header from a tight angle.
Wayne Rooney equalised with a header of his own before half-time, but what followed in the second half undoubtedly made this game one of the standout fixtures of the season, in among some notably compelling matches.
Danny Welbeck and Rooney combined for a couple of fantastically taken goals, with Rooney's brace meaning he claimed fourth spot in Manchester United's list of all-time record scorers.
But Everton were not done, grabbing a goal back through Marouane Fellaini before Nani again extended United's lead with a great team goal. Then David Moyes' side managed to mount a comeback from 4-2 down with seven minutes of normal time left. At Old Trafford, no less.
The frenetic nature of the game was the latest in a long line that have kept us entertained this season, and though nothing else quite matched it this weekend in terms of sheer entertainment, there were big results from around Europe.
Staying in England, while the eventual winner is still not yet clear, the Manchester derby next week will surely be decisive after Roberto Mancini's City side claimed a 2-0 victory against Wolves, relegating Terry Connor's side in the process.
While it was not a wholly unexpected outcome taking the rest of their season into account, Connor gave an emotional post-game interview in which he frequently seemed to be close to shedding a tear, and earned some sympathy at least from those watching.
FOOTBALL LEAGUE: READING WIN CHAMPIONSHIP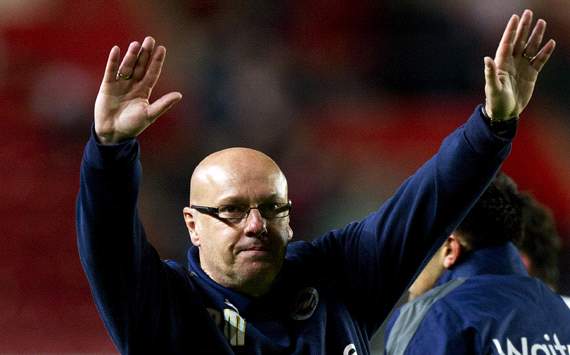 Meanwhile, one of the three teams that will pass Wolves in the opposite direction this summer is Reading, who were confirmed as winners of the Championship this weekend after Southampton's loss away to Middlesborough.
The Saints need a win to be sure of automatic promotion, but if West Ham fail to win their game in hand, Nigel Adkins side will be in the Premier League too.
And on the same day, all three of the relegation places were confirmed, with Portsmouth, Coventry and Doncaster all consigned to League One, after the Sky Blues lost at home to Dean Saunders' Donny side.
And further down the leagues, Chris Powell and his Charlton team clinched the League One crown with a victory at home to Wycombe, and Rochdale were the first team to be relegated to League Two.
One of the stars of the season in England's fourth tier has been Swindon manager Paulo Di Canio, and after a week in which he lost his mother, promotion was secured for the Italian despite their loss at Gillingham.
LA LIGA: RONALDO WRAPS UP CLASICO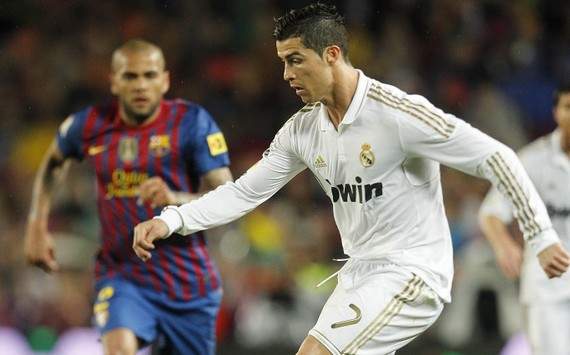 But away from the glitz and glamour of lower-league English football there was the small matter of a Clasico to settle, as Real Madrid took a big step towards their first Liga title in four years.
Inspired by some fine displays in midfield, and from Mesut Ozil a moment of brilliance that fed Cristiano Ronaldo to win the game, Jose Mourinho's side catapulted themselves seven points clear with four games left to play.
It was Mourinho's first win at Camp Nou, a huge psychological boos for the side as they bid to end Barca's dominance of the Spanish league. And while the football on show was at times scrappy, the overall spectacle was, as ever, incredible.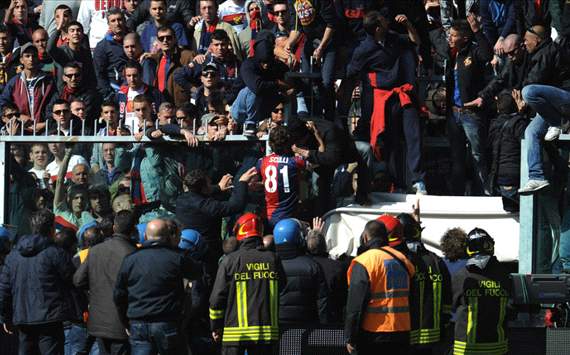 But the real insanity over the weekend was clearly on display in Italy. At the top of the table, AC Milan dropping two points and handing Juventus a three-point advantage at the top of the league as they took a cool 4-0 win over Roma.
And in Siena's mid-table clash at Genoa, things got really strange. After going 4-0 down in just under an hour, disgruntled 'ultras' began disrupting the game, calling for the players' heads metaphorically. And their shirts. Literally.
It seems that a home thrashing was one step too far for the Italian fans, who took the 'You're not fit to wear the shirt' insult a little too literally, demanding that the first XI hand over their kit to the hardcore supporters.
The players' passage to the dressing room was blocked, and they amazingly accepted handing over their shirts. Captain Marco Rossi began taking them from his team-mates to give away, with the on-loan Giuseppi Sculli the only member of the team to refuse.
After a 40-minute delay, referee Paolo Tagliavento somehow got the game back underway. And it seemed to do the trick as Genoa got a goal back, though there are rumoured to be showdown talks between the players and the ultras on Monday.
BUNDESLIGA: DORTMUND RETAIN LEAGUE TITLE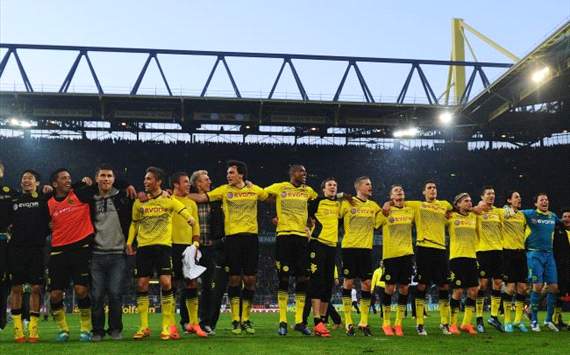 In Germany, Borussia Dortmund confirmed their second successive Bundesliga title with a 2-0 victory over Borussia Monchengladbach, with coach Jurgen Klopp stating that their achievement is "madness".
The last time a team other than Bayern Munich managed back-to-back titles in the German top flight was 1994-95 and 1995-96, when Dortmund again claimed the trophies.
Twenty-six games without defeat, 75 points earned, and just 23 goals conceded - these figures are not only elite in the context of the history of the club, but of the Bundesliga as a whole.
After such an astonishing season, it seems like a second power has emerged to rival Bayern in the German game and we could be at the start of a new dynasty.
REST OF EUROPE: AJAX, PSG & PORTO BOOST TITLE CHANCES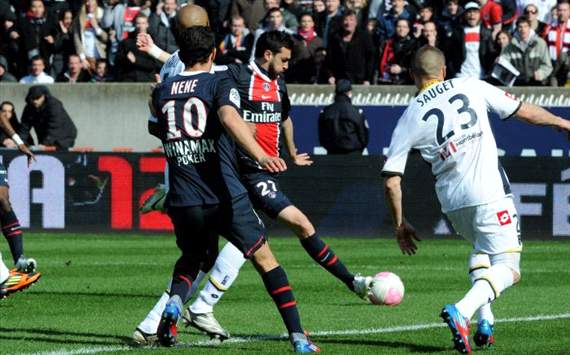 In France, Carlo Ancelotti's Paris Saint-Germain were rampant this weekend - beating Sochaux 6-1 to remain just two points behind Ligue 1 leaders Montpellier, who had battled to beat Valenciennes 1-0 the previous day.
Ajax moved within striking distance of the Eredivisie title. Their 2-0 home win over Groningen kept them six points clear of the chasing pack, which includes Feyenoord and AZ Alkmaar.
In Portugal, Porto remained four points clear of Benfica at the top of the table. Both teams earned good wins at home, the Europa League winners beating Beira Mar 3-0 thanks to a double from Hulk.
Benfica beat Maritimo 4-1, with in-form ex-Barcelona forward Nolito on target with a double, while Braga's 1-1 draw with Pacos Ferreira all but ended their hopes of title glory.
So there you have it, a fantastic weekend of shock results and goals galore in some of the top leagues. And to think, the weekend started with one of the worst games of the season so far as Arsenal faced Chelsea at the Emirates in a bore draw in the early kick-off.
Football, eh, bloody hell!