ANALYSIS
By Andrew Kennedy
The absence of Lucas Leiva from Liverpool's starting XI since the end of November has at times been felt just as much by the side as that of Steven Gerrard throughout the first five months of the Premier League season.
The angst which met news of his Anterior Cruciate Ligament injury in the 2-0 Carling Cup victory against Chelsea was representative of the transformation which the Brazilian had undergone in just under 18 months on Merseyside.
Signed by Rafa Benitez in July 2007 for a £5 million fee from Gremio, the midfielder failed to convince the Anfield crowd and quickly became vilified for a series of poor displays which often lacked physical presence and creativity.
Yet towards the end of the Spaniard's reign he began to show signs, and the following season Lucas continued his development before flourishing under Kenny Dalglish, so much so that he became an equal partner in the centre of the park for the club's talismanic captain.
Without the 25-year-old, Liverpool's midfield has lacked a stable anchor and distributor of the ball, and their form has stuttered in the league.
In his final Premier League showing for the Reds, Lucas was combative and assured as he helped his side secure a 1-1 draw against high-flying Manchester City, keeping check on David Silva at a time when the Spain international was in full flight.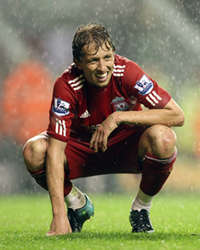 Two days later he suffered a season-ending injury, with Dalglish's men just four points off the Champions League places, and rivals Chelsea and Arsenal both soon to endure significant blips.
Four months later, and while there may have been domestic success at Anfield, Liverpool find themselves a further 10 points off the pace in the hunt for fourth.
Gerrard has returned, but Charlie Adam's form has nosedived, Jay Spearing remains limited and Jordan Henderson is still to make an impact.
Lucas' absence was more evident than ever in Wednesday evening's shock defeat to QPR. Easing to a 2-0 victory with 13 minutes remaining at Loftus Road, Liverpool had once again looked like a team that with time and a number of adjustments could reclaim its place in Europe's elite competition.
Yet there is a flipside to the Reds, which reared its heads in the final minutes of the game against Mark Hughes' men as they fell to a crushing 3-2 defeat.
Missing, as against Arsenal in the late loss at Anfield three weeks ago and the setback at Sunderland the following week, was a player not only to reclaim possession, but to retain the ball and help his side to vital points.
While the introduction of attacking impetus into the XI is also needed, the player required to fill Liverpool's midfield void still awaits in the treatment room.



"

Without Lucas, Liverpool's midfield has lacked a stable anchor and distributor of the ball. As a result, their form has stuttered in the league.

"
Lucas' absence may have been felt more than most, yet a number of other sides have suffered due to persistent injury.
Manchester United's midfield had become mediocre this season until the return of Paul Scholes in January and Michael Carrick's upturn in form, with Sir Alex Ferguson opting against reinforcements during the summer transfer window.
Key to that decision was the impressive Darren Fletcher, who had successfully transformed into a first-team regular with a strong showing in the previous campaign, only to be struck down with a virus in April 2011.
Yet the Scotsman's condition worsened and he has been limited to just 10 appearances this year and took an extended break from the game in December.
Nemanja Vidic's knee injury in the Champions League defeat to Basel back in the same month has also curtailed the Serbian's season, although Rio Ferdinand and the improving Jonny Evans have successfully filled the void.
Injury looked to have disrupted Antonio Valencia, with an ankle sprain in Ecuador's Copa America opener in early July once again threatening the beginning to the former Wigan man's season.
Yet, as with a hamstring pull suffered in February of this year against Ajax, the wideman made a quick return to fitness to maintain his startling Premier League form.
Arguably the biggest impact due to injury has been felt by Bolton Wanderers. Stuart Holden and Lee Chung-Yong starred in a promising Trotters side last season, yet a recurrence of a knee problem for the United States international and the broken leg in pre-season suffered by the South Korean has seen neither player feature for Owen Coyle's relegation-threatened side in the Premier League.
Arsenal's Jack Wilshere was touted to provide England's creative drive at Euro 2012, but having not played since the 1-1 draw with New York Red Bulls in the Emirates Cup on July 31, the 20-year-old still faces a fight to fully recover from an Ankle fracture, never mind to secure his place in Poland & Ukraine.
Also detrimental to the Three Lions' hopes this summer is the ligament damage suffered by Darren Bent at Wigan back in February. Not only has the former Sunderland man's absence left England without an established forward for the first two games of the group stages, but it has nullified an already blunt Aston Villa attack.
Tottenham's Michael Dawson has endured woeful luck on the injury front, with the centre-back ruled out for the rest of the season in early March having already missed the first five months of the campaign, while Newcastle have also gone without centre-back Steven Taylor since early December.
Fulham's Mark Schwarzer overcame a spinal injury after being sidelined for six weeks following an awkward fall in the 2-0 defeat to Swansea City at the Liberty Stadium, before returning in February's loss to Manchester City.
SCHWARZER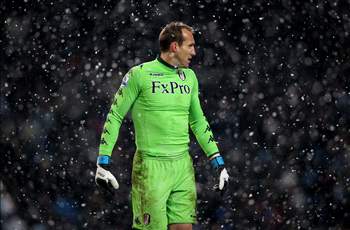 FULHAM
Spinal injury v Swansea

OUT: 11/12/11
RETURNED: 4/2/12
VIDIC
TAYLOR
DAWSON

MANCHESTER UNITED

NEWCASTLE UNITED

TOTTENHAM

Ruptured ligaments v Basel

Ruptured Achilles v Chelsea



Achilles injury v Man City

OUT: 6/12/11
OUT: 3/12/11

OUT: 28/8/11 &

7/3/12



RETURNED: N/A

RETURNED: N/A

RETURNED: N/A

| | | | |
| --- | --- | --- | --- |
| | LUCAS | HOLDEN | |
| | | | |
| | LIVERPOOL | BOLTON | |
| | Knee ligament v Chelsea | Knee cartilage | |
| | OUT: 29/11/11 | OUT: 22/9/11 | |
| | RETURNED: N/A | RETURNED: N/A | |
| | | |
| --- | --- | --- |
| VALENCIA | FLETCHER | WILSHERE |
| | | |
| MANCHESTER UNITED | MANCHESTER UNITED | ARSENAL |
| Sprained ankle v Paraguay | Ulcerative Colitis | Ankle fracture v NY Red Bulls |
| OUT: 3/7/11 | OUT: 13/12/11 | OUT: 31/7/11 |
| RETURNED: 9/9/11 | RETURNED: N/A | RETURNED: N/A |
LEE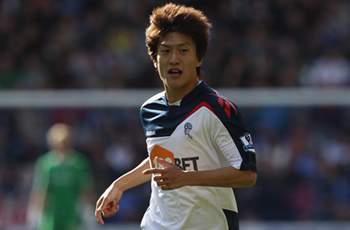 BOLTON WANDERERS

Broken leg v Newport County
OUT: 30/7/11
RETURNED: N/A
BENT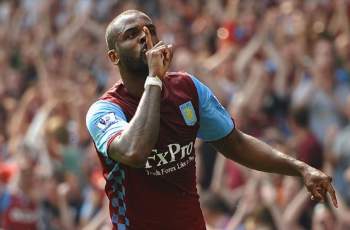 ASTON VILLA

Ankle ligaments v Wigan
OUT: 26/2/12
RETURNED: N/A