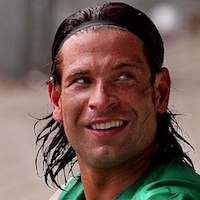 Tim
WIESE
Bremen
TOTW Apps:
2
There were a few goalkeepers that stood out in round 22, but Tim Wiese takes honours this week for his excellent showing in the Nordderby against Hamburg. The Bremen shot-stopper did very well to allow only one goal as his side came out 3-1 winners.


Gonzalo CASTRO
Leverkusen
TOTW Apps: 1



Jerome BOATENG
Bayern
TOTW Apps: 4



Christian FUCHS
Schalke
TOTW Apps: 3


Gonzalo Castro is one of three Leverkusen players to make his season debut in the Team of the Season, after he scored and assisted a goal each in his side's 4-1 home win over Augsburg.

His team may have struggled overall, but Jerome Boateng had an individually brilliant game for Bayern Munich in the 0-0 draw against Freiburg. The Germany international made several critical stops: without his presence, his opponents easily could have claimed all three points.

Rounding off the defence is Christian Fuchs, who formed a brilliant tandem with Julian Draxler as Schalke earned a 4-0 win over Wolfsburg. The left-back gave two assists on the day, leaving him with six for the season, just one behind Juan Arango and two behind Franck Ribery.


Joel MATIP
Schalke
TOTW Apps: 1



Johannes FLUM
Freiburg
TOTW Apps: 1
Joining his team-mate Fuchs is Joel Matip, who also was in fine form in Schalke's win against Wolfsburg. The Cameroon international dominated the midfield, and scored and assisted a goal apiece.

Also in defensive midfield, Johannes Flum makes his season debut following an impressive performance in Freiburg's scoreless draw with Bayern. The 24-year-old was combative in the centre of the park, and his defensive support helped ensure a point for the struggling side.


Andre SCHURRLE
Leverkusen
TOTW Apps: 1



Marko MARIN
Bremen
TOTW Apps: 1



Juan ARANGO
Monchengladbach
TOTW Apps: 3


Andre Schurrle makes his long-awaited season debut in the Team of the Week. The Germany international scored his first goal since early November, and set up another in Leverkusen's win in Bavaria.

In Hamburg, Marko Marin picked the perfect time to find his form, as he proved to be the spark that made the difference in Bremen's win. The 22-year-old scored a goal, and was at times unstoppable.

On the left wing, Monchengladbach star Juan Arango returns to the XI. The Venezuelan scored a clever goal, and was the best man on the park as Lucien Favre's side beat Kaiserslautern to move second in the Bundesliga table.


Stefan KIESSLING
Leverkusen
TOTW Apps: 1



Alexander ESSWEIN
Nurnberg
TOTW Apps: 1


Joining Schurrle among the Leverkusen representatives in Team of the Week is Stefan Kiessling, who made a serious bid for regular playing time following Eren Derdiyok's return from injury. The striker found the net twice and assisted a third goal in his side's romp.

Also on Saturday, Alexander Esswein put in an exceptional shift. The Nurnberg man scored a cracking goal and assisted another as his side earned a 2-1 win over Koln.

Bundesliga Team of the Week: Round 21 - Monchengladbach trio & hat-trick hero Harnik feature