live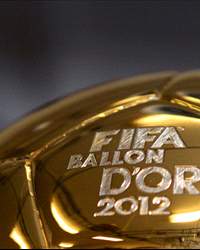 Chime in with Goal.com and other users and share your opinions.
Fifa Ballon d'Or LIVE!
It's one of the biggest days in the footballing calendar as we will find who is the world's best player and coach, and Goal.com is here for every second of it.

Hosted by Enis Koylu.
304283
2013-01-07 20:05:00
And that's that from me! It's been a long day, and in the end, Lionel Messi has made history.
After winning his fourth Ballon d'Or, is the Argentine the best player of all time?
Have your say
here
!
That's all from me, Enis Koylu. Stay tuned to Goal.com for all the reaction and fallout to today's news.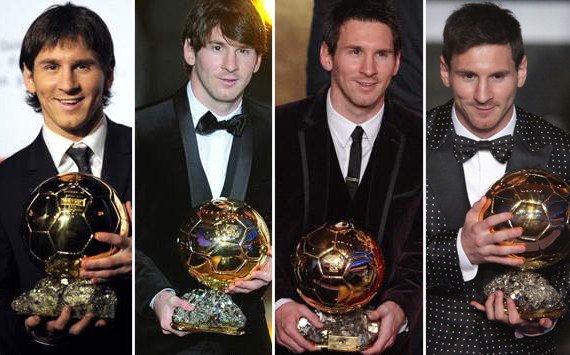 304276
2013-01-07 20:02:00
And finally, let's see who the man himself voted for:
Messi went with: Iniesta, Xavi and Aguero
In the end, it was his day, not theirs, though!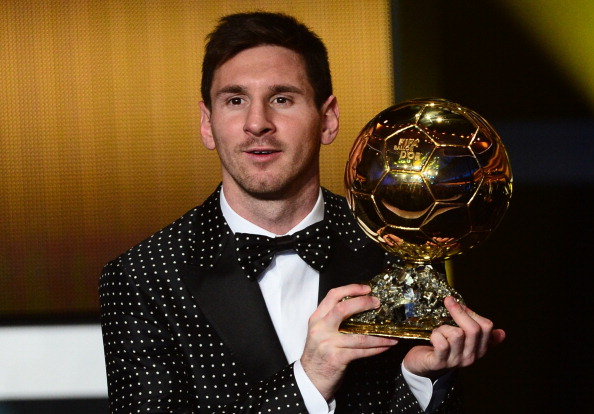 304269
2013-01-07 19:58:00
Now for a few of the coaches!

Didier Deschamps went with: Messi, Ronaldo and Xavi

Joachim Low went with: Ozil, Neuer and Xavi

Cesare Prandelii voted for: Pirlo, Buffon and Messi

Alejandro Sabella's picks were: Lionel Messi, Sergio Aguero and Radamel Falcao

And finally, Vicente del Bosque's selection: Casillas, Xavi and Iniesta
304262
2013-01-07 19:53:00
The list of who voted for who has come out;

Gigi Buffon voted (in order) for Andrea Pirlo, Lionel Messi and Cristiano Ronaldo

Philipp Lahm's votes were: Andres Iniesta, Lionel Messi and Cristiano Ronaldo

Hugo Lloris voted: Lionel Messi, Radamel Falcao and Dider Drogba

Iker Casillas' were: Sergio Ramos, Cristiano Ronaldo and Xavi
304252
2013-01-07 19:45:00
The reader reaction is flying in...
@siphiwe107 says: Messi is out of this world, but because Iniesta was ifluential during Euro 2012, I feel he should have won.
@AyoT4life: Ronaldo was meant to win it. He had the cups and individual stats to win. Messi didn't win a major trophy in 2012.
@ebirimobinna: Some say he is the greatest. Statistically, he is the greatest. Today, he has been confirmed as the greatest. Congrats, Lionel Messi.
@Insider_del_fut: If we follow Fifa's criteria for last year's edition, Messi shouldn't have won tonight. It should be either Iniesta or Ronaldo.
Keep 'em coming folks!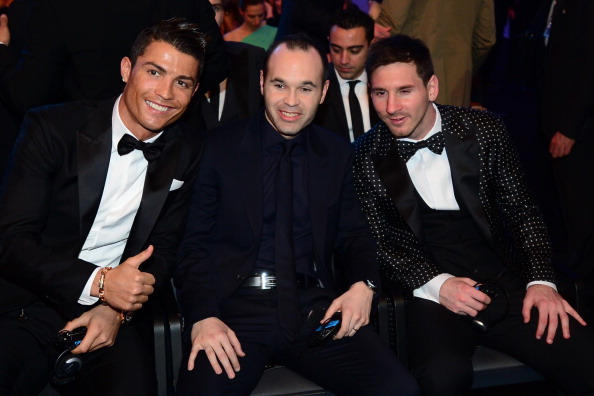 304238
2013-01-07 19:39:00
And here's what Kris Voakes says about the decision to award the Ballon d'Or to Lionel Messi:

"The universal reaction seems to be acceptance that Messi is the worthy winner. Those disagreeing appear to be pointing to the fact that Barcelona lost out on both La Liga and the Champions League, but that is hardly what decides personal awards.

"Ben Hayward's editorial sums Messi up brilliantly. At 25, he has smashed all kinds of records already and is only getting better. He still has a few years to go before reaching his peak, which is a very scary thought! Only a World Cup win with Argentina now separates him from the undisputed crown of the planet's greatest ever footballer."
304220
2013-01-07 19:30:00
So, readers of
Goal.com
, what do YOU think? Does Messi deserve it? Should Ronaldo or Iniesta have won? What about the coaching award? Jose Mourinho complained at the time that he does far more work than Vicente del Bosque - has he been unfairly overlooked?
Get in touch via
Twitter
!
304208
2013-01-07 19:23:00
So, here's a recap of all of tonight's winners.

The Ballon d'Or winner is: Lionel Messi

The Fifpro XI is: Casillas; Dani Alves, Pique, Ramos, Marcelo; Alonso, Xavi, Iniesta; Messi, Falcao, Ronaldo

The Coach of the Year is: Vicente del Bosque

Women's World Player of the Year is: Abby Wambach

Women's Coach of the Year is: Pia Sundhage

The Presidential Award went to: Franz Beckenbauer

The Fair Play Award went to: Uzbekistan Football Federation
304195
2013-01-07 19:15:00
And
Goal.com
's Ben Hayward has been typing away furiously through all that to bring us this nugget of brilliance:
Congratulations Messi: The best there is, and far from finished yet
Enjoy, ladies and gentlemen!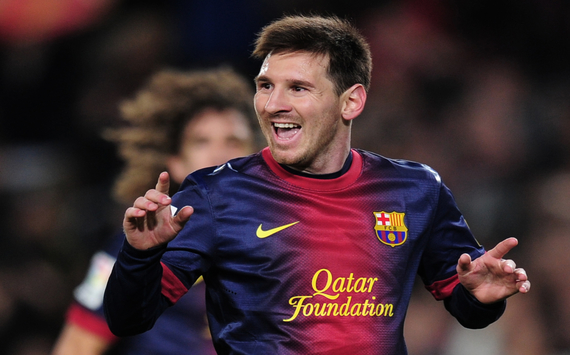 304185
2013-01-07 19:11:00
The tallies are in. 41.6% of the vote was enough for Messi to win the award. Ronaldo got 23.68% and Iniesta 10.91%.
Meanwhile, Del Bosque got 34.51%, Mourinho 20.49% and Guardiola 12.91%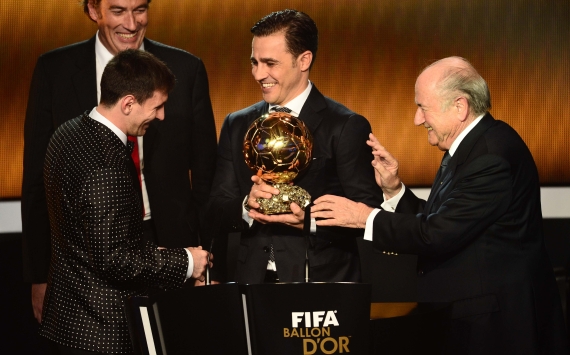 304182
2013-01-07 19:08:00
And just like that,
Goal.com
's Greg Stobart has got us some EXCLUSIVE quotes from Andriy Shevchenko:
"I think all three nominees were amazing in 2012 but Lionel Messi was something special. To score 91 goals in a full year is unbelievable.
"Both him and Cristiano are great but Leo Messi is incredible.
"To win the Ballon d'Or was a very special day for me. To win the award and be named the best player in the year is something very special in your life."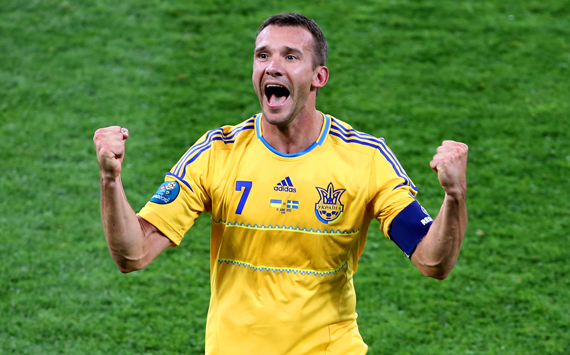 304170
2013-01-07 19:04:00
So, you've got to feel sorry for Andres Iniesta and Cristiano Ronaldo, both worthy winners of the award after fantastic years, but what Messi has done time and time again has been astounding. The little Argentine scored a stunning 91 goals, breaking a goalscoring record set by Gerd Muller 40 years before.
There was never going to be anyone else, was there?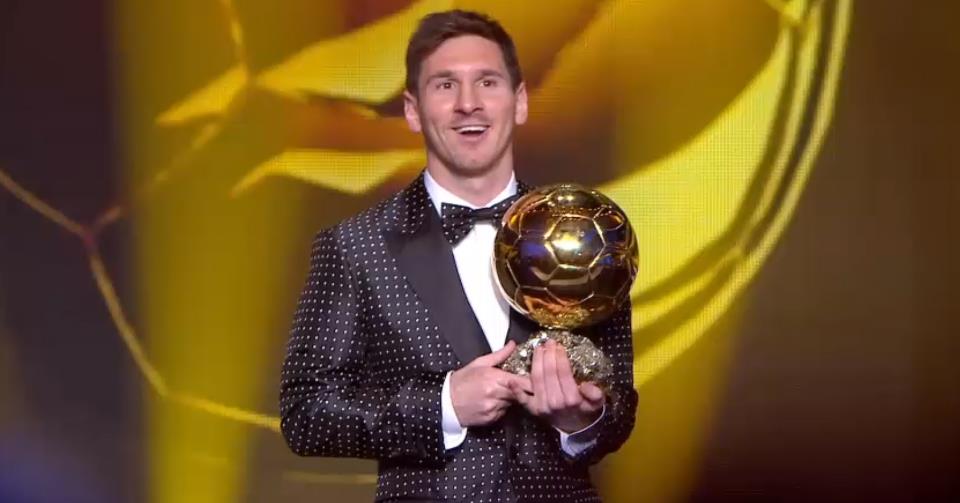 304151
2013-01-07 18:59:00
"To tell you the truth, this is really quite unbelievable. The fourth award that I've had is beyond words. I want to thank my colleagues from Barcelona and recognise my friends from the national team. I must thank my family and my friends, and especially my wife and my son."

2012 Ballon d'Or winner Lionel Messi!
304143
2013-01-07 18:57:00
AND IT'S MESSI!!! Fourth straight Ballon d'Or for Messi, and another record broken!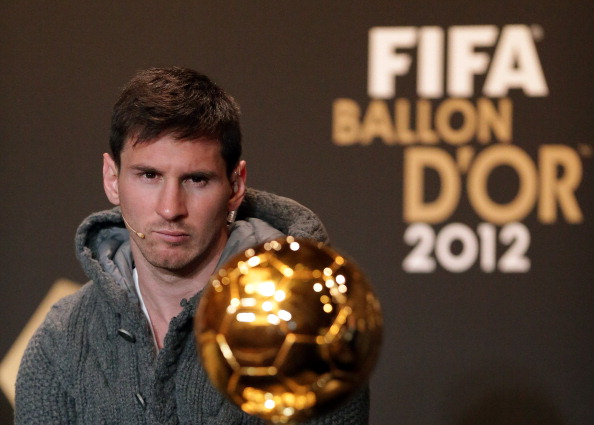 304133
2013-01-07 18:55:00
It'll be 2006 Ballon d'Or winner, and former Real Madrid star, Fabio Cannavaro to present the Men's Award.
It's the moment of the truth...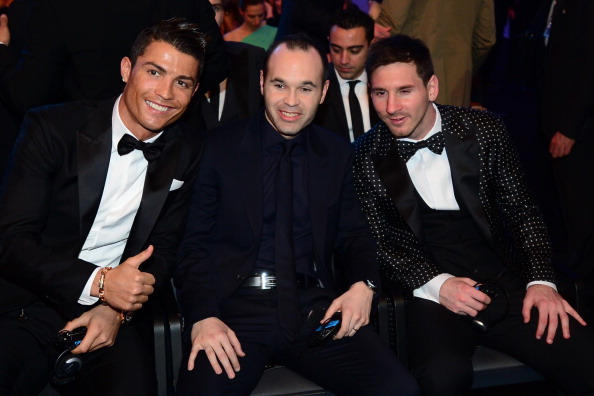 304121
2013-01-07 18:53:00
And it's Abby Wambach who wins the Women's Ballon d'Or, the proud owner of a whopping 198 international caps for the USA. Congratulations! Not a bad day for the Americans ...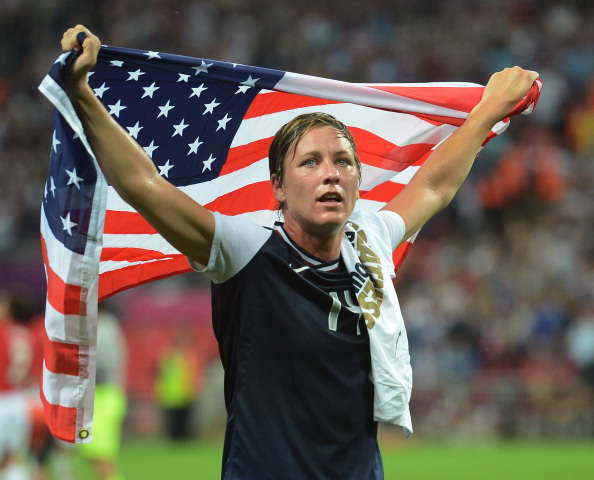 304110
2013-01-07 18:50:00
And here comes the Fifa Women's Ballon d'Or. It's to be presented by Hope Solo, who could be presenting the prize to two familiar faces ...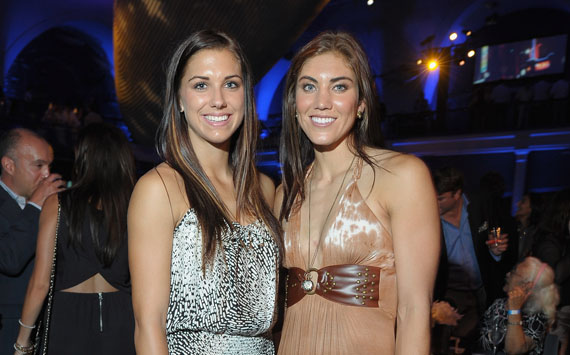 304093
2013-01-07 18:45:00
Fifa is making us wait to find out who's going to win the big one. Ruud Gullit has announced that we're going to have a musical break, with Amy Macdonald, a proud Rangers fan, playing one of her songs.

Yeah, I don't get it either, but let's just roll with it ...
304058
2013-01-07 18:36:00
And the Uzbekistan Football Federation has won the latest award - the Fair Play Award. Congrats to them.
304028
2013-01-07 18:29:00
And the winner of the Fifa Presidential Award is Franz Beckenbauer! The only man to captain and coach a World Cup winning team and a true legend of German football, and Bayern Munich.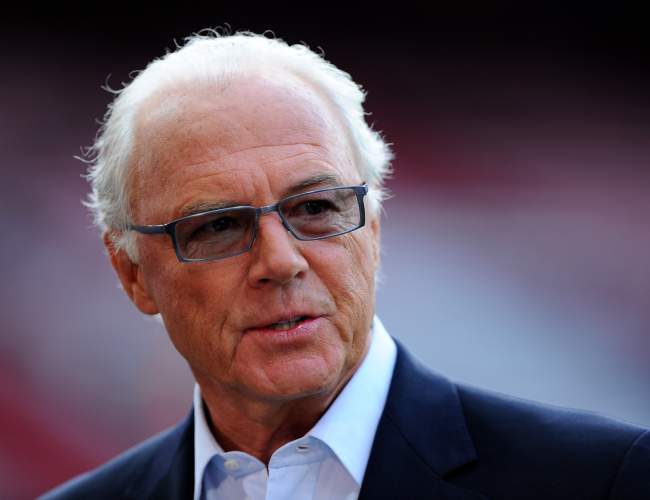 Guangzhou Evergrande
Central Coast Mariners
Prediction Submitted
Most Popular Predictions
Guangzhou Evergrande 3-1 Central Coast Mariners

19.67 %

Guangzhou Evergrande 2-0 Central Coast Mariners

13.12 %

Guangzhou Evergrande 3-0 Central Coast Mariners

9.84 %