Their historic rivalry has certainly crossed boundaries at times, with referees often feeling the brunt of complaint from both sides
For over a century Brazil and Argentina have done their talking on the pitch. There have been no wars. There are no political gripes, it's a never-ending sporting spat – and one packed full of controversy.
Between them they have seven World Cups, 22 Copas America and 14 Fifa World Players of the Year. And they want more. Much more; certainly more than the other.
We're all set for #BRAARG
And so is @neymarjr, with or without you-know-who pic.twitter.com/orkN5eX8Hv

— Brasil Global Tour (@BGT_ENG) October 16, 2018
It's a derby for the ages. While the initial fight for supremacy in South America took place between Uruguay and Argentina as football spread across the continent, the Selecao's rise to the most successful national team in the game has since seen the 'Superclasico de las Americas' become international football's most prominent derby.
The two lock horns once again on Tuesday as the Selecao host Argentina in front of more than 60,000 people in Jeddah, and once again the build-up to the clash at King Abdullah Sports City will focus heavily on some of the great superclasicos controversy of the past.
Misjudged cartoons and Argentines playing for Brazil
The first game between Brazil and Argentina was marked by a mutual respect and perhaps even a certain warmth, as it more often was in football's early years. But in 1920 the picture began to change. Days before a friendly match scheduled for October 6, Argentine newspaper Critica published a cartoon depicting the Brazilian delegation as a team of monkeys. The unfortunate illustration was accompanied by an equally offensive text.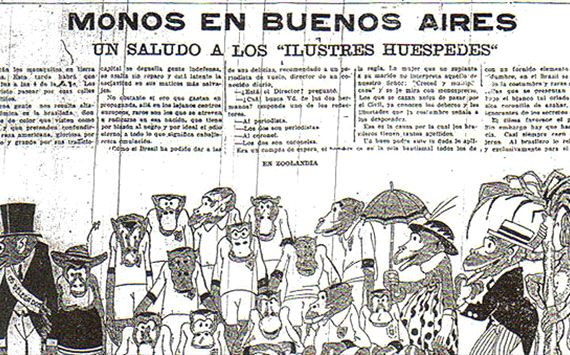 Argentine newspaper
Critica, days
before the
friendly match on
October 6, 1920
When the newspaper reached the hands of the Brazil players, opinions were split: one half refused to play; the other wanted to play the match as a mark of respect for the public. Although still playing at the time for Fluminense, Oswaldo Gomes had travelled with the squad in a managerial capacity but had to pull on his boots and join the playing staff, so desperate were the Selecao. Even with Gomes, they only had seven and so four Argentine players had to join the Brazilian team to make up the numbers.
However, the public was not fooled as local
portenos
recognised the Argentine players and began throwing objects onto the field, causing the game to be brought to a halt. With the only other solution being to reimburse every one of the spectators, the match resumed with just seven players on each side. Castelhano of Santos gave Brazil the lead, but a double from Raul Echeverria and another from Fausto Lucarelli earned a 3-1 victory for the Albiceleste.
The battle of Gasometro - break-ups to make-ups
It took extra-time for Brazil and Argentina to decide the South American Championship of 1937. But it took just 36 minutes for tempers to flare. More than 60,000 fans packed San Lorenzo's old Estadio Gasometro to see Brazil's Carnera level a vicious kick at Francisco Varallo. The Argentine retaliated with a barrage of punches as the game descended into a wrestling match. Fans invaded the pitch in hope of joining the battle before police had to intervene.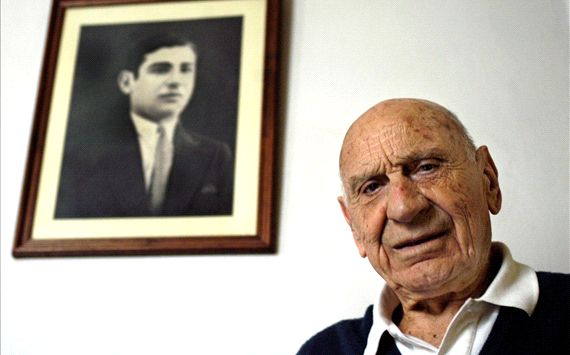 Argentina star Francisco 'Pancho' Varallo got the ball rolling
Play eventually resumed, but not for long, as Roberto took issue with Argentina's Cherro and the battle recommenced. With the players increasingly out of control, Uruguayan referee Luis Alberto Mirabel had seen enough and quickly brought the first half to a premature end.
As the players sauntered off for a break, the discussions become less heated and everyone took a deep breath. The second period, miraculously, was largely uneventful. After 90 minutes the score remained goalless and so the continent would need extra-time to crown its champion. Vicente de la Mata scored twice and Argentina claimed the crown for the fifth time.
And in scenes far removed from what was seen during the first half, Brazil congratulated their opponents and even joined them for a lap of honour, before everyone applauded both national anthems.
Trunction Field, Battle of Rosario and a Brazilian hand of God
In 1946, the teams once again decided the fate of what is now the Copa America. This time the match was played out at River Plate's famous El Monumental, and once again the climate quickly became hostile.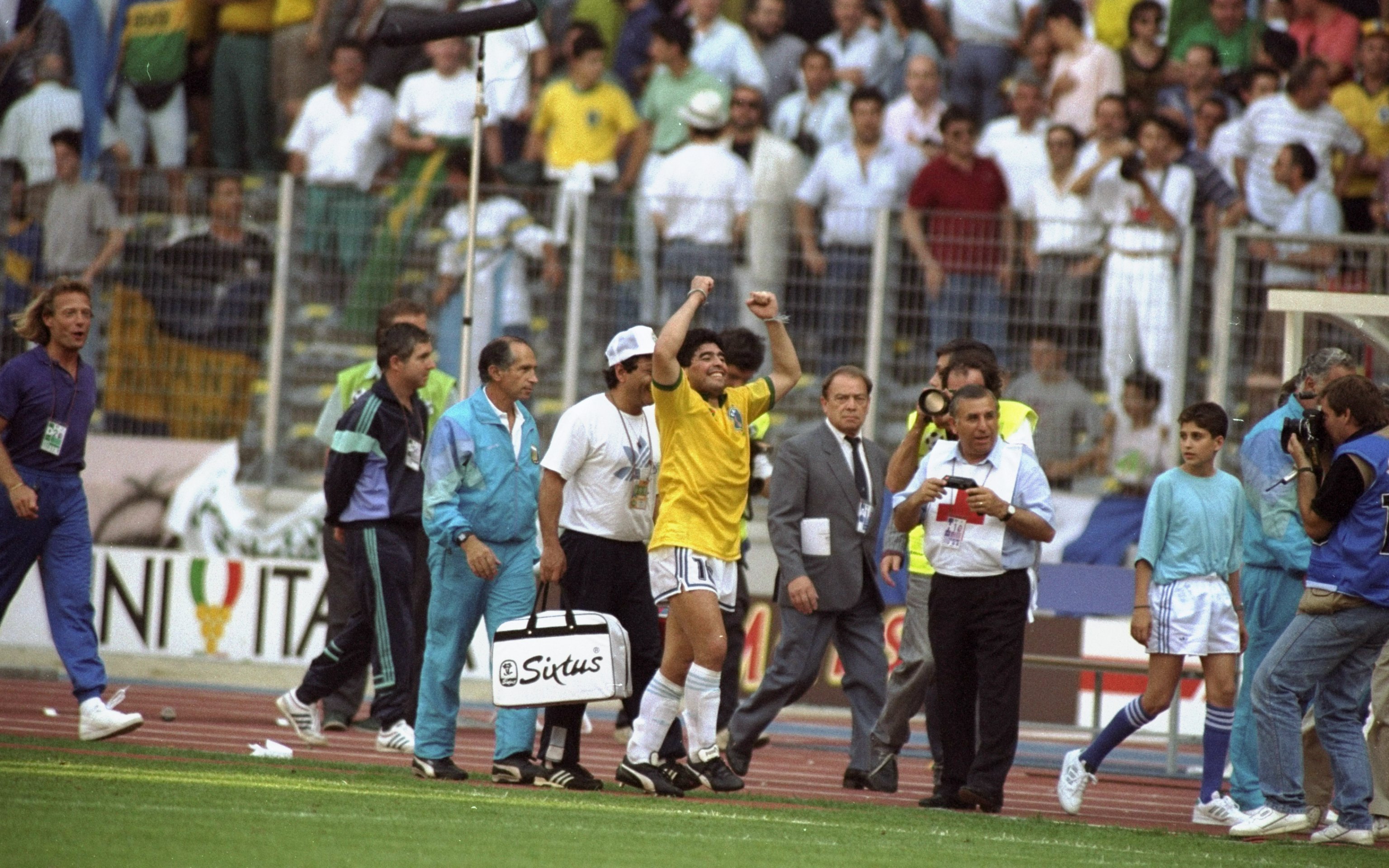 Maradona celebrates
as Brazil are sent packing from World Cup 1990
The fire was stoked as Jose Batagliero made a dramatic appearance, much to the delight of the Argentine public. He had fractured his leg against Brazil in the previous year's Copa Roca.
Things quickly got worse when Jair Rosa Pinto broke the leg of defender Salomon before the match had even reached the half-hour mark. Once again the battle spilled over onto the field with some Brazilian players feeling the brunt of the local police force. Once things calmed, Brazil coach Flavio Costa took a lot of convincing to agree to let his side return to the field. When they did, Tucho Mendez scored twice and Argentina won 2-0.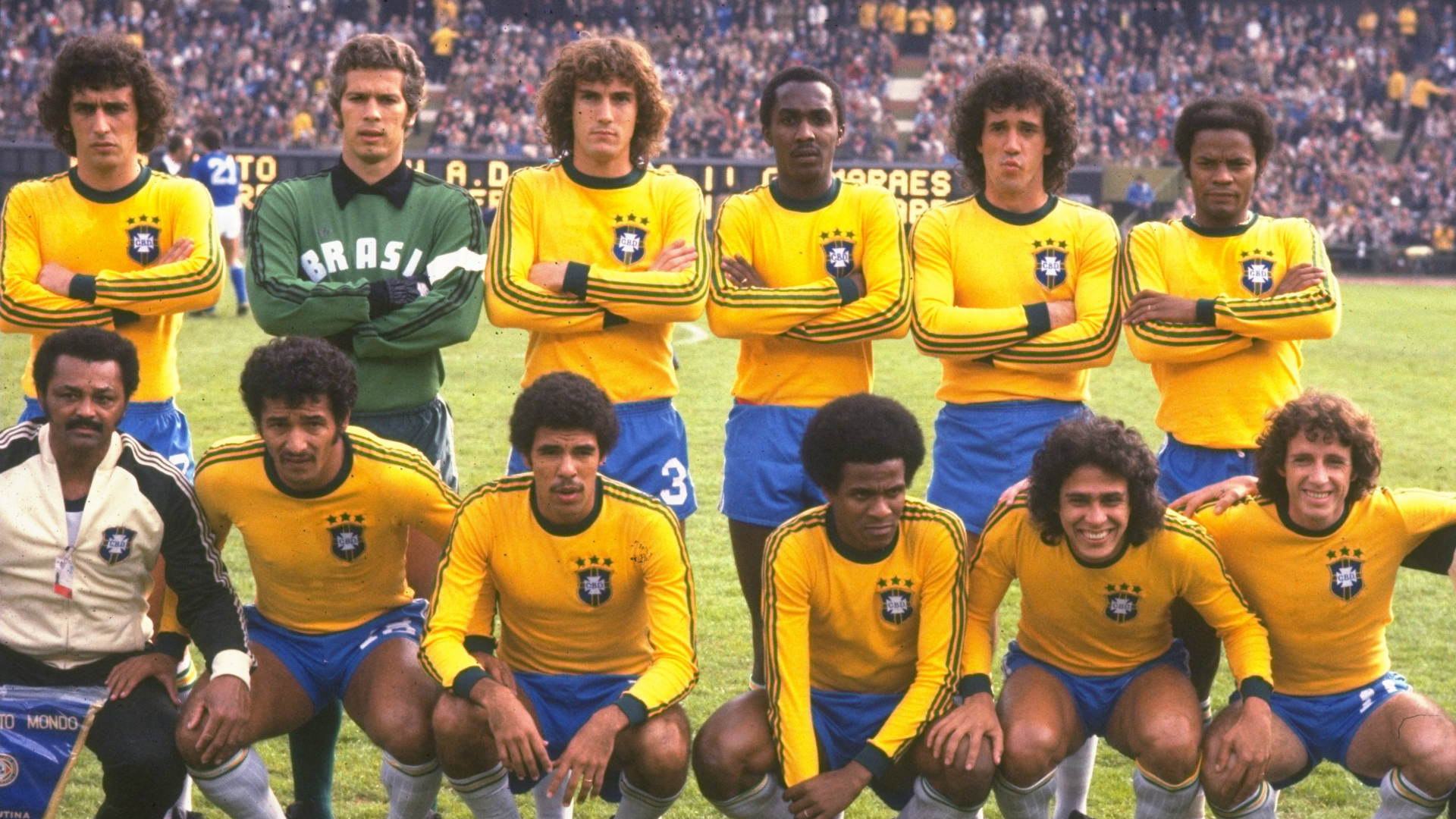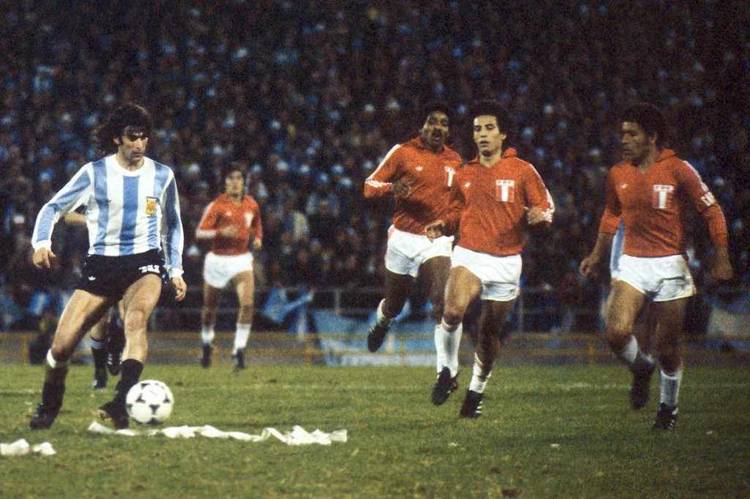 By 1978, Brazil were three-time world champions, while Argentina were still desperately seeking their first title. As hosts that year, the Albiceleste knew it would be the best chance they would get to break that duck. The two sides met in Rosario and played out a feisty goalless draw. With a superior goal difference in the second group phase, Brazil were all but certain of a place in the final. But a controversial and unexpected 6-0 hammering of Peru sent Argentina back to Buenos Aires where they would see off the Netherlands and be crowned world champions.
Three World Cups later, in 1990, Brazil were coached by Sebastiao Lazaroni and had largely underwhelmed in Italy. But with their eternal rival up next in the round of 16, Brazil found a second wind and completely dominated Diego Maradona's Argentina. But, unable to find a breakthrough, the Selecao were punished 10 minutes from time as Maradona set off on a weaving run before playing in Claudio Caniggia to beat Taffarel to complete the ultimate smash 'n' grab.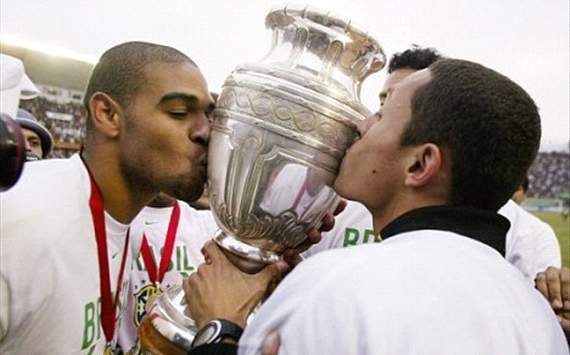 Adriano kisses the Copa America trophy, 2004: unforgettable for Brazilians and aching for Argentines

Brazil took revenge five years later in the quarter-final of the Copa America as striker Tulio took the ball down with his hand before chipping a delicate equaliser with just 10 minutes to go. The game finished 2-2 and Brazil won on penalties. Though they would ultimately lose out to Uruguay in the final, but that Argentina were eliminated thanks to a handball was an irony not lost on Brazilian fans.

Nine years later another 2-2 draw was followed by a Brazilian penalty shootout victory. This time Argentina thought they'd won it when Cesar Delgado gave them the lead just three minutes from time, but Adriano stuck in the third minute of stoppage time – three minutes that enraged Argentina supporters, who, to this day, wonder when on earth referee Carlos Amarilla found those extra seconds.


Brazil, how does it seven?
The globalisation of football has ultimately seen the rivalry lose some of its spark in recent years as both counties routinely lose all of their best players to European football. But even so, Brazil and Argentina's desire to consistently outdo one another remains as strong as ever.
Never was that more evident than at this year's World Cup, when Argentina arrived in Brazil with a song that would become something of a theme to the tournament. Played out to the tune of Bad Moon Rising by Creedence Clearwater Revival, the Albiceleste fans relentlessly mocked their hosts with tales of Maradona and prophecies of Messi lifting the World Cup at the Maracana.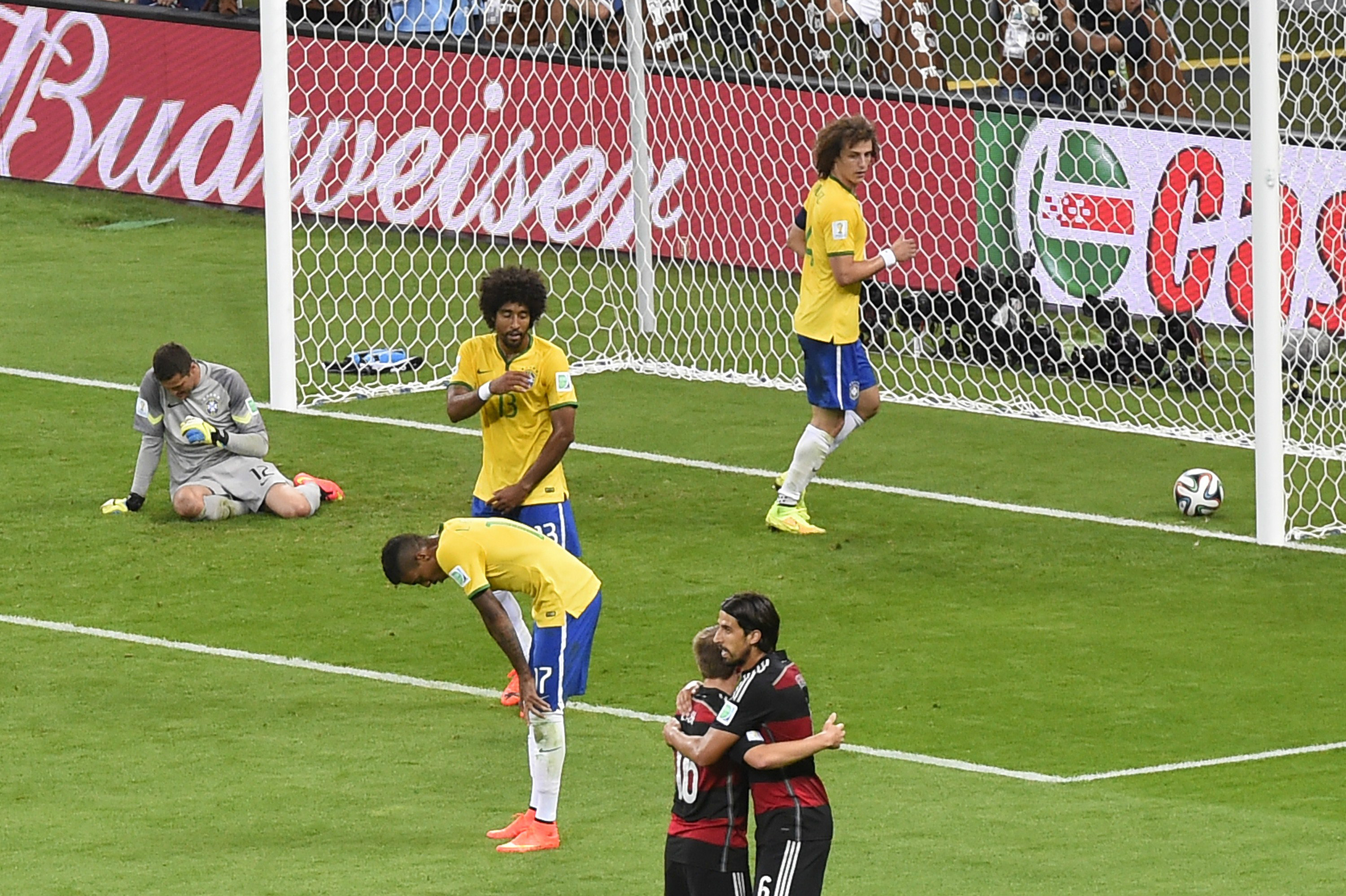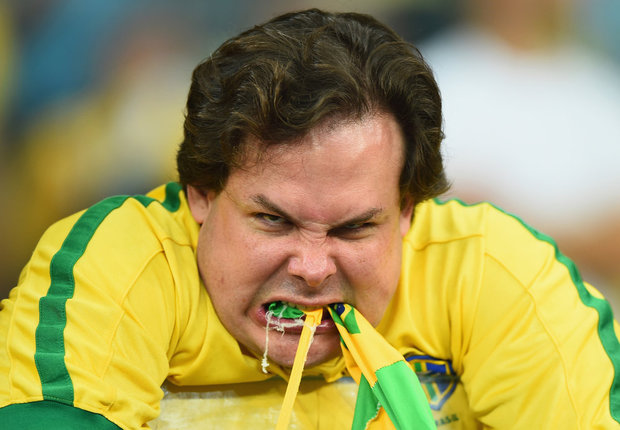 The teasing became all the worse when one plucky Argentine newspaper editor had something of a revelation following Brazil's 7-1 semi-final defeat to Germany. "Brazil, tell me how it feels," ran the first line of the song. In Spanish, remove one letter from the final word of that line and it reads: "Brazil, tell me how it seven." The headline ran and ran.

Not to be outdone, Brazilians wrote a riposte, which they sang deep into the night after Germany ensured Argentina didn't do the unthinkable.

"Brazil, tell me how it feels
to have your Daddy in your house.
I swear that even as the years pass, we will never forget
how Diego [Maradona] dribbled you;
how [Claudio] Cani[ggia] [beat] you;
you've been crying since Italy until today.
You're going to see Messi, he'll bring us back the Cup.
Maradona is greater than Pele."


"Argentina, tell me how it feelsViewing from afar our five shining stars!I swear, even as the years pass,you will never catch me.Five Cups, I have,and without cheating.'Mi papa' is not doped to play.One thing more I will sayTo you: never forgetPele has more Cups that you."