The 16-year-old Flamengo starlet has made great waves at youth level and, after finally making his first-team bow, this week agreed a mega-money transfer to Real Madrid
Vinicius Junior is currently worth almost €3 million for each year he's been on the planet.
The 16-year-pld Flamengo wonderkid only made his first ever senior appearance earlier this month, but this week agreed an astonishing €45 million switch to Real Madrid.
For many, the attention would - and has been - overwhelming. But Vinicius has lived almost a quarter of life under the spotlight, going through adolescence with the weight of the watching world on his shoulders.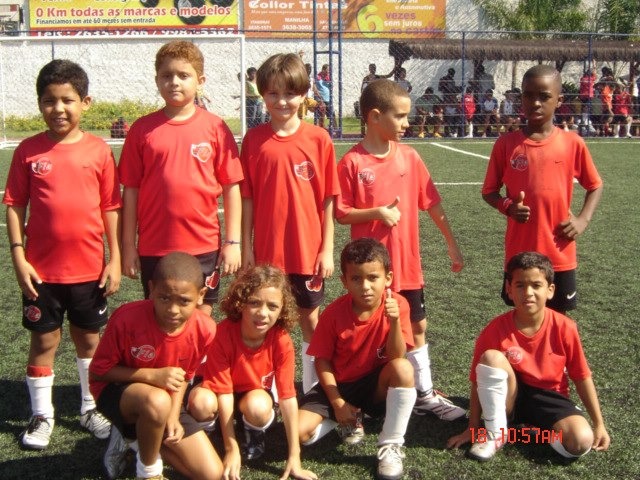 From the age of 13, when he was called up for the Brazil Under-15 side by coach Claudio Cacapa, all eyes have been focused on this precocious talent.
"His father came to us when he was just five and ever since he has always performed at a level way above the boys of his age," said Cacau, a teacher at Escolinha Fla Sao Goncalo, the Flamengo-affiliated school that raised Vinicius.
"A curious thing about Vinicius is that, if we let him, he would have trained with every age group. He just never seemed to tire. To this day, he comes back and visits us, bringing his medals and sharing his experiences with the children. We really admire the fact that he always comes back here. "
Time and again he has sat with the kids to tell his story, of how hard he worked, and that when his talent stood out in a regional tournament, he was moved on from Escolinha to join Flamengo's academy proper.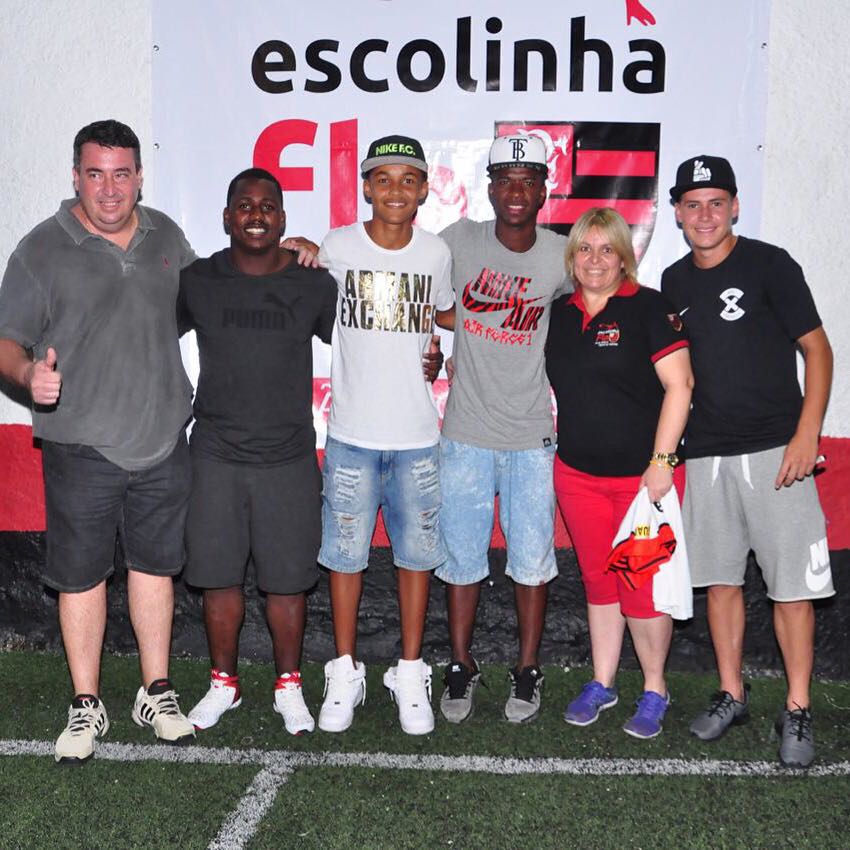 Once again, he stood out instantly in Gavea, his technique, dribbling ability and eye for goal impressing Flamengo's coaches from his first training session.
He quickly became the star of the 'Generation 2000' - the team made up of players born at the turn of the millennium who went three years without losing a match, leading the side to the prestigious Copa Votorantim in 2015.
His impressive form continued into the junior Campeonato Carioca, where he was dubbed the 'owner of the ball' as he conducted those around him, hitting 10 goals and forming the creative hub of a free-scoring attack.
But it was at the Copa Sao Paulo, Brazil's most celebrated youth tournament, in January this year where Vinicius made the biggest impression, the 16-year-old dominating a number of opponents who were up to three years older than him.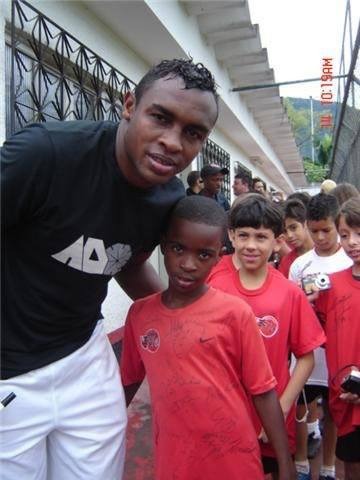 His performances attracted national media attention, as he was compared to an illustrious list of former Copa Sao Paulo stars, including Rai, Rivaldo, Djalminha, Neymar, Lucas Moura and Gabriel Jesus.
"We are very proud to see him rise, not only for Flamengo, but also with national team," said Cacau. "He is already playing at U17 and we hope one day he can bring a lot of joy to both Flamengo and the Selecao."
It's been a meteoric rise for the youngster, and one that has attracted attention from a number of top European clubs. As well as from Real Madrid, local media had long been reporting interest from Arsenal, Manchester City and Barcelona, with some already tagging him the 'new Neymar'.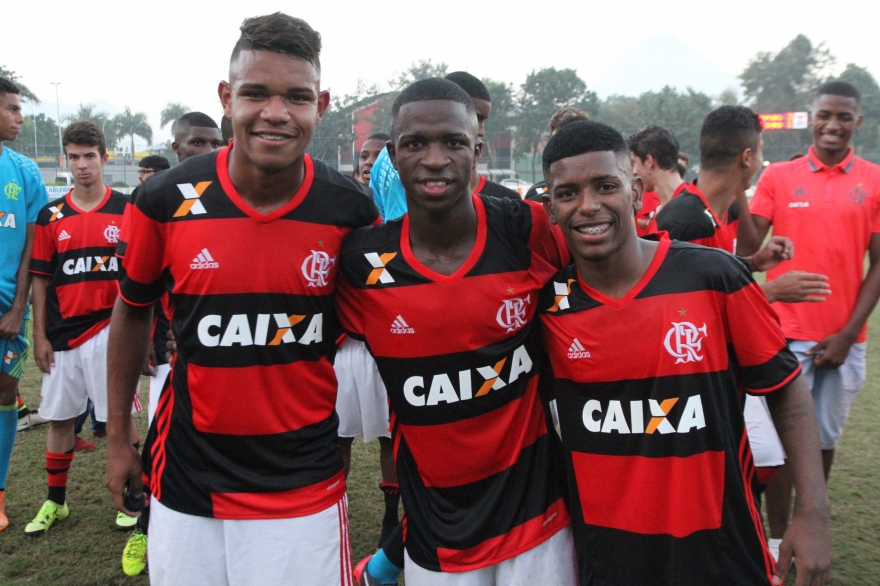 But director of Escolinha, Zé, has called to quell the hype, insisting the teenager must be left to develop in peace.
"I'm happy to see what we thought back then, what we thought might happen with him, is happening, but I think it's still too early. He 16 and in a process of development Flamengo."
"I am aware of the Barcelona links," admitted Vinicius earlier this year. "I have been following the news, but it does not change anything in my head, I am thinking only about Flamengo, about playing football here doing well."
The stories were not without foundation, as confirmed by Barca's representative in Brazil, Andre Cury.
"Every good player in South America is followed and he is being monitored, yes," said Cury. "We have watched his games. He has a lot of potential."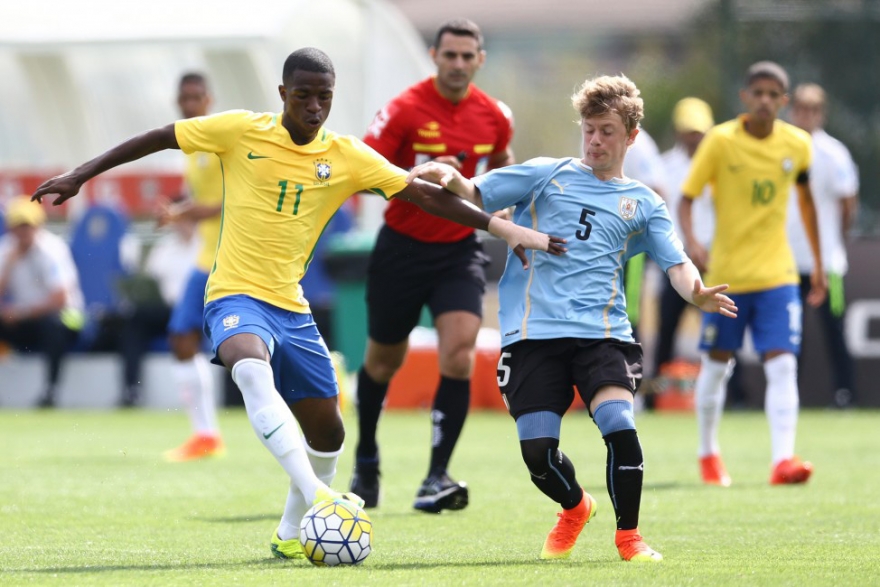 That potential will now be realised in the Spanish capital from July 2018.

Vinicius is far from the first player to attract major interest form Europe at such a young age. Philippe Coutinho negotiated a move to Inter in Italy prior to his 18th birthday, while Neymar was invited to Real Madrid at just 13-years-old.
Vitinho at Corinthians is just one of a number of youngsters currently being linked to major European club prior to reaching an age where he could actually sign for anyone.
Last month a Real madrid coach was quoted as saying Vinicius is the type of talent that emerges "only once every 10 or 20 years."
Vinicius' journey is yet to really begin. Flamengo are working hard to keep his feet on the ground and ensure he remains focused only on the immediate future, but in just over a year he will have flown the nest.
And it appears Real Madrid, and Brazil, may have a future star on their hands.