The Selecao have included a number of high-profile names to their under-23 squad for previous editions but none have been able to bring home that elusive gold medal
Last month Brazil coach Rogerio Micale confirmed his three permitted overage player for the Rio Olympics.

Barcelona superstar Neymar, Bayern Munich forward Douglas Costa and 37-year-old Palmeiras goalkeeper Fernando Prass were set to lead the quest for gold on home soil in August.
---

READ MORE:


Why Olympic gold matters to Brazil | Brazil Experiment with 4-2-4 | PROFILE: Olympic coach Rogerio Micale | PROFILE: Luan | PROFILE: Gabriel Jesus | 5 lessons from Brazil 2-0 Japan
---
However, injuries to both Prass and Costa saw them replaced by Weverton and Renato Augusto as the senior members of Selecao that will go in search of a historic for Olympic gold in Rio. The only major title for which Brazil are eligable but yet to win, for over 100 years it has eluded the five-time world champions.
In 1908 the Olympic Games in London gave the sport its first modern international competition, laying down the foundations for the World Cup.
22 years later the inaugural FIFA World Cup was held. It was an instant success as reigning gold medallists Uruguay romped to victory on home turf.
Two years later, as the Olympics arrived in Los Angeles, USA, plans for a football tournament were scrapped after FIFA and the International Olympic Committee (IOC) failed to agree on the criteria to determine the amateur status of those set to take part.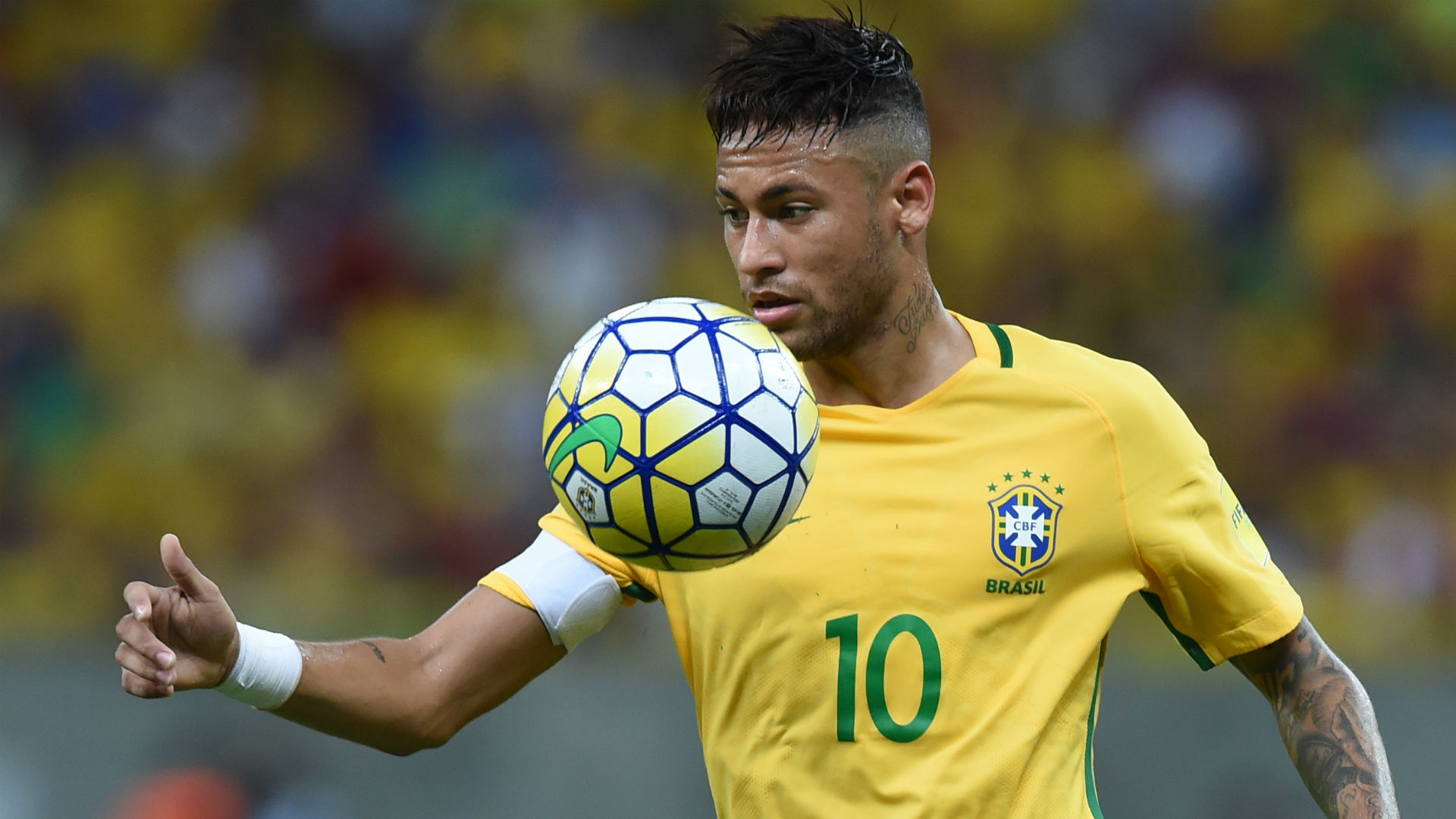 It wasn't until 1992 that the current rules regarding player selection were introduced. The Barcelona games were the first played under the current guidelines, which deem the only restrictions on player selection is that squads must be made up of players under the age of 23, with three additional slots available to overage players.
FIFA also decreed that clubs were only obliged to release players of Olympic age, a decision that continues to result in club vs country battles like that which has played out between the CBF and Barcelona this year.
Below, Chevrolet Brasil Global Tour continues a series of articles looking back at Brazil's Olympic history, this time looking back at the previous 'chosen ones' who made up the Selecao's overage contingent.
1996: Aldair, Rivaldo and Bebeto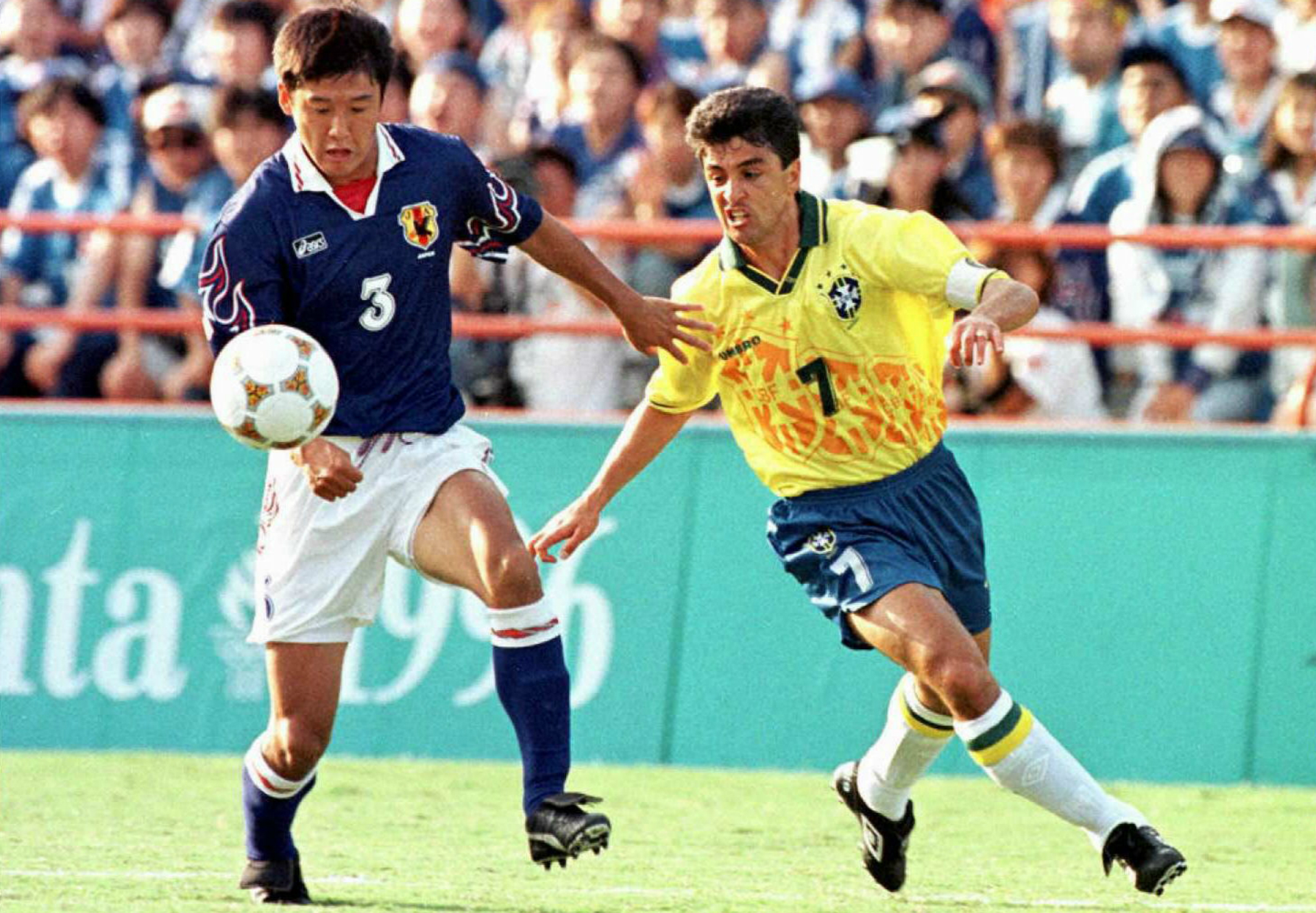 Mario Zagallo led the then four-time world champions in the USA and elected to use his three wildcards to call-up a couple of 1994 World Cup-winnersi in 30-year-old Roma defender Aldair and 32-year-old Flamengo striker Bebeto, in addition to 24-year-old Palmeiras star Rivaldo.
Brazil were drawn in Group D alongside Nigeria, Japan and Hungary. They got off to a bad start, going down 1-0 to Japan in front of 46,000 fans at the Orange Bowl in Miami, but won the group after a young Ronaldo inspired them to victories in their final two group games.
Bebeto's inclusion in the squad proved particularly fruitful – as he finished as the tournament's joint top-scorer alongside Argentine Hernan Crespo with six goals – but Rivaldo's less so.
Brazil were 3-1 up and cruising in the semi-final against a talented Nigeria, but collapsed to an eventual 4-3 defeat thanks to a golden goal from Kanu in extra time.
Rivaldo had given the ball away for Nigeria's second goal, and also missed a glaring chance to seal victory. He was, unfairly, so heavily criticised back home that some claimed he no longer had an international future. He was left out of the side for the bronze medal match, which saw Bebeto score a hat-trick in a 5-0 defeat of Portugal.
2000: Luxemburgo overlooks Romario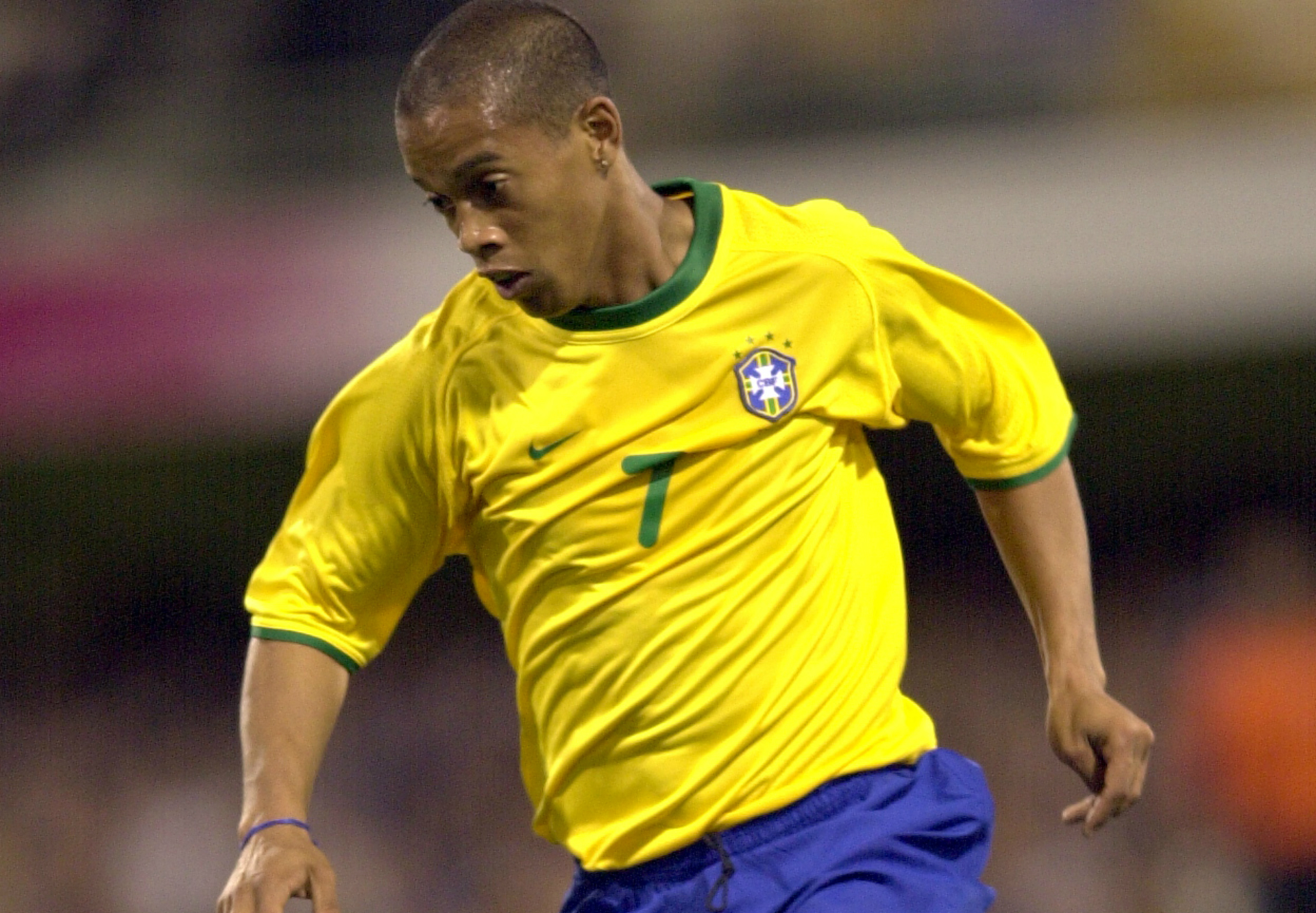 The Sydney games in 2000 saw coach Vanderlei Luxemburgo not only resist calls to include Romario in his squad but refuse to take any overage players whatsoever. Alex de Souza and Ronaldinho were by then members of the senior squad, but both were of Olympic age.
Instead, a young squad travelled to Australia which, Ronaldinho, Alex and Lucio aside, featured few players who would go on to make a real impact at international level.
The Selecao won their group with wins over Slovakia and Japan either side of a 3-1 defeat to South Africa, but fell in the quarter-finals to another African golden goal, this time seeing Modeste M'bami give eventual winners Cameroon a 2-1 win at the Brisbane Cricket Ground.
Back home, some labelled the defeat Brazil's most humbling since the 1950 Maracanazo at the hands of Uruguay. Failure in Australia eventually cost Luxemburgo his job.
2008: Thiago Silva and Ronaldinho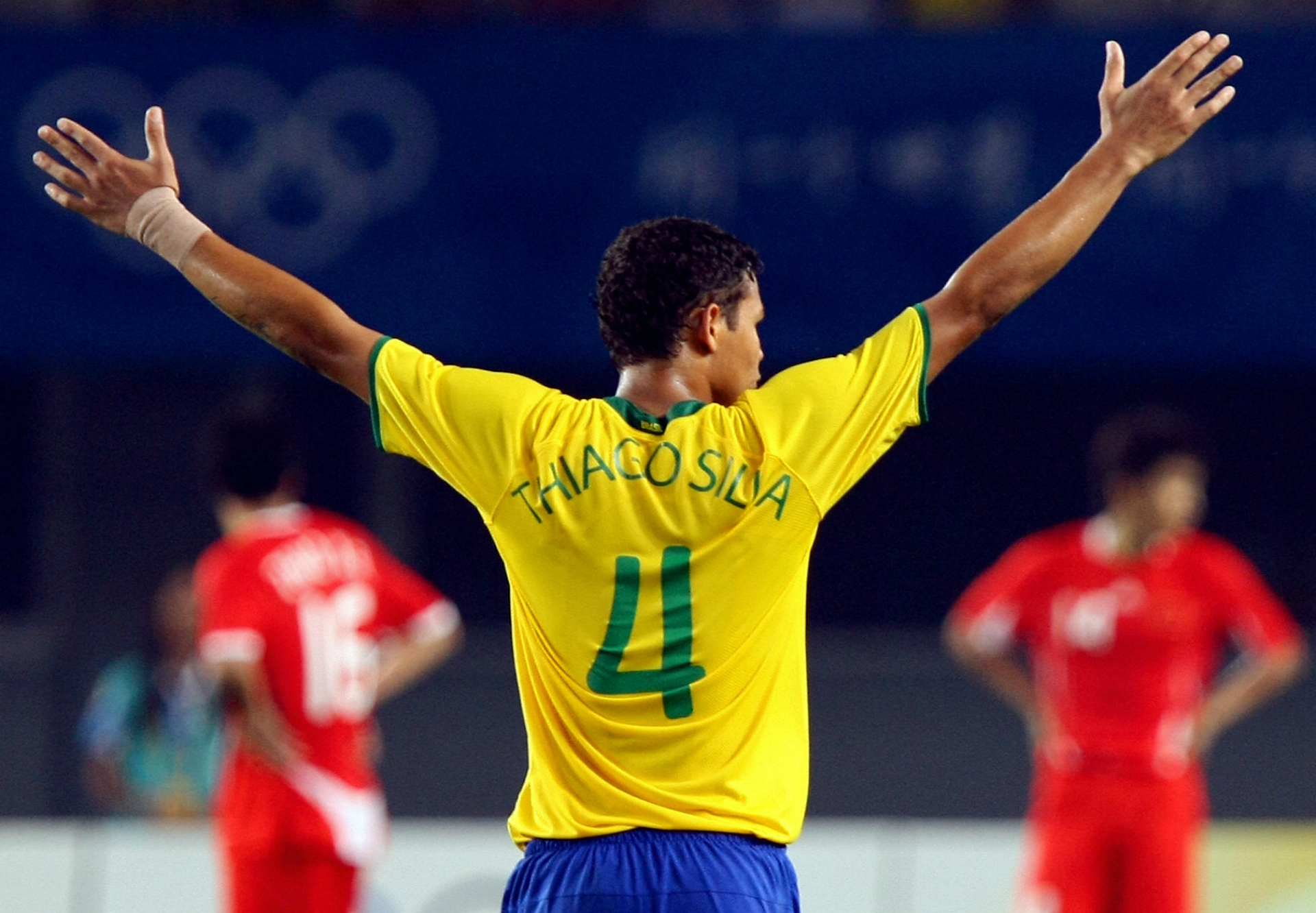 In 2008 current senior team coach Dunga led the Selecao into Beijing and eventually elected to call up just two overage players as Fluminense defender Thiago Silva and a 28-year-old Ronaldinho joined the group.
Former World Player of the Year Ronaldinho initially looked set to miss out after Barcelona refused to release him for the tournament, however a July transfer to Milan proved timely as the Serie A outfit gave him their blessing to go in search of gold.
The same club refused to release Kaka, however, while Real Madrid's Robinho was named as the third overage player but was forced to withdraw through injury.
Brazil charged through their group with consecutive victories over Belgium, New Zealand and China, keeping three clean sheets and scoring nine goals, before getting revenge over Cameroon with a 2-0 win after extra time.
Ronaldinho had been in good form, netting twice en route to the semi-finals, but he was powerless to stop a rampant Argentina led by Juan Roman Riquelme, Lionel Messi and Sergio Aguero, who ended Brazil's quest with a 3-0 win at the Workers' Stadium.
A 3-0 victory over Belgium in the bronze medal match offered little consolation.
2012: Marcelo, Thiago Silva and Hulk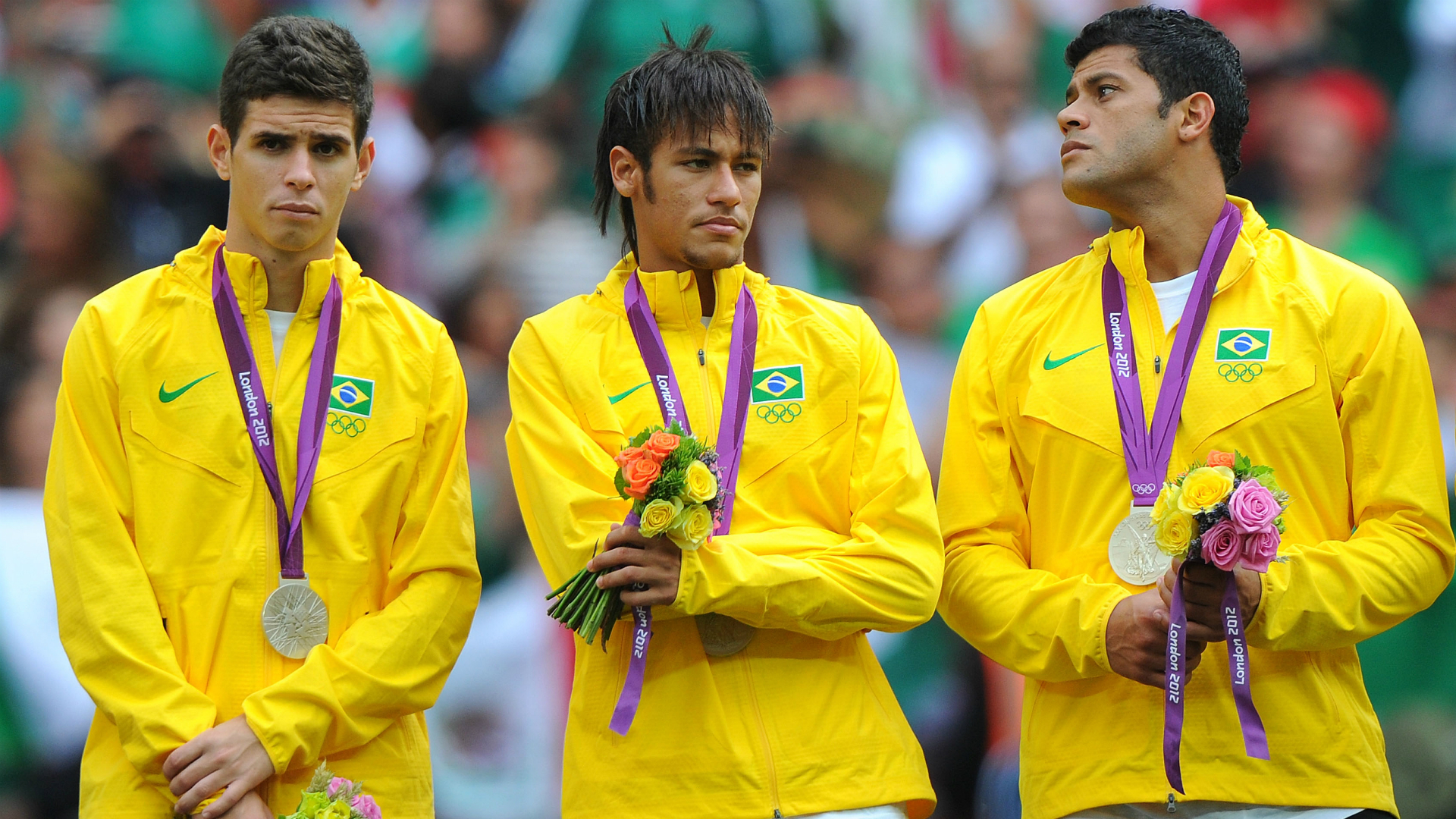 Ronaldinho hoped to return for a another crack at gold in 2012 after making Mano Menezes' preliminary squad, but eventually missed out on a place at the London games.
27-year-old Paris Saint-Germain defender Thiago Silva did return, however, and was joined by 24-year-old Real Madrid left-back Marcelo and 26-year-old Porto attacker Hulk.
A young Neymar led the charge in England and the Selecao appeared set to end the long wait for Gold after crusing through their group with victories over Egypt, Belarus and New Zealand, before a quarter-final win over Honduras and a semi-final defeat of South Korea.
But the gold medal match got off to a disastrous start Manchester United's Rafael gifted Mexico's Oribe Peralta a goal inside the first minute, a mistake in part caused by a tactical shift from Menezes.
Right-sided attacker Hulk was dropped for the final with Alex Sandro coming in as an extra line of defence on the left. When Rafael looked upfield for a pass down the line he found no team-mate and instead came back inside to make the fatal error.
Peralta doubled the Mexicans' lead with fifteen minutes remaining. Hulk arrived as a substitute and pulled one back in stoppage time but it wasn't enough.
Brazil's wait for gold would go on.