With Brazil having romped to a 4-1 victory in Boston, Chevrolet Brasil Global Tour takes a look back at the main talking points from the Gillette Stadium
Brazil maintained their fine record over the United States on Tuesday with a 4-1 rout at the Gillette Stadium in Boston. For the second time this week, the Chevrolet Brasil Global Tour proved that the team certainly have more of a cutting edge with captain Neymar leading the attack.

However, Neymar wasn't the only one to inspire Dunga's side against the Americans, as both Rafinha and Lucas Moura, who came on to replace Lucas Lima and Douglas Costa, staked their claims for regular game time with scintillating showings. Indeed, Barcelona star Rafinha opened his Brazil account with his first possession of the ball, while Lucas Moura played the final pass for the third and the fourth goals.

Elsewhere, Dunga tried out Douglas Costa on the left-hand side of the attack with William on the right for the first time, and it was the Chelsea midfielder's penetrating run and cross that led to Hulk's opener. In addition, the second-half introductions of Robert Firmino, Lucas Moura and Rafinha offered encouraging evidence of the possibility of a more dynamic, pacier front four.

All in all, Dunga certainly has lots of options as he prepares for October's Neymar-less World Cup qualifiers. Below, #CBGT takes a look back at five talking points from the victory over USA...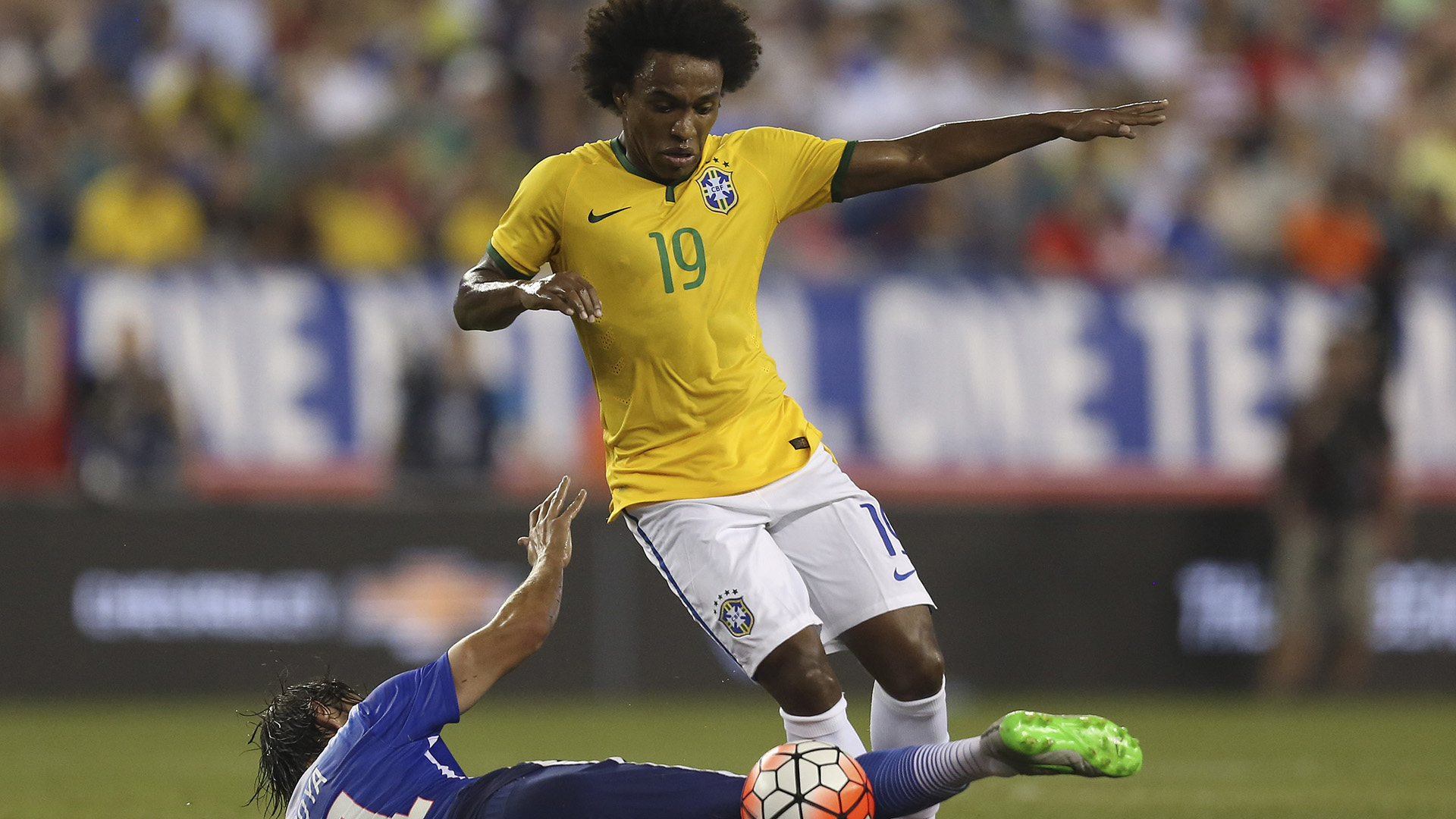 The tireless Willian, who has now started 15 of Dunga's 16 matches in charge, once again set the tone and the pace of the game for the Selecao. Operating from wide on the right, the Chelsea midfielder left a row of Americans trailing in his wake as he set off on a mazy first-half run that eventually ended with his cross clipping the crossbar and Hulk converting the rebound.
His sometimes discreet, but always efficient, style has made him a fundamental part of this Brazil side. Whether on the right or the left, the 27-year-old provides both defensive cover and the spark for counter-attacks – two things that Dunga prizes above all else. In the absence of the suspended Neymar for next month's qualifiers, Willian is set to play a prominent role in Brazil's fortunes.
Lucas Moura's hunger for the ball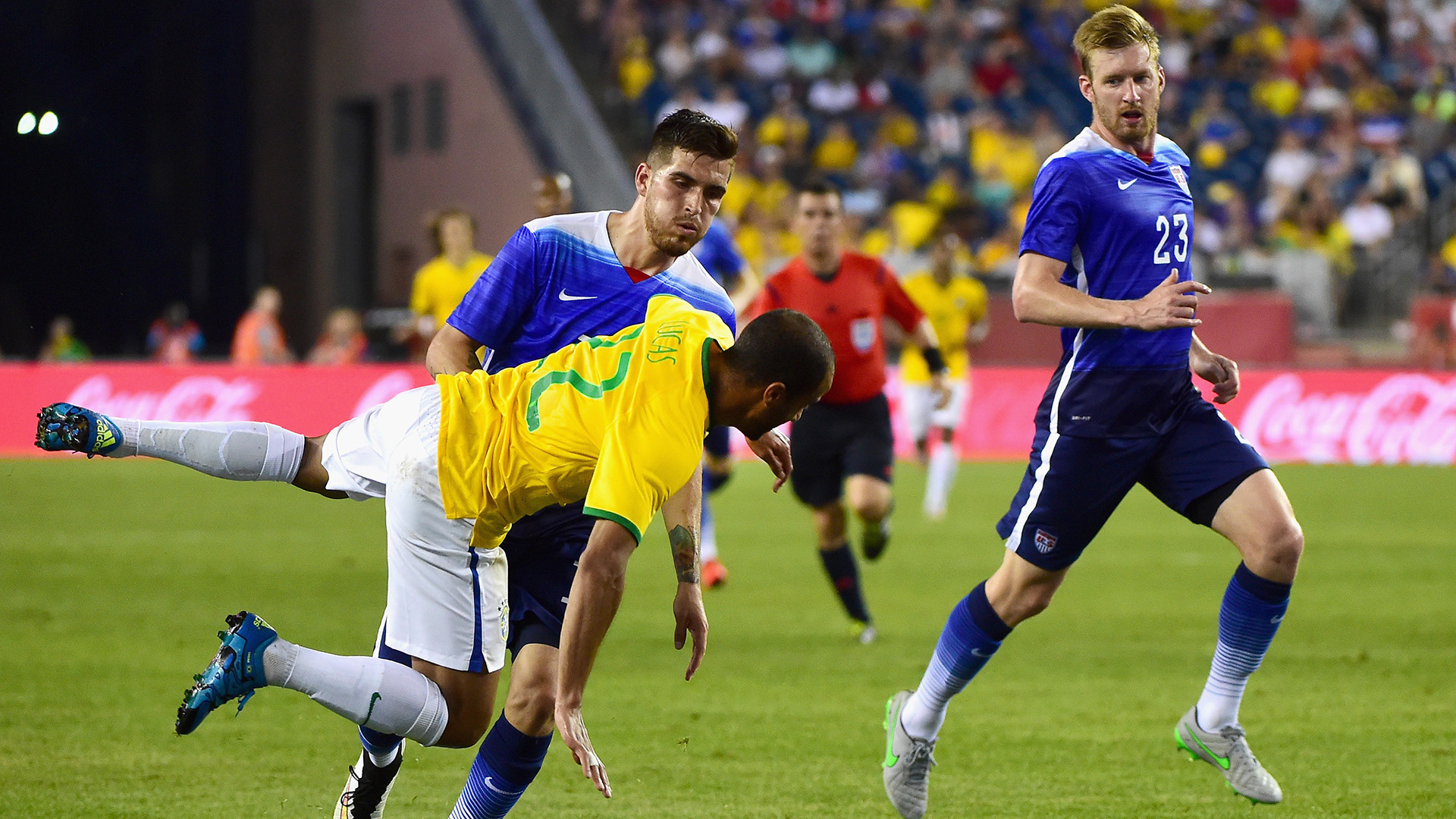 Lucas Moura had to wait a long time to get another chance with Brazil, having been cut from Luiz Felipe Scolari's squad in the final friendlies before World Cup 2014. Against USA, he promptly dismissed suggestions that he could require a little time to settle back into the Selecao. Indeed, the Paris Saint-Germain attacker notched two assists – both of which arrived after penetrating forward runs - during a stirring second-half cameo.

While he hasn't played much football alongside Rafinha, the duo showed an impressive understanding and, in support of Neymar, the trio were behind all of Brazil's most dangerous attacking moves. Clearly desperate to make an impression, he demanded the ball at every opportunity and is now hoping to maintain this impressive form all the way to Russia 2018.
Rafinha, always Brazilian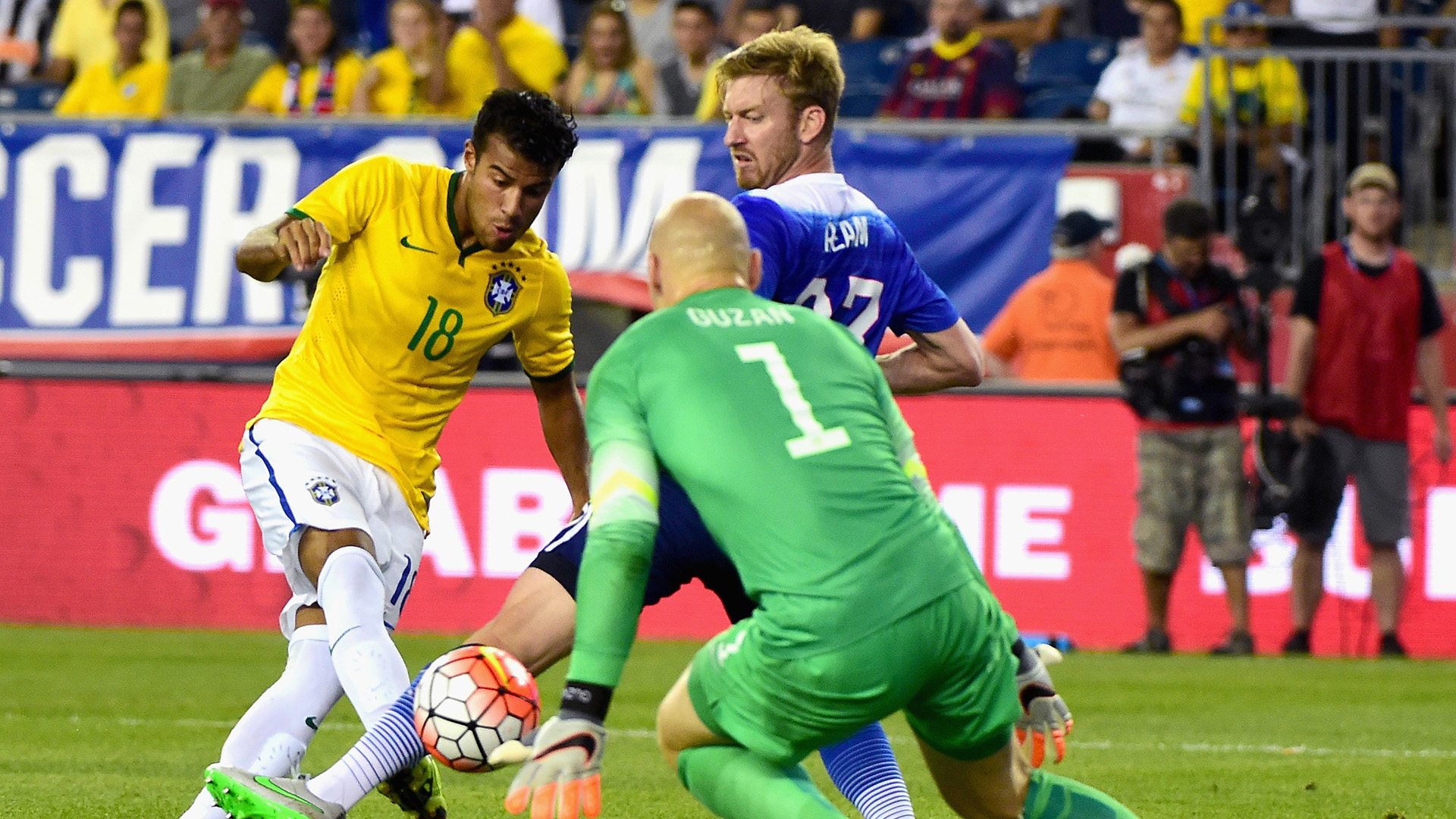 Faced with the choice of representing either Spain or Brazil, Rafinha only ever had one nation in mind. "I've always felt Brazilian," the son of former Selecao star Mazinho declared. His international journey started in promising fashion, with Rafinha excelling alongside Lucas Moura and Neymar following his second-half introduction. Indeed, it was evident that he has long been on the same wavelength as Camp Nou colleague Neymar.

Having missed out on a place at Copa America after being named on the standby list, Rafinha celebrated his first call-up for his country with a brilliantly taken goal, showing terrific pace to burst through the defence, quick feet to evade his marker, and a cool head to slot past Brad Guzan. "He is committed, young and really promising. He will be called up again," said guest assistant Edmilson.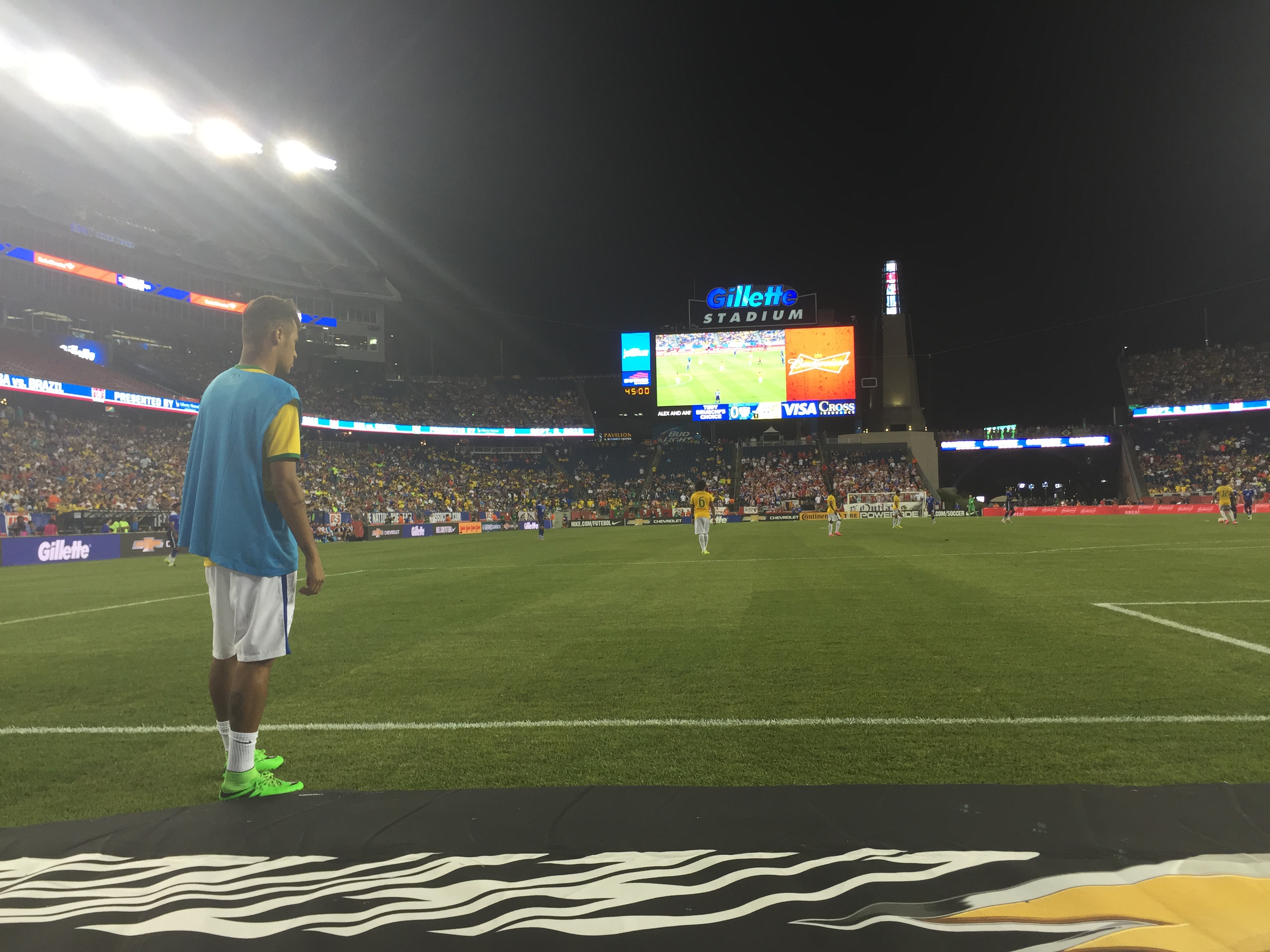 What a difference Neymar makes! Brazil are a completely different animal when their skipper is on the field, as so emphatically and thrillingly illustrated by the effect his half-time introduction had on the Selecao's forward line. Within five six minutes of entering the fray, the Barcelona ace had won and converted a penalty. He struck again in the 67th minute, taking a pass from Lucas Moura before cutting inside and showing sensational poise before coolly rifling the ball low into the bottom left corner of the US net.
However, what is arguably even more important than his obvious goal-scoring prowess is the impact Neymar has on those around him. He not only lifts his team-mates, but makes them play better with his intelligent movement and crisp passing. Put quite simply: Neymar makes Brazil look good. Consequently, he will be missed next month. A lot.
Marquinhos takes chance to impress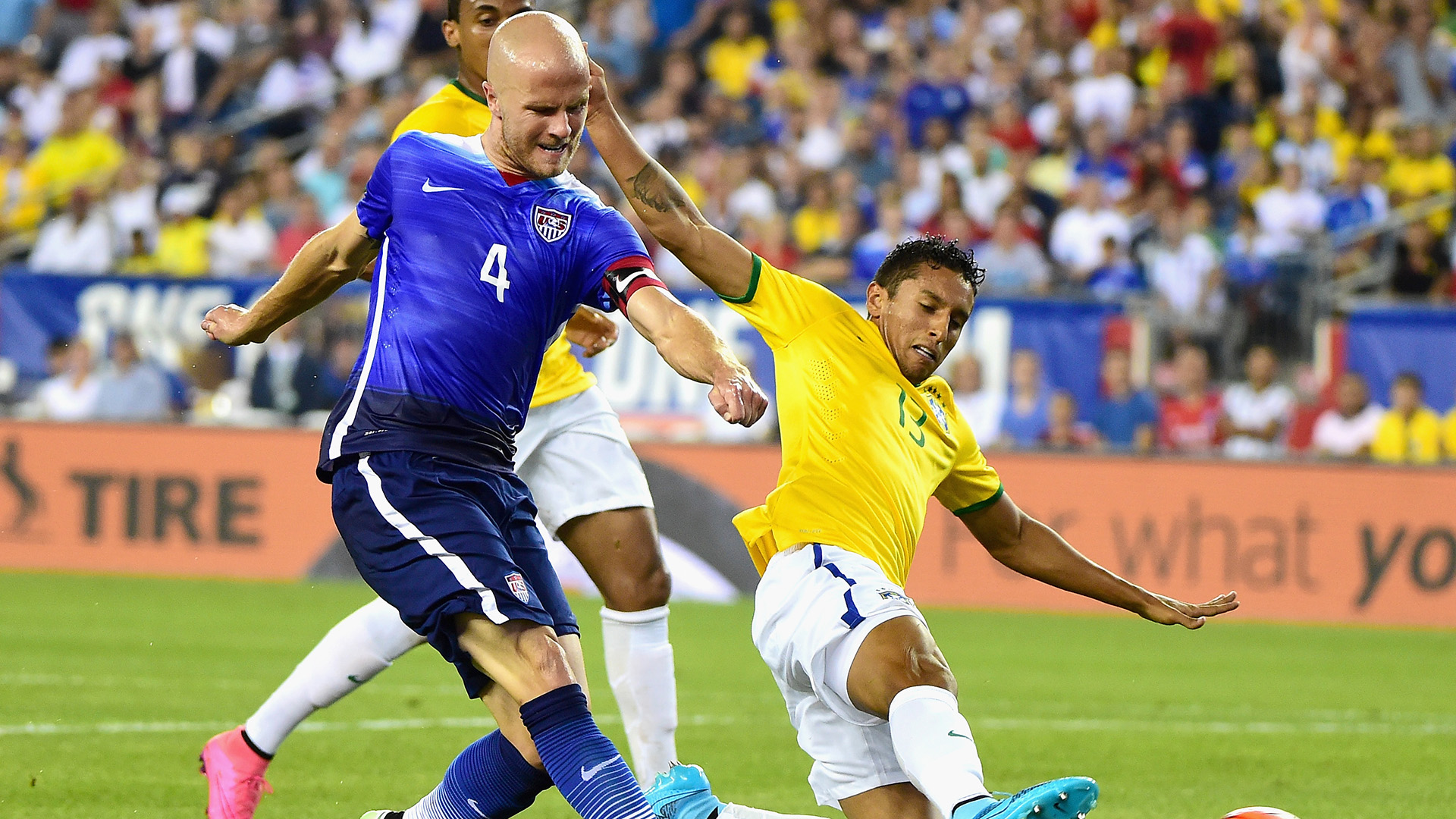 Coming in to replace Miranda certainly isn't easy, but Marquinhos rose to the task on Tuesday, finally getting a chance to prove what he can do for the national team. His introduction came after Miranda had to be taken off for the first time since Dunga's appointment, the Inter man's substitution forced by a knee injury sustained midway through the first half.
Alongside his PSG team-mate David Luiz, Marquinhos displayed the sort of calmness and composure that will have impressed Dunga. Breaking up the partnership of David Luiz and Miranda is a tall order, but the 21-year-old looks set to be the future of the Brazilian defence.