Wit the two sides set to clash at Red Bull Arena on Saturday, CBGT takes a look back Brazil's fine record against the Central Americans
| | | |
| --- | --- | --- |
| | Brazil vs Costa Rica | |
| | | | |
| --- | --- | --- | --- |
| 13/03/1956 | Brazil 7-1 Costa Rica | Pan-American Championships | Mexico City, Mexico |
| 10/03/1960 | Brazil 0-3 Costa Rica | Pan-American Championships | San Jose, Costa Rica |
| 17/03/1960 | Brazil 0-4 Costa Rica | Pan-American Championships | San Jose, Costa Rica |
| 16/06/1990 | Brazil 1-0 Costa Rica | World Cup | Turin, Italy |
| 23/09/1992 | Brazil 4-2 Costa Rica | Friendly | Paranavai, Brazil |
| 13/06/1997 | Brazil 5-0 Costa Rica | Copa America | Santa Cruz, Bolivia |
| 13/06/2002 | Costa Rica 2-5 Brazil | World Cup | Suwon, South Korea |
| 11/07/2004 | Brazil 4-1 Costa Rica | Copa America | Arequipa, Peru |
| 07/10/2011 | Brazil 1-0 Costa Rica | Friendly | Miami, USA |
Brazil and Costa Rica have met on nine previous occasions, and the Selecao have a quite comprehensive record over their Central American neighbours having won eight of those matches. The first clash between the two teams was over half a century ago, back in 1956, when they met at the now defunct Pan-American Championships, held in Mexico City. Brazil ran out 7-1 winners thanks to a hat-trick from Larry, two from Chinesinho and a goal each by Mario Cordero and Bodinho.
Brazil's only defeat arrived in 1960, in Costa Rica, when Foguinho's Brazil lost 3-0 in another Pan American Champions tie. In World Cups clashes, Brazil and Costa Rica have played twice: once in 1990 and again 2002. A single goal from Muller gave them victory in their first World Cup meeting, while in 2002 Luiz Felipe Scolari's eventual world champions claimed a 5-2 victory thanks to two goals from eventual competition top scorer Ronalo, one from Roque Junior, one from Rivaldo, and another from this month's guest coach Edmilson.
On Saturday the two teams meet once more at Red Bull Arena as the Chevrolet Brasil Global Tour rolls into New Jersey.
And on the eve of the contest at Red Bull Arena, CBGT casts an eye back over some of the more memorable matches between Brazil and Costa Rica.
BRAZIL 1-0 COSTA RICA - 07/10/2011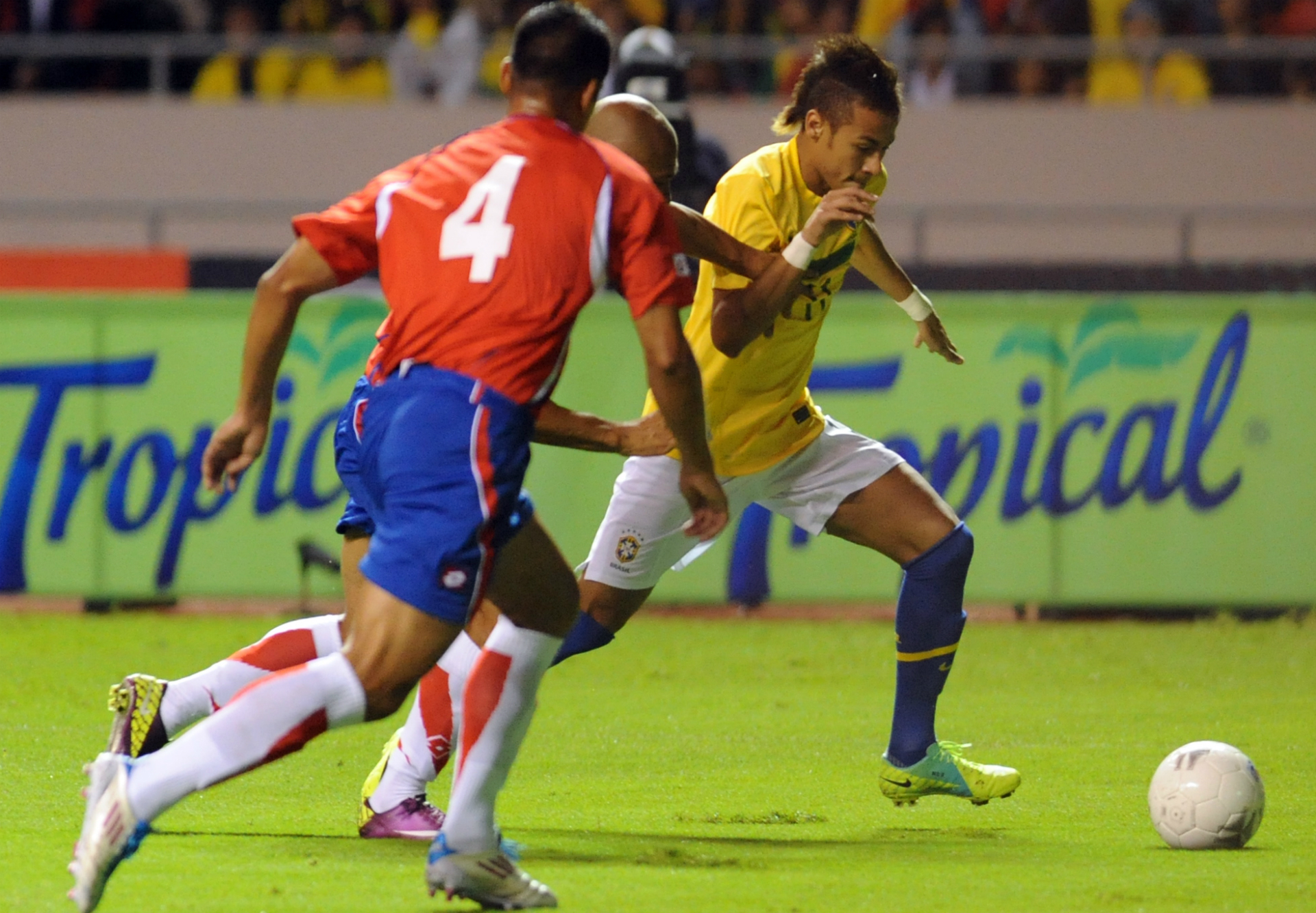 Competition:
Friendly
Venue:
Estadio Nacional de Costa Rica
Referee
Walter Lopez (Guatemala)
Goals:
Neymar
Brazil:

Julio Cesar (Jefferson), Fabio (Daniel Alves), Thiago Silva, David Luiz, Adriano Correia, Ralf, Luiz Gustavo (Hernanes), Lucas (Oscar), Ronaldinho, Fred (Jonas), Neymar, Hulk.
Coach: Mano Menezes

Costa Rica:


Keylor Navas, Heiner Mora, Michael Umana, Roy Miller, Junior Diaz - Randall Azofeifa, Michael Barrantes (Jose Miguel Cubero), Cristian Bolanos (Carlos Hernandez), Bryan Oviedo (Diego Madrigal) - Winston Parks (Joel Campbell), Alvaro Saborio.
Coach: Jorge Luis Pinto
Neymar grabbed his eighth goal in 14 internationals to give Brazil a 1-0 win over Costa Rica when the two sides last met, in 2011. The forward was already the star of Mano Menezes's side but Brazil laboured to victory in San Jose. The Selecao still had former World Player of the Year Ronaldinho, who was back at Flamengo, but a dogged Costa Rica proved tough to break down. Neymar hit the only goal of the game, turning in a Dani Alves cross from the right. The forward was still being dubbed "menino" (a kid) by the Brazilian press but was already becoming decisive for his country. Neymar also hit the crossbar that night but Brazil failed to build on his 59th-minute opener.
BRAZIL 4-1 COSTA RICA - 11/07/2004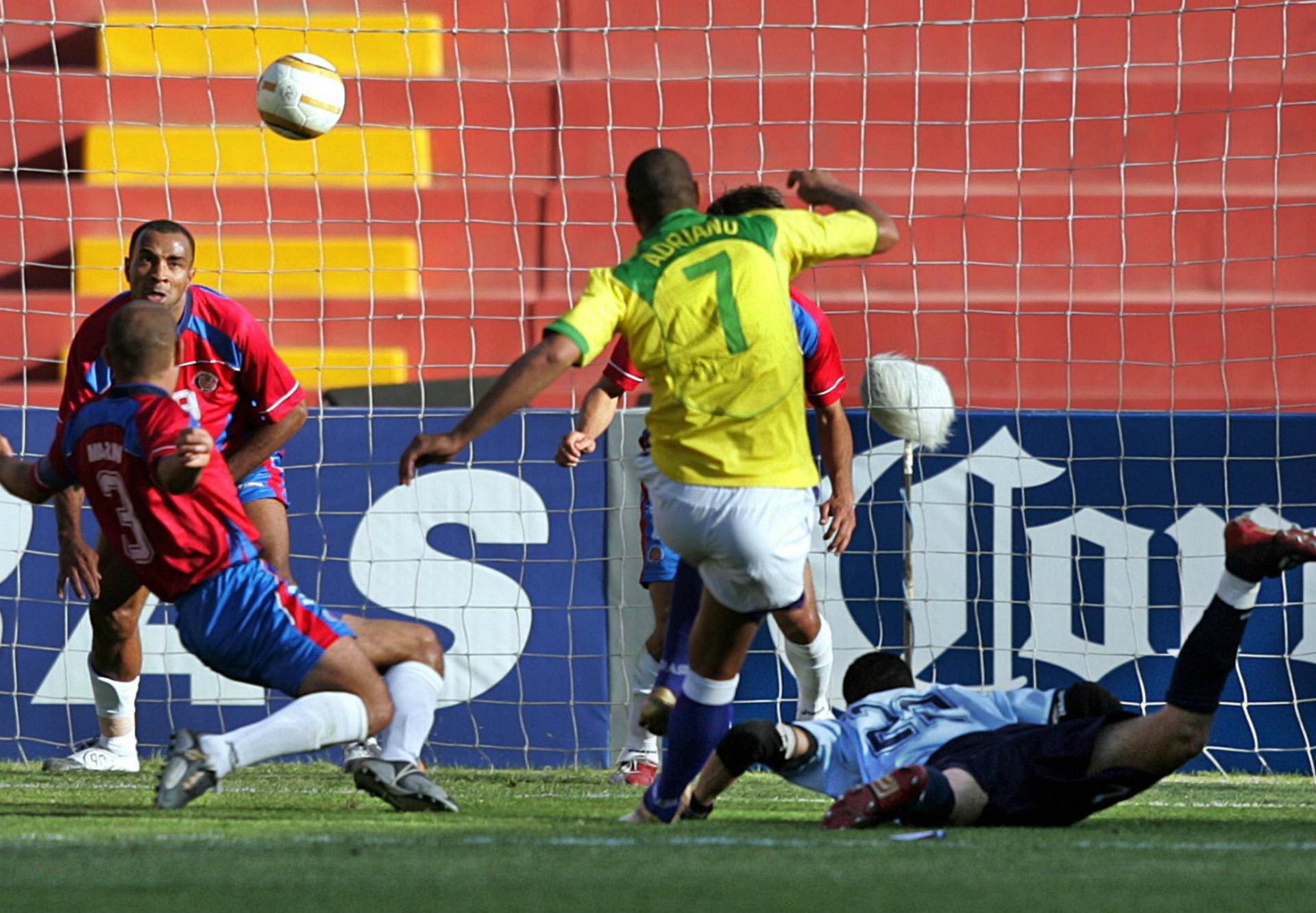 Competition:
Copa America
Venue:
Estadio Arequipa
Referee:

Felix Bryche (Germany)
Goals:
Adriano (3), Juan; Luis Marín
Brazil:

Julio Cesar, Mancini, Luisao, Juan, Gustavo Nery, Renato, Kleberson (Diego), Alex, Edu (Dudu Cearense), Luis Fabiano, (Vagner Love), Adriano.
Coach: Carlos Alberto Parreira
Costa Rica:

Ricardo Gonzalez, Try Bennett, Luis Marin, Mauricio Wright, Leonardo Gonzalez, Cristian Badilla (Ronald Gomez), Douglas Sequeira, Walter Centeno, Steven Bryce, Alonso Solis (Carlos Hernandez), Alvaro Saborio (Andy Herron).
Coach: Jorge Luis Pinto
Costa Rica also put up a strong fight in 2003 when the two sides met in the Copa America. Brazil started slow in the first half, with midfielder Alex unable to find the space to work his magic and dictate the attacking play. Coach Carlos Alberto Parreira made his feelings known after a goalless first half and the Selecao kicked into gear after the break. Alex found the freedom he desired and created all three goals for Adriano's hat-trick. The "Emperor" was at the height of his powers and named the tournament's best player and top goalscorer with 7 goals. The victory over Costa Rica secured Brazil's passage to the second round, where they would see off Mexico before going on to win the title on penalties over old rivals Argentina.
BRAZIL 5-2 COSTA RICA - 13/06/2002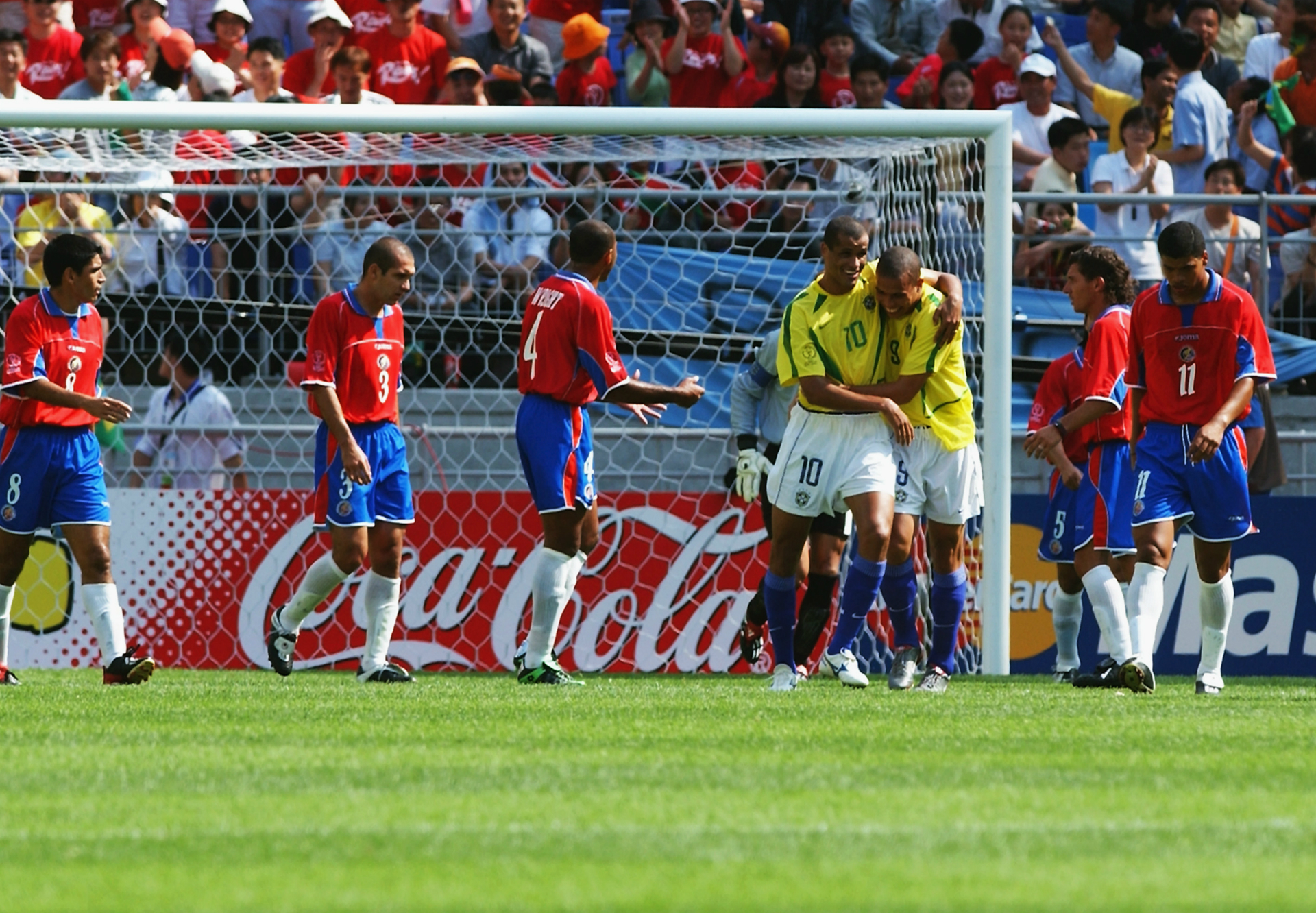 Competition:
World Cup
Local:
Suwon World Cup Stadium
Referee:

Gamal Al-Gandour (Egypt)

Gols:
Ronaldo (2), Edmilson, Rivaldo, Roque Junior; Wanchope, Gomez

Brasil:
Marcos, Lucio, Junior, Gilberto Silva, Edmílson, Anderson Polga, Cafu, Juninho Paulista (Ricardinho), Rivaldo (Kaka), Edílson (kleberson), Ronaldo.
Coach: Luiz Felipe Scoari
Costa Rica:
Lonnis, Marin, Wright, Wallace (Bryce), Castro, Martinez (Parks), Lopez, Centeno, Solis (Fonseca), Gomez, Wonchope.
Coach: Alexandre Guimaraes
Approximately 39,000 people attended Brazil's rout of Costa Rica in the first phase of World Cup 2002. The Selecao breezed through the first round in a group that also contained China and Turkey. This victory secured top spot in Group C for a Brazil team that would go on to claim the country's fifth World Cup title. In Suwon coach Luiz Felipe Scolari made three changes from the team that thrashed China by 4-0. Ronaldinho and Roque Junior, on a yellow card, were replaced by Edilson and Edmílson. Striker Ronaldo had miraculously recovered from a career-threatening knee injury to shock the world by not only making the tournament, but going on to lead Brazil to the title and finish the tournament's top goalscorer in what became one of the game's greatest redemption stories.
BRASIL 5-0 COSTA RICA - 13/06/1997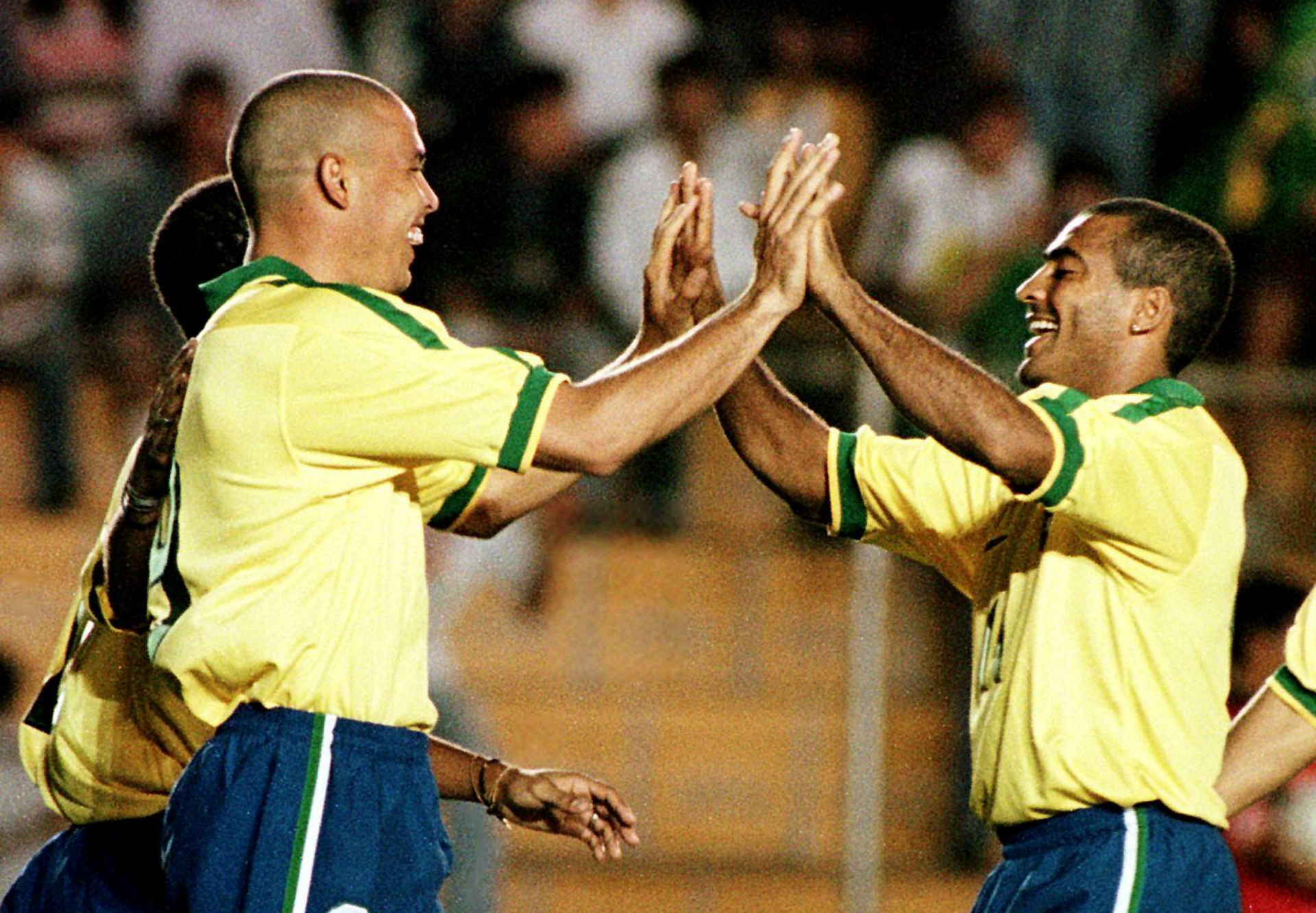 Competition:
Copa America
Venue:
Estadio Ramon Tahuichi Aguilera
Árbitro:

Epifanio Gonzalez (Paraguay)

Gols:
Djalminha, Gonzalez (own goal), Ronaldo (3)

Brasil:
Taffarel, Aldair, Goncalves, Roberto Carlos, Cafu (Ze Maria), Leonardo, Djalminha (Edmundo), Dunga, Flavio Conceicao, Romario (Giovanni) e Ronaldo.
Coach: Mario Zagallo

Costa Rica:
Lonnis, Wallace (Luis Javier Delgado), Wright, Joaquin Guillen, Lopez Gonzalez, Austin Berry, Solis, Medford (Oviedo), Soto (Francis), Gomez.
Coach: Horacio Cordero.

One year prior to finishing after losing the World Cup final to hosts France, Brazil claimed their fifth Copa America, in Bolivia. With 1970 World Cup winning coach Mario Zagallo back in charge, the Selecao found the core of the team that would travel to France the following year. The Selecao met Costa Rica in their first match of the Copa America 1997 and cruised to a 5-0 victory. The great Ronaldo proved their inspiration on the night, slamming home a hat-trick as the Selecao overcame their concerns of performing at a tournament played at altitude. The striker pairing of Romario and Ronaldo looked set to be a classic combination for the Selecao, but the former was controversially dropped for the World Cup. Current coach Dunga was captain of the team that night, as the flamboyant Djalminha also got his name on the scoresheet.