Speaking to Brasil Global Tour, the Chelsea defender talks frankly about faith, motivation, team spirit and expectation levels for the Selecao this summer
David Luiz is teasing Bernard. He has been from the moment he realised his mate was ready to get some sleep on the long flight to Johannesburg.
He begins by literally tucking the 21-year-old 5'5" Shakhtar star into bed. Once he's deemed the fit sufficiently snug, Luiz starts singing him a lullaby. By the time he takes out a book to begin reading aloud Bernard's 'bedtime story', Chelsea team-mates Willian and Oscar are laughing hysterically.
BRAZIL'S BRILLIANT RECENT RUN

DATE

OPPONENT
RESULT

Jun 15, 13
Japan
Won 3-0
Jun 19, 13
Mexico
Won 2-0
Jun 22, 13
Italy
Won 4-2
Jun 26, 13
Uruguay
Won 2-1
Jun 30, 13
Spain
Won 3-0
Aug 14, 13
Switzerland
Lost 2-1
Sep 7, 13
Australia
Won 6-0
Sep 11, 13
Portugal
Won 3-1
Oct 12, 13
South Korea
Won 2-0
Oct 15, 13
Zambia
Won 2-0
Nov 17, 13
Honduras
Won 5-0
Nov 20, 13
Chile
Won 2-1
Mar 5, 13
South Africa

Won 5-0
"Bernard is like my little brother," says David Luiz in an exclusive interview with Brasil Global Tour.
"When he first came into the squad I told him I'd help him and protect him. It's part of my job as Brazil's second captain.
"He has a great heart, we have a great relationship and we always have fun."
Fun seems to follow David Luiz wherever he goes. Once he realises his young team-mate really is ready to get some rest, David hugs him and moves on to the selection of films available on board. He opts for Denzel Washington's Flight. His choice is met with curious glances and chuckles from those around him.
"What do I have to be scared about?" he asks. "I have God in my heart."
David's faith is very important to him. It gives him strength. His positive outlook is infectious. It also serves as something of a microcosm for the feel-good factor in the Brazil squad since they roared to Confederations Cup success last year. He sees that as the turning point.
"I think it was the time when we showed everyone the old Brazil. When I was young I always saw Brazil winning games on television with fantastic players and a fantastic team.
"Everyone came together at the Confederations Cup: the team, the entire population. That was our power. I remember afterwards I spoke to the Spanish guys playing for Chelsea and they told me that when they saw the Brazilian people singing the national anthem like they did at the final, they all said, 'It's impossible to win today.'"
Brazil arrived at the competition with just three wins in nine. Since the opening game, a 3-0 victory over Japan, they've have won 12 of their last 13 matches.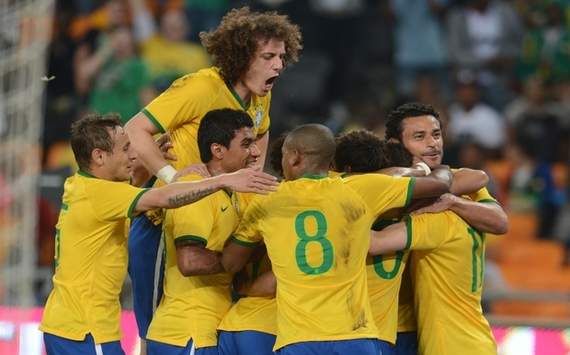 Band of Brothers | Brazil's success has brought the Confederation Cup winners closer together
We speak on the flight back from Johannesburg after the latest leg of the Brasil Global Tour - a 5-0 friendly win against South Africa. The European-based members of the squad are playing music, dancing, singing and telling jokes. Neymar and Dani Alves are the self-appointed DJs.
Bayern Munich's Rafinha becomes the star of the show, wiping the floor with anyone who dares step up and challenge him in an impromptu sing-along - a sort of mix of Brazilian pagode and a rap battle.
Everyone is dancing, high-fiving, hugging and rolling about in fits of laughter at Rafinha's punch lines. To an outsider, their bond appears unbreakable.
"This is the best atmosphere I've experienced in my professional life," says Luiz, 26. "It's really special to be part of this team. We are a family. I wish we had more time together."
Coach Luiz Felipe Scolari has done it again. His 2002 World Cup-winning squad recovered from an underwhelming qualification campaign to claim the title thanks to a team spirit that led the Brazilian media to dub them 'The Scolari Family.'
But how does the coach foster such a strong group?
"Scolari is negative when he needs to be and very positive when necessary. He's direct and transparent.
"That's really good for us, because if you can't have conversations like that then you can't really understand what needs to be done. He's a fantastic coach and a fantastic person. He's like a father to everyone.
"He always says he wants us to work hard, to be tactically prepared and mentally ready, but that he wants everyone to be happy. I think that's part of Brazilian culture and he never forgets that."
At this year's World Cup, Brazil will be looking to banish the demons of 1950, when they last hosted the tournament and lost their final match to Uruguay when needing only a draw to claim what would have been their first world title.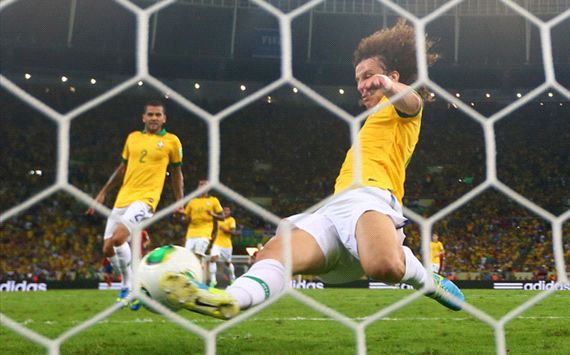 Selecao Saviour | David Luiz prevented what seemed to be a certain Spain goal in the Confed Cup final
With 200 million Brazilians demanding nothing but victory, some say the pressure will be crippling. But Luiz welcomes it.
"I think it's a good thing," he says. "Because it can show us exactly how important it will be for our country when we win the World Cup."
And will they win the World Cup? "For sure!"
To do so would cement them as national heroes. But, for David Luiz, football is also about more than silverware.
"The best title I have had in my life was when a woman stopped me while I was shopping in Lisbon during my time with Benfica," says the Champions League, Europa League and Portuguese league winner.
"She said, 'Thank you'. I asked her what for and she said, 'a week ago you gave an interview where you spoke about your principles, your love for your family, and the respect we must show people. You said it's important to show your parents your love every day. You are my son's idol. And yesterday, for the first time, my son told me he loved me.'


"Everyone came together at the Confed Cup: the team, the entire population. That was our power."



- David Luiz
"Of course, I always give my best on the field, but I think modern footballers have a big opportunity to make a difference in peoples' lives."
Luiz practises what he preaches. His childhood friend Rodrigo 'works' for him, helping to manage his life. A 'job' David gave him only after first putting him through a university degree.
And as the Selecao jet around the world on the Brasil Global Tour, David seems to stop and talk to everyone he passes, shaking hands and often greeting people by name.
"I cannot get to the top on my own," he insists. "Everyone is important to me. Everyone has played a part in my success and I try to show that."
"My mother always told me I need to respect everyone. If it's the president or just some guy working at the game, you need to respect them the same way because we need them both.
"I like that, it makes me feel alive. I like to see people happy."
Bernard is now wide awake as the team bus makes its way to the hotel. He jumps on the shoulders of his 'big brother' with excitement, and David once again appears to be doing what he always does: putting smiles on the faces of those around him.