The Selecao's Granja Comary base camp in the highlands of Rio de Janeiro first hosted the team as they prepared for the 1966 World Cup
It's safe to say World Cup hosts Brazil have felt at home this month. Luiz Felipe Scolari's side have recieved quite the welcome from a home crowd desperate to see A Selecao pick up their sixth world title, and most certainly been made to feel comfortable in their brand new
Granja Comary training complex in Teresopolis
.
The city has been something of a home away from home for over 50 years. The relationship between the two began shortly before the 1966 World Cup, when the players stayed at the Hotel Pinheiros, located in Quebra Frascos neighborhood. Since then, however, a lot has changed.
To get close to the players is a real challenge for modern football fans. In order to avoid any problems as the team prepare for the World Cup, CBF have installed tight security surrounding the complex. Only residents, guests, sponsors and the press are allowed to enter the venue. Though those lucky enough have certainly been rewarded, as every training session sees the player spend time meeting and greeting the locals, signing autographs and posing for photos.
It's all very different from what happened during Brazil's preparations for the World Cup that would take place in England all those years ago. At that time, the training was conducted on the lush, full fields boasted by the modern complex, but took place at Teresopolis FC, who currently compete in the third tier of the local state championships. And fans were always trotting along to watch.
"My father took me to watch the workout at the Stadium of Teresopolis. It was full of people," said Romualdo Cerqueira dos Santos, 81. "It is very different from what happens today."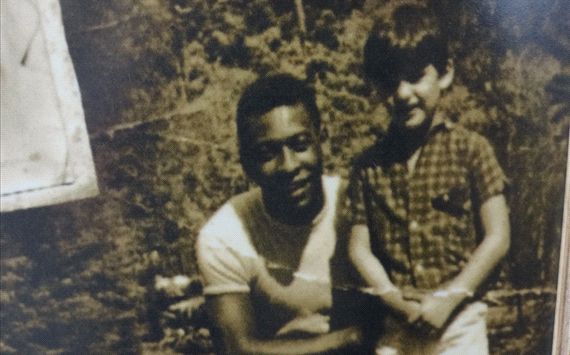 The players would stay in the local Hotel Pinheiros and took advantage of their time off to wander on the streets of Teresopolis and meet the locals.
"The players came strolling around here and signed autographs," recalls Sergio Ferreira de Andrade, 85.
"I only saw Pele from afar, but I spoke to Tostao and Garrincha twice. The 'man with the crooked legs' was a very nice person."
Twelve years later the team was once again back at the Hotel Pinheiros as they prepared for the 1978 World Cup. And Sergio remembers how back then the players still had the freedom to walk around the city.
"I remember seeing Zico and Rivelino chatting with fans a few years later during the preparation here in town for 78 Cup."